The Department of Transportation (DOTr) was accused of discrimination after announcing its "no vaccination, no ride" policy in Metro Manila.
The measure prohibits unvaccinated people from using public transportation while the National Capital Region is under Alert Level 3.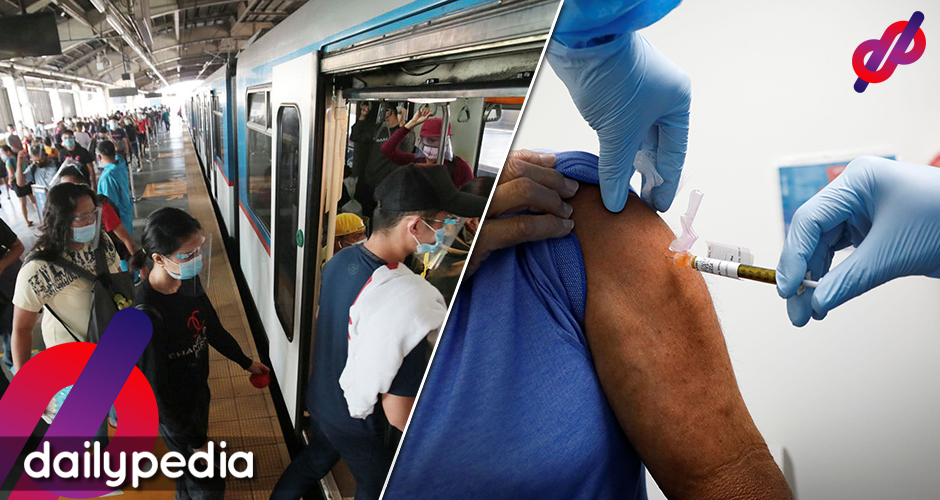 According to Department Order No. 2022-001, only the vaccinated can access public transport via land, rail, sea, and air.
"All concerned attached agencies and sectoral offices of DOTr are directed to ensure that operators of public transportation shall allow access or issue tickets only to 'fully vaccinated persons' as evidenced by a physical or digital copy of an LGU (local government unit)-issued vaccine card, or any IATF-prescribed document, with a valid government-issued ID with picture and address," the order read.
Passengers must bring physical or digital copies of a vaccine card and a valid government-issued ID.
Exceptions only apply to those who suffer from diseases and are advised against getting vaccinated and persons who are assigned to buy goods backed up by supporting documents.
"Any violation of this [order] by operators of public transportation shall be considered a violation of applicable general safety and health provisions under any concession or service agreements, authority or permit to operate, or other similar instruments"
Netizens couldn't disagree more with the order, citing possible discrimination.
The policy has a lot of holes that are simply too big to ignore.
Have you considered the possibility that many Filipinos commute to get their vaccinations https://t.co/f5caAOunUO

— aloveyoutoo #KalikasanNaman (@ALOveyoutoo) January 12, 2022
So… how will people commute to their vaccination sites? 🤪 https://t.co/sKjRi7TeT6

— Regine Cabato (@RegineCabato) January 12, 2022
The order seems to be anti-poor, said netizens.
Napakaanti-poor ng gobyernong ito. https://t.co/vZFQRLYMC8

— Lorenzo (@benok_castillo) January 12, 2022
Vaccinations are sometimes far, and public transportation is the only way to get there.
Ang karamihan sa Pilipino ay walang kotse. Di lahat ay naka motor o may kayang magbayad ng Grab. Nakaka sira na talaga 'to ng bait. https://t.co/kGgG8OFKUz

— Ica Fernandez (@icafernandez) January 12, 2022
How, I ask again, do you propose to implement this? How are people boarding the back of a jeepney supposed to show the driver their vaccination cards? Every tricycle will be able to verify every single vaccination card? https://t.co/2i7cXH61n0

— #NoToPAREX Two-wheeled Terror 🚲🏗️🧦🚰🔰 (@goodkidbikecity) January 12, 2022
Maralitang Pilipinong papunta sa vaccination sites: https://t.co/tSEIs05UHu pic.twitter.com/cusDlpJft4

— Hyro P. Aguinaldo (@heyrow) January 12, 2022
They may be able to do this in other countries (human rights and social class issues aside) because they have a digital and centralized record of vaccinations. We don't. This is going to be chaotic. Good luck. https://t.co/zlN9vQIAqc

— Barnaby Lo 吳宗鴻 (@barnabychuck) January 12, 2022
Dr. Tony Leachon has offered a solution that may ease the potential problems that may come about because of the order.
Instead of restricting unvaccinated people , why not think of bringing vaccines close to their homes by mobile vans and bring medications , test kits and check their health condition. https://t.co/feO2AdpMam

— Tony Leachon MD (@DrTonyLeachon) January 12, 2022