Critics of Vice President Leni Robredo try to downplay her achievement of making anti-viral drug molnupiravir available through her office.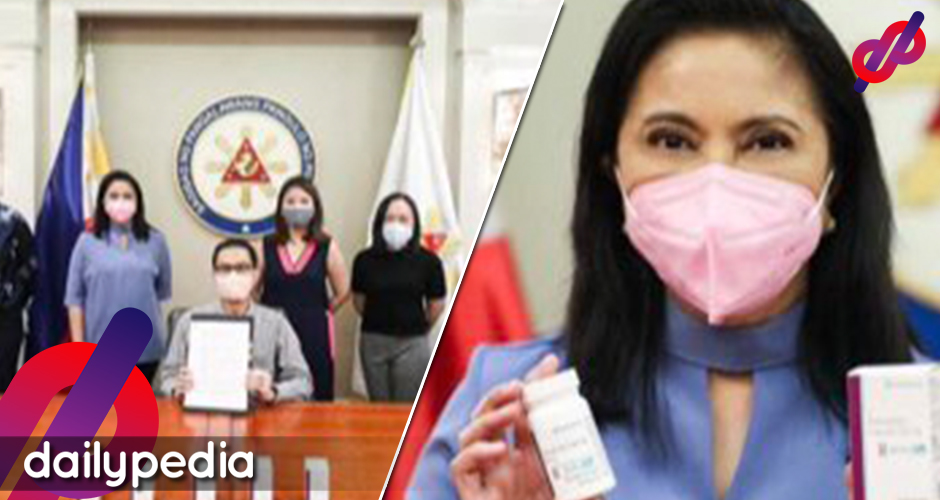 The Office of the Vice President (OVP) recently signed a memorandum of agreement with QualiMed Health Network to help patients who have been given the green light to take the drug.
Molnupiravir is used for those suffering mild to moderate symptoms related to COVID-19.
The OVP's telemedicine program, Bayanihan E-Konsulta, would review cases virtually and provide the drug for anyone qualified.
Molnupiravir, an oral pill for the treatment of mild to moderate cases of COVID-19, is now available for our Bayanihan E-Konsulta patients who may be prescribed to take them.

Today, we signed a Memorandum of Agreement with QualiMed Health Network on providing this assistance. pic.twitter.com/KKPyut4ojq

— Leni Robredo (@lenirobredo) November 22, 2021
"We are truly humbled and grateful to the QualiMed Health Network for trusting us with this partnership, helping us extend our reach in delivering aid to more of our kababayans in need. Maraming, maraming salamat po!" she said in a social media post.
Molnupiravir also prevents patients from getting hospitalized in the early stages of infection.
The United Kingdom first approved the anti-viral pill jointly developed by US-based Merck and Ridgeback Biotherapeutics.
Before the OVP secured the deal, FDA Director-General Eric Domingo said people could acquire the drug under a compassionate special permit.
However, those who didn't like Robredo decided to discredit her office's achievement.
Controversial health expert Edsel Salvana went on Facebook and warned the public that the drug could potentially be dangerous. It seemed to the netizens that he didn't read Robredo's post carefully.
This guy forgot to mention that molnupiravir shall only be dispensed to "patients who may be prescribed to take them," that is, only on a doctor's written orders. https://t.co/TMvdS8yQa5

— Unlawyer (@unlawyer) November 23, 2021
Yes very good po talaga siya. Pakibasa po pala ito ⬇️⬇️⬇️ https://t.co/fWWncMim9g pic.twitter.com/UiYIBJ8o20

— Harold Henrison C. Chiu, MD (@88DoubleDragon) November 23, 2021
Another health expert warned against using the drug but was fact-checked by fellow doctors.
HOLY MOTHER OF GOD!!#molnupiravir #COVID19 https://t.co/eAbes3FX2b pic.twitter.com/oXbUvX0UfH

— Jonathan E. Sy 施公奇異 (@easy_jonathan) November 22, 2021
Other netizens also questioned Robredo's accomplishment.
Bakit sa FB ni VP Leni available ang molnupiravir and not through DOH? Another political motivated move. Kasa hindi umasenso mga pilipino palaging may halong politika! SMFH 🤦‍♂️

— Biz Belmonte (@BigBadBiz22) November 23, 2021
How did Leni's office got hold of Molnupiravir? Did she purchase it directly from foreign pharma companies? What's DOH or FDA's role? Don't they have to be consulted? What about Duterte?

DID LENI ROBREDO ACT ON HER OWN INTEREST, again?

Just so … STRANGE!

— OMNIA AB UNO (@thereisanocean) November 23, 2021
Are the twitter wokes and the Philippine liberal media outlets going to praise Mayor #IskoMoreno for ordering thousands of Molnupiravir dosses for the people of Metro Manila or is all the praise going to be focused on "mumshie" Leni?

Only on Leni? Okay then. 🙃

— Ivan P 🇻🇦💙🇵🇭 (@IvanAtHome) November 23, 2021
Typical leni credit Grabbing nanaman sa Molnupiravir nung introduce to ng gobyerno kinokompera pa sa ivermectin pero si madam wow yung mga "Pharmacist for leni" pa nag endorsed napaka double standard talaga.#UniTeamMarcosSara
UNITED LOYALISTDDS pic.twitter.com/kEqZfnS65S

— Duterte Kloud #LetLeniMakeLugaw (@KloudDuterte) November 23, 2021
WHAT IF..

Patulan namin ang mema nyo on Molnupiravir?

Molnupiravir has been around since 2014 initially as treatment to flu further researched by Merck for Covid. It's not something new and surely vp leni didn't do any ground-breaking, earth-shattering, extravaganza event here.

— 33º Horns (@Gerswin33Horns) November 23, 2021