Chief legal counsel Salvador Panelo issued an apology to 2020 Tokyo Olympics gold medalist Hidilyn Diaz, not accusing her of being a part of a group that is plotting to oust President Rodrigo Duterte, but for hurting her feelings.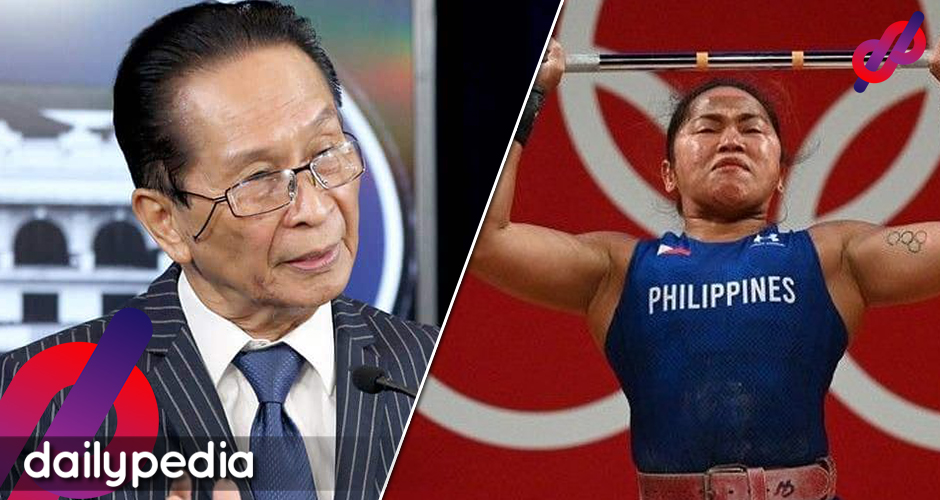 During an interview with ANC, Panelo blamed the media for falsely analyzing the presentation and said that the military and the police do not confirm the matrix. He stated that it was given to him by the principal, which led him to believe that it was already done.
He then apologized to the athlete and said that it was not the intention of those who made the matrix.
"I am sorry and I am sad to know na nasaktan si Hidilyn. I am sorry for that, kawawa naman. Hindi naman iyon ang intensiyon nung mga gumawa ng matrix," he said.
Despite his apology, he insisted that he was not at fault for Diaz's feelings and that she should've analyzed the situation first.
"The message is before you feel pain, tignan mo muna kung tama ang sapantaha mo," he answered when he asked about the lesson he learned about the incident.
"Mali ang interpretasyon, 'yun ang pinupinto ko. Walang dapat ipag-sorry. Nag-sorry lang ako kasi nasaktan siya, pero wala naman dapat ipag-sorry kasi hindi naman siya sinasama eh. Hindi siya kasama."
Netizens reacted to Panelo's statement, saying that the legal counsel was not really apologetic about the allegation.
In short, sorry not sorry. https://t.co/pFi0fEDJrd

— Марк Стивен Балили (@_markieesteven) July 28, 2021
Never ruin an apology with an excuse. https://t.co/Hn74VNitAs

— nikki jimenez-bigbig (@nikkijimenez) July 28, 2021
Some accused him of gaslighting Diaz.
Peak gaslighting. https://t.co/ELt0DgNnjb

— K (@Legally_K) July 28, 2021
Gaslighting at its finest ✨ https://t.co/hF8L5Xt56b

— Addi (@additur) July 28, 2021
Others continued to encourage people not to vote for Panelo in the upcoming elections if he is to run for a Senatorial seat.
Please never let this man be in the Senate come 2022. Filipinos deserve better. https://t.co/Q1tyI05lOg

— (ノಠ益ಠ)ノ彡┻━┻ (@tellem_hello) July 28, 2021
A netizen then hoped to see Panelo behind bars.
One of these days… I'd love to watch this lizard stroke old rusty prison bars. Grabeng hiya an siguro ng mga kamag-anak niya sa mundo. Kasuka. https://t.co/nPhBXBZ5MA

— John Red (@John_Rred) July 28, 2021
Someone pointed out what the matrix did to Diaz, saying it brought her mental and emotional anguish.
Yung hubris nyo grabe.Di na kayo tumapak sa lupa.Di kayo marunong umamin ng mali. Ever! Yung mental and emotional anguish na dinulot nyo kay Hidilyn dahil sa matrix na yan, di nyo naisip?Yung bashing na natanggap nya? Kahit kailan di nyo un maiibsan. You placed her life in danger https://t.co/SlckcI1t4D

— Brenda_❤ UP_Teacher_Philosopher (@allegryofdcave) July 28, 2021
Others noted that President Duterte is the one to blame as he was the one that red-tagged her.
Ultimately, si Duterte rin talaga ang nang-red tag kay Hidilyn. Nabalitaan niyo na bang tinawagan ni Duterte si Hidilyn after niyang manalo ng gold sa Olympics? o naglabas manlang ng official statement congratulating her? Puro si Harry Roque lang ang nagsasalita. https://t.co/6UzBG6QKYZ

— Safiro Anejo (@Juggernaut_79) July 28, 2021
Panelo previously linked the athlete to a conspiracy aimed to discredit the administration. In 2019, when he was still the presidential spokesperson, Panelo publicized six matrices naming several groups and individuals in an alleged plot to oust President Duterte. This includes Diaz, as well as the TV host and volleyball athlete Gretchen Ho.