The group of friends accused of harassing and murdering the late Philippine Airlines attendant Christine Dacera was criticized online after one of them uploaded photos of him and his friends meeting the Presidential Legal Counsel Salvador Panelo.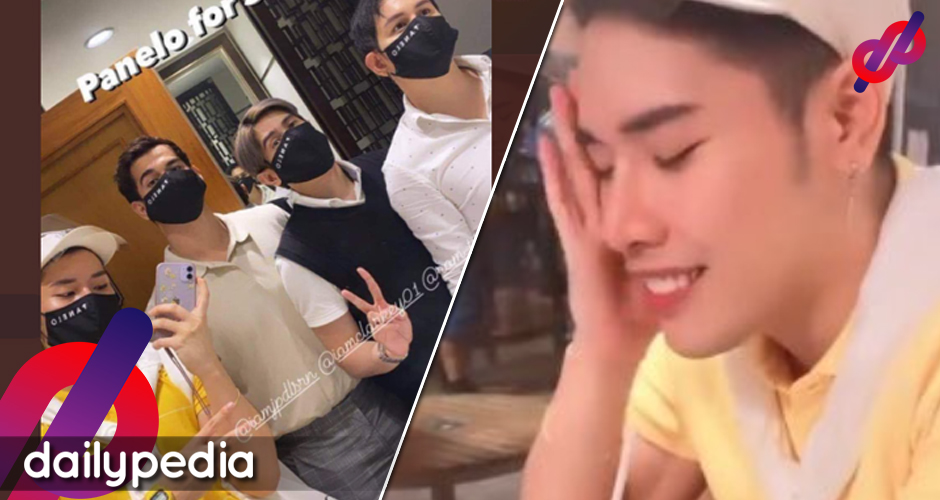 On June 28, Valentine Rosales posted a few photos of the meeting on his Instagram Stories with "Panelo for Senator" written in one image.
The posts immediately spread on Twitter after a netizen asked Rosales and his friends if they were sure about what they're campaigning for.
Panelo for Senator? Sigurado kayo? As in wala ng bawian yan? 🙄 pic.twitter.com/5qKYlHf0DX

— Deo Enalpe  (@iamdeoenalpe) June 28, 2021
Rod Magaru also reacted to the photos with an emoji of a disgusted face and a few wastebaskets.
🤮🗑️🗑️🗑️🗑️🗑️ https://t.co/8UXff9TbzY

— Rod Magaru (@rodmagaru) June 28, 2021
Another Twitter user said, "You guys are absolutely disgusting and I'll say it to your faces."
kidding aside u guys r absolutely disgusting and i'll say it to ur faces 🥰 https://t.co/xv0fIzYuup

— Dora (@doracrybaby) June 28, 2021
The fist bump emoji on Rosales' post also didn't go unnoticed by netizens.
NOT THE FIST BUMP EMOJI 😭😭😭 https://t.co/VdNUq0BJeT

— ianᵕ̈ (@gabmonstere) June 29, 2021
"I regret defending them back in January," someone stated, pertaining to the time when Rosales and his friends were accused of sexually harassing and murdering Dacera after a New Year's Eve party.
lol i regret defending them back in January. i should have just kept quiet back then. https://t.co/GdoO9Rr5s3

— Jihyo Archon (@kirbikit) June 28, 2021
A netizen gave them the benefit of the doubt and questioned whether they are forged to support Panelo so that they won't get pinned to Dacera's case.
Is this another case of "kapit sa patalim" so they won't pin you in your case? Haaayyy… https://t.co/kPBfGerIqH

— Taylor (@bangsieMio) June 28, 2021
In another Instagram Story, Rosales reasoned out that Panelo expressed his support towards the LGBT community and his beliefs regarding equality.
"We're not DDS. We're not Dilawan, either."
o heto ang reply sayo mars pic.twitter.com/oHUDrkFxwj

— Kerish Young (@kerishyoung) June 28, 2021
In June 2019, Panelo defended President Rodrigo Duterte's remarks that he had "cured" himself out of homosexuality with the help of beautiful women. The then-Presidential Spokesperson stated that the LGBT community should be "glad" about Duterte's words.
"The remarks meant that he had 'changed' his sexual preferences. What's wrong [with that]?" said Panelo.
On the other hand, Rosales also aired his disappointment on Twitter, stating that everyone is entitled to their opinion and does not have the free pass to label others as supporters of the current administration or not based on their insights.
https://twitter.com/valentinersls/status/1409553456323448832
Netizens remain unconvinced and said that while Rosales made a point, his opinion is still open for criticism.
Yes, and your opinion is open for criticism.

We can have different insights in politics, that's natural. But the moment you choose to empower those who do dirty work, don't expect the people to let you slide as if it's fine.

As simple as that. Bobo. https://t.co/xIpEOwGYOd

— Akitek | Registered Voter ka na ba? (@rpbs_17) June 29, 2021
"All that freedom and he chose to side with an oppressor."
All that freedom and he chose to side with an oppressor lol https://t.co/lrKMfvHlT1

— Wartortoise (@paoloumpa) June 29, 2021
Someone also pointed out the irony of Rosales' statement and how Panelo is allegedly one of those who are "killing" democracy.
Ironic how you say democracy eh yung butiking kinakameeting nyo ay isa sa mga pumapatay sa demokrasya at kasarinlan ng mga Pilipino. Pick a struggle, di yung puro pa veneers lang. Kadiri. https://t.co/WAJqKPFx8t

— Miss Enzo (@enzgab_) June 29, 2021
In a separate tweet, Rosales called his bashers "shallow-minded" and told them to learn how to respect others for their choices.
https://twitter.com/valentinersls/status/1409558524086996994