Olympic gold medalist Hidilyn Diaz stated that people may have mixed feelings regarding her win given that her coach is Chinese and the current state of the West Philippine Sea, but nonetheless, she is proud that she has managed to beat China on something without the presence of war.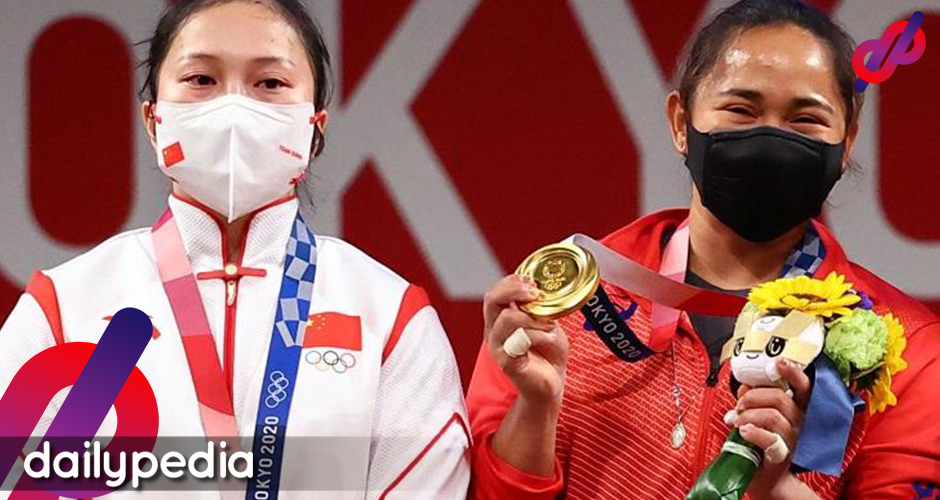 She edged out her toughest opponent, Liao Quiyun of China, by one point at the women's 55-kilogram weightlifting competition that happened on July 26.
"Siyempre mixed feeling 'yun sa atin kasi nga dahil sa political… international na… di ba yung sa sea natin. Walang giyera pero naiprisinta ko ang Pilipinas. Natalo ko ang China," Diaz said, pertaining to her Chinese coach who got criticized by the opposing team for withholding information.
The athlete explained that her Chinese coach received backlash from the China team when he didn't share details regarding the extent of Diaz's strength. This ultimately led to her Olympic win.
"Hindi makapaniwala ang China na ganito na ako kalakas, then siyempre si Coach din, hindi niya na-share sa China. Medyo nagalit kasi ang China din sa kanya kasi hindi niya na-share kung saan na yung lakas ko."
In an interview with Karen Davila during the ANC Headstart, she held up her gold medal while encouraging everyone by saying that Filipinos can fight regardless of who the opponent is, be it China or any other country.
"Gusto ko lang sabihin sa mga Pilipino na kaya natin. Kahit sino man kalaban [natin], kahit China, kaya nating lumaban. Lalong-lalo na sa Olympics. At kahit ano man yang pagsubok na meron tayo, wag tayong sumuko sa buhay at sa pangarap natin."
"KAHIT SINONG KALABAN NATIN, KAHIT CHINA, KAYA NATIN"

Olympic Gold Medalist Hidilyn Diaz encourages Filipinos never to give up on their dreams and says we can overcome every challenge that comes our way, "Kaya Natin" #ANCHeadstart pic.twitter.com/mx8GNpQmEj

— Karen Davila (@iamkarendavila) July 29, 2021
Back in 2020, President Rodrigo Duterte stated that he cannot do anything against China's claims regarding the territory and resources in the West Philippine Sea.
During his fifth State of the Nation Address (SONA), he said that the Philippines should just cool off and push for diplomatic endeavors instead of contesting it unless the country is "prepared to go to war."
He added that China has arms that the country does not have.
"China is claiming it, we are claiming it. China has arms. We do not have it so it's simple as that. They are in possession of the property… So what can we do? We have to go to war, and I cannot afford it. Maybe some other President can, but I cannot."
Duterte then declared that he's inutile when it comes to the topic as he cannot do anything about it.
"Inutil ako d'yan and I'm willing to admit it. Talagang inutil ako d'yan, walang magawa."