The immense capacity of music to move and inspire people has long been established. Songs often reflect their listeners' journey, and oftentimes, affect in a way no storyteller can ever do.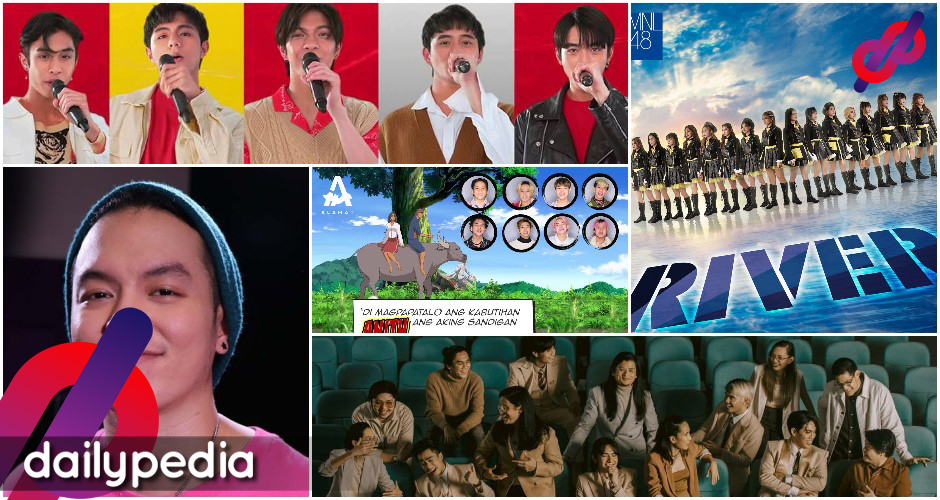 As far as OPM goes, many compelling tracks take the challenge of becoming a personal anthem to another level. Some of them ultimately become our go-to song whenever we feel worthless in a relationship, tired of going after our goals in life, and exhausted finding ways to make the best out in one's life.
Head now to Spotify or any of your favorite music streaming apps, and look for these new OPM tracks we think may remind you that life remains worthwhile in both moments of joy and sadness, that perseverance and determination get you to where you want to go, and that you are always important.
Ate Sandali by Maris Racal.
 Maris Racal didn't mince her words with Ate Sandali, which is both a funny and meaningful reminder that we need to slow down, sometimes, so we won't be fallen prey to superficial relationships.
"Wag kang magpadala sa landi," it quips, adding that it is never your loss when one refuses to like you, or see you the way you want them to. Because you are beautiful, no matter what. What a way to help you see your own worth and beauty, right? Again, 'wag nang magpadala sa landi', huh?
Free by Julie Anne San Jose.
San Jose's danceable track Free is a spirited and breezy anthem for anybody who wants to get into the groove and to live life to the fullest.
The Kapuso artist's pampering vocal sounds perfectly suited to deliver the lovely message of this song, and to her credit, does it mesmerizingly.
"Clear your mind, set it free. Let your body move with me, throw your hands up to the sky…" it says, in a tone that invites its listeners to just dance with every beat that life presents.
Kulang Ang Mundo by Sam Mangubat.
This Sam Mangubat-interpreted Himig Handog entry, may be originally intended to work as a love song, but it can certainly inspire dreamers, as well. Aside from its romantic lines, some truths about not giving up to fulfill your aspirations, are pretty well-woven within the verses of the song.
"Sa pag-ibig ko, ay kulang ang mundo. Kung sa'kin ay kakapit, ang anumang balakid, ay di makakapigil sa ating lalakbayin" it imparts, attesting to a true love's power to push anybody who has it, forward, and hurdle any difficult undertaking ahead.
MAPA by SB19.
Probably one of the most compelling tribute songs to parents, ever recorded, SB19's MAPA, is as powerfully sung, as it is meaningfully written. A perfect homage for parents, MAPA is a poetic testimonial to how mothers and fathers set aside themselves, so they can prioritize their children, first. It also talks about how a child gives back the favor, to their parents, who does everything to provide for their kids.
'Kaya 'wag mag-alala, ipikit ang 'yong mata, ta'na .Pahinga muna, ako na'ng bahala. Labis pa sa labis ang 'yong nagawa," shares one of the lines of the song, which perfectly illustrates one's commitment to giving back to their parents. A newly-released version of the song, which features the idol group's collaboration with folk, pop band, Ben&Ben, gave it a refreshing spin without losing its original power.
River by MNL48.
This song is undoubtedly one of the hottest female P-Pop groups today, MNL48, sounds perfectly written for anyone who had to go through insurmountable challenges, to reach their dreams.
One of its lines, "Kahit ikaw ma'y mabigo, matangay man ng agos ng ilog, mag-uumpisa sa simula. Itigil ang pagdaing, kumapit sa iyong pangarap, hanggang sa matupad ang iyong hangarin" is a powerful affirmation to how perseverance and determination result to success, especially when it comes to realizing our dreams. So just push forward, hurdle the next challenge, until you get to the other side of the river.
Sandigan by ALAMAT.
Sandigan's words are a perfect reminder that no great dream is fully realized without going through ordeals and missteps, first. May it be love or chasing personal goals, a firm resolution pays well. 
"Ihanda ang balaraw at ang kampilan, susupilin natin ang kasamaan, at malayang lilipad sa kalangitan…" invites one of its verses, which liken life's challenges to a great darkness, that can be conquered by one's determination to succeed. "Kahit na anong bagyo, malalampasan mo," it further notes. So hang on there, and let friends and your will, your greatest "sandigan" to survive.
Sasagipin Kita by Darren Espanto.
Sasagipin Kita's release, last year, came just a few months before Espanto's home TV network, ABS-CBN, went off-air. It was a fitting anthem that underscored the network and its employees' bitter struggle to remain "in the service of the Filipino", as its mantra declares.
"Sa panahon na lumilipas, darating din ang liwanag. Babangon sa kabiguan, lumaban lang, manalig lang" it affirms, attesting to its listeners that perseverance goes a long way, when it comes to hurdling a dark phase.
While We Are Young by BGYO.
This beautiful BGYO song sounds largely motivated by the popular 'you only live once' phrase. It encourages its listeners to just go with the flow and enjoy everything life has to offer, which it assures to be worthwhile, whether it is to bring joy or pain.
"…take control, let yourself go, go with the flow…sail across the hard times, travel around…run along the madness, brave the city sleepless," it says, inviting young dreamers to explore and learn from life's experiences.
Certainly, there are tons of other new songs that keep you inspired these days. Hit the comment section and share them so other readers would know!