TikToker @iolliqueen got called out after she filmed herself ordering a "crispy towel" while going through a Jollibee drive-thru.
Her video was reposted on Facebook and got more almost 160,000 views as of writing.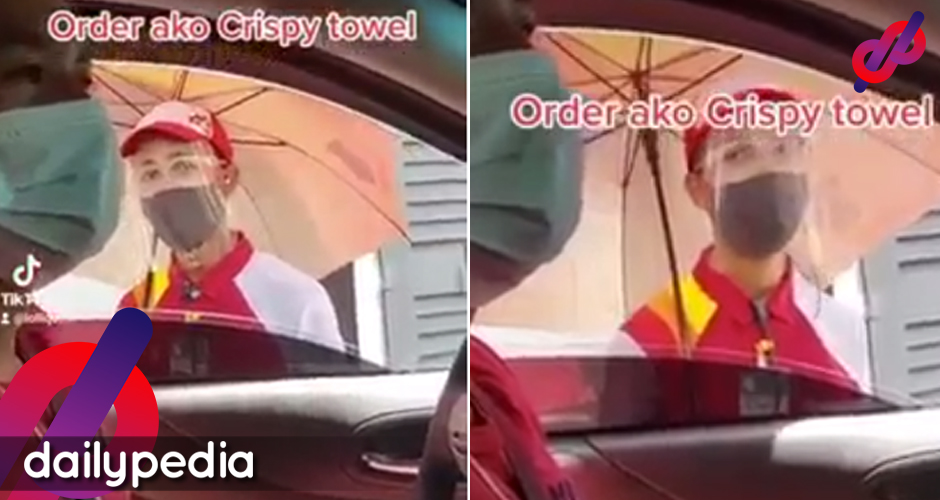 Facebook user Keyrr Pasco said that she was not amused by the Tiktoker's content and felt bad for the male employee that hat to be the victim of the practical joke.
"Saw this in TikTok and I don't find it funny!" Pasco wrote.
"I feel bad for kuya when he said 'Wala po nun, ma'am.' in a respectful way."
This prank was in relation to the viral issue wherein a customer of the fast-food chain received a deep-fried towel instead of the infamous Chickenjoy.
Jollibee received backlash as a certain Alique Perez narrated how she discovered the towel instead of her food. At first glance, the piece seemed no different from the regular fried chicken from the chain but when her son failed to take a bite, that's where she discovered that what they received was not mean. In fact, it wasn't something edible at all.
The video that Perez shared got more than 2.5 million views, 88,000 shares, and was re-uploaded on several other platforms and pages.
"The essence of the towel contaminated the oil and the batter from the supplier so how many Chickenjoys are affected? We won't know," she wrote.
After the incident, Jollibee's Bonifacio Stop Over branch, where Perez got her order, was ordered a three-day closure for the investigation. It was also to review the branch's compliance with the procedures and retrain its staff to make sure the incident will not happen again.
"Jollibee has carefully developed and complied with food preparation systems to ensure that we deliver excellent quality products and customer satisfaction. We will continue to endeavor to deliver on the high standards we have set for ourselves and franchisees," the company said in a statement.