Celebrities and netizens cheered as they vowed to support the human rights lawyer Jose Manuel 'Chel' Diokno who announced his intentions of running in the 2022 elections.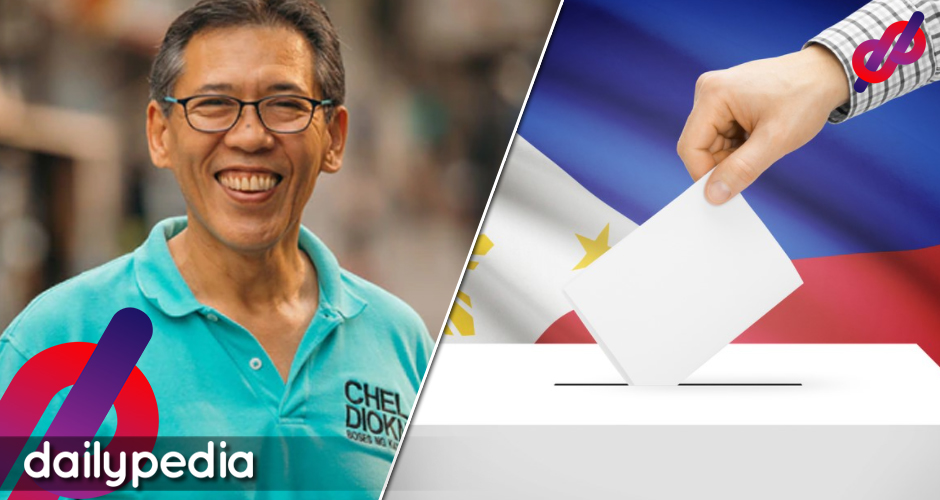 "Given all the factors, yes I will be running in the 2022 elections," he declared during an interview on ABS-CBN News Channel.
"I think it's so important that we have people who can be the voice of ordinary Filipinos and who can be the voice of youth.
"People of my generation, pa-exit na kami, but the young people, they are crying for justice and accountability. They want to have a future."
In one of her tweets. she cheered for Diokno, actress Janine Gutierrez wrote, "Yes, please!" 
https://twitter.com/janinegutierrez/status/1405004793458790405
Jason Abalos also begged for the people to put the lawyer in the position.
Ilagay natin to sa pwedto parang awa nyo na! https://t.co/E3d2bJtMwM

— jason abalos (@thejasonabalos) June 16, 2021
Diokno also confirmed his decision on his twitter account, stating that thinking about it was not easy, and he never aspired to have a position as high as the Vice President or President of the country, but the youth needs to have a voice.
Yes, to be clear: I will run in 2022. It's difficult now to make a final decision about what position, and I never aspired for President or VP, which 1Sambayan has nominated me for. But I think it's important that ordinary Filipinos and the youth have a voice.

— Chel Diokno (@ChelDiokno) June 16, 2021
"Our justice system is not gonna get fixed unless people in power see the problem and do something about it. I've been a lawyer for three decades. Every day I work on my Free Legal Helpdesk, and I've seen it firsthand. I know how we should fix our justice system."
Singer and theater actress Bituin Escalante promised to give her support and vote for Diokno in the upcoming elections.
You have my vote and my support. https://t.co/EKl4Pog0A7

— bituin escalante (@gobituin) June 16, 2021
Former Presidential Spokesperson Edwin Lacerna claimed that he voted for the lawyer when the latter ran for a spot in the Senate in 2019, and he would do so again in 2022.
@ChelDiokno had my vote in 2019 and I will vote for him again if he runs in 2022.

Chel will undoubtedly be a worthy addition to any branch of our government. https://t.co/2vPdHmankg

— Edwin Lacierda (@dawende) June 16, 2021
A netizen advised the supporters of Diokno to encourage the people around them to know more about the lawyer.
"It's still important to campaign for him offline as well."
as early as now please encourage ur relatives / friends who are voters to know more about atty. chel diokno and encourage them to vote for him !! it's still important to campaign for him offline as well https://t.co/WuPx50FT72

— 85 (@sushitrashjen) June 16, 2021
"This isn't Chel Diokno's second chance to win. 
"This is our second chance as citizens to get leaders we deserve," a twitter user wrote.
This isn't Chel Diokno's second chance to win. This is our second chance as citizens to get leaders we deserve. https://t.co/TdUrWmKWzJ

— Lu Aldaba (@Systemic_LUpus) June 16, 2021
Inspired by Diokno's declaration, the youth are now pushing for unity in going "against" the Duterte regime. Regardless of the political differences, the seat must go to those who are worthy of the position.
now we must build the broadest unity— A UNITY OF THE PEOPLE against the narrowest target, the fascist duterte regime.

we need the strongest and consolidated broad united front, regardless of our political differences. panalunin ang mga dapat panalunin! https://t.co/X1bg7TtqOy

— Kristel Asilom (@kristelasilom) June 16, 2021
Some are also spreading Diokno's credentials.
STILL ASKING WHY YOU SHOULD VOTE FOR CHEL DIOKNO? LOOK HERE, MY FRIEND 👀

INTERESTED TO BE A VOLUNTEER? SEND ME A DM, FAM! #YouthForChelDiokno pic.twitter.com/2YGYKIINGG

— tham #RegisterToVote #VotePH | check bio (@theconyoengr) June 15, 2021
They showed "reasons" as to why Filipinos should vote for the lawyer along with the call for volunteers who would want to help with the campaign.
https://twitter.com/4NG3LINO/status/1405035578752598019
Chel Diokno is currently the founding dean of De La Salle University's College of Law, chair of the Free Legal Assistance Group, and a member of the International Center for Settlement of Investment Disputes. 
He was also the Presidential Advisor on Human Rights of Integrated Bar of the Philippines until 2019.
He earned his Bachelor of Arts in Philosophy degree in the University of the Philippines Diliman, and became a Juris Doctor after graduating magna cum laude at the Northern Illinois University.