Netizens share their experiences with the Office of the Vice President's latest initiative to fight COVID-19–the Bayanihan E-Konsulta. It's a free teleconsultation service on facebook and messenger for outpatient COVID cases in the NCR Plus region.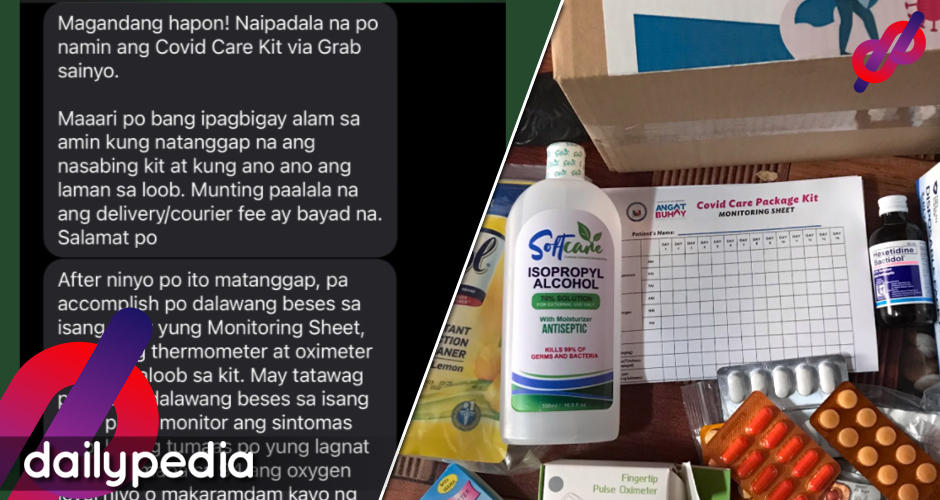 Twitter users have stated their satisfaction with the project, praising its speed and responsiveness.
A Netizen said that someone they knew tested positive for the virus and tried contacting their local government unit, however, got no response. He then decided to try the Bayanihan E-Konsulta and got a care kit within the day.
A kit includes a monitoring sheet draft wherein patients are expected to take note of their oxygen and temperature for 14 days, medicines, and medical gadgets.
My brother's highschool batchmate tested positive. He's been messaging the LGU for a few days now for help, kaso wala raw nagrerespond sa kaniya. He tried Bayanihan E-Konsulta & got a care kit w/in a day. I swear, the efficiency of VP @lenirobredo & the OVP is second to none. pic.twitter.com/5pQEaVYBku

— Jays (杰森) (@jaesoon) April 16, 2021
Another Netizen described the project as "very proactive" as he uploaded screenshots of their messages where the E-Konsulta page was explaining the following steps that the patient should follow.
He also showed the contents of the care package.
Yung nag message ka lang sa facebook nila para magpa teleconsult kasi may nag positive sa household namin.

Very proactive ng Bayanihan E-Konsulta.

Thank you for making this happen!

We need a leader who truly cares. @lenirobredo pic.twitter.com/uzAQiM3ogQ

— Dave (@kingdc012) April 15, 2021
A twitter user also shared the same experience regarding the service's swiftness.
https://twitter.com/iamjedu/status/1381825300669943810
Someone also said that she tried contacting the facebook page as she was looking for a doctor who can help check up on her child. The page immediately replied and was later on referred to a pediatrician who can look into her baby.
The Netizen thought that their conversation was already over, but she got surprised when they got a message saying that Vice President Leni Robredo offered if the patient is still a baby a medical team could visit their house instead since it is dangerous for the baby to go out.
She was worried that the service might add up to their bills and asked the page about the cost. It turned out that it will be free as they understood how hard it is to earn money nowadays.
Ito dapat yung pinag-uusapan at ginagawang viral pic.twitter.com/lF7FfrhESB

— Lucas (@bashgita) April 18, 2021
"Very happy and thankful," an E-Konsulta patient said.
https://twitter.com/iamjedu/status/1381825300669943810
A COVID patient said that the care kit has been a "big help" not just with her health but also mentally.
ive been anxious since monday cos i was experiencing covid-like symptoms but our city doesnt offer free testing so i decided to try the e-konsulta yesterday. i received this care kit today agad. this is a big help not just physically but also mentally. thank u VP!! @lenirobredo pic.twitter.com/lbLL17uVyM

— ruth (@ruthnct_) April 16, 2021
Another satisfied patient.
https://twitter.com/ChienengCaberos/status/1382659654853951490
Someone also praised how the care kit's box contained no name of any politician.
https://twitter.com/nicolegratil/status/1382933251761709057
On the other hand, some noticed the difference between Robredo's E-Konsulta to Davao City Mayor Sara Duterte's statement saying that she's leaning towards the development of online or electronic sabong (e-sabong) in the city.
https://twitter.com/krizzy_kalerqui/status/1383290261367791616
Through the Vice President's efforts, PeopleAsia Magazine recently awarded her as one of its People of the Year for 2021. She said that she's thankful for the recognition, the award is more for the people who have helped and trusted that they would get the job done.
VP Leni Robredo, Pasig City Mayor Vico Sotto among the awardees for the PeopleAsia Magazine's People of the Year 2021 with the awarding ceremony happening tonight pic.twitter.com/jvWMT7YRxF

— JP  (@dumidyeypee) April 12, 2021
Pasig City Mayor Vico Sotto was also a part of the list.
On the other hand, Senator Imee Marcos proposed the implementation of Swab Swap which is aimed to motivate people to get tested and promote recovery. Some Netizens compared it to Robredo's recent project.
https://t.co/N35IduPZF3 pic.twitter.com/WKMW5n5dJB

— Netizen Patroller (@scorsaguin) April 17, 2021
Under the program, people who will voluntarily get themselves tested will be given vouchers for various products and services.
"The Swab Swap program will practically put money in people's pockets while generating demand for products and services," Marcos said.
She then stated the success of a similar program in her hometown, Ilocos Norte.