Critics just gained another bullet to fire at the government's COVID-19 response after Vice President Leni Robredo launched a way to test Filipinos in Metro Manila—all for free.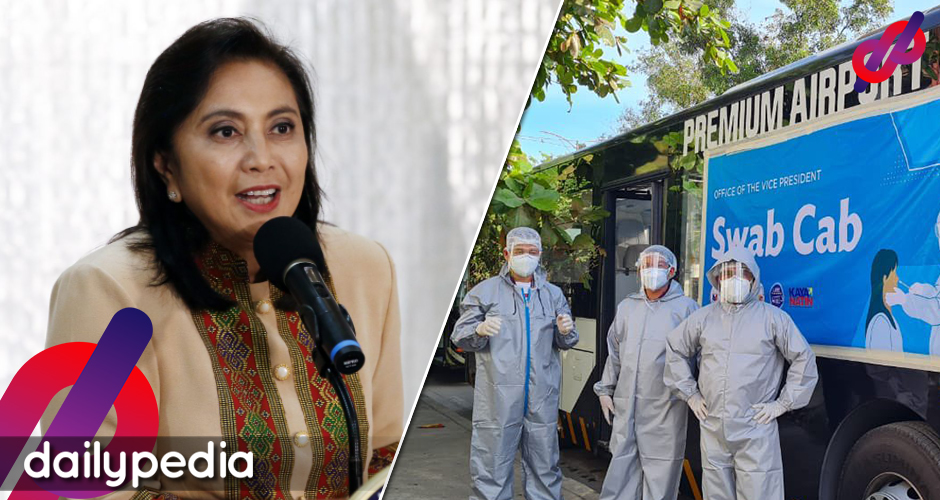 Netizens couldn't help but notice how the Office of the Vice President's (OVP) Swab Cab, which started in Malabon City, just helped out the LGU with their testing and contact tracing efforts.
Notes from our Swab Cab roll out:

1. LGU Malabon provided medical teams for 3 swab cabs;

2. BHERTs in 5 brgys covered identified who needed to be swabbed after house-to-house assessment, took charge of orientation and contact tracing;

3. 3 teams from OVP were in testing areas; pic.twitter.com/82yqmMkxz6

— Leni Robredo (@lenirobredo) March 30, 2021
They also did not miss any opportunity to blast the Duterte administration for being behind the curve in the COVID-19 response.
https://twitter.com/taytawanloml/status/1376893064267001856
https://twitter.com/k_claridad/status/1376889446952431616
Someone should be taking notes but we all know hubris won't let him https://t.co/k5jdmhDXba

— Brian (@soonee_22) March 30, 2021
The OVP is doing an EXCELLENT job right @attyharryroque ??
IATF and the generals should admit that they need her or can learn from madam @lenirobredo @VPPilipinas

Good read (THREAD)!👇🏻👇🏻#Hope #LeadershipWeNeed#COVID19 #Philippines #BusyPresidente https://t.co/NXxrPJalbh

— NasKT (@godfatherJK5) March 30, 2021
Keep up #DutertePalpak https://t.co/1YjdI1jjPP

— Bien (@mercedezbiens) March 30, 2021
This thread pretty much sums up how inutile this government is. https://t.co/Mlw2SE4Cdw

— Allen (@allenisms) March 30, 2021
Some Netizens are even implying that Robredo would be able to do more as head of the Inter-Agency Task Force for the Management of Emerging Infectious Diseases (IATF)—or, at least, as the vaccine czar.
tell me why can't they just make her the vaccine czar or the head of IATF. 🤦🏻‍♀️ https://t.co/P7CBUiFers

— GRG (@glennarden_) March 30, 2021
Others pointed out how this approach is by far a better way of dealing with contact-tracing woes, as Filipinos would not need to go to hospitals to get tested.
When programs and decisions in a pandemic are guided by empathy and not use of force: https://t.co/Hu20nroNvF

— seiruhhhh babels 🌸 (@lakwatsarah) March 30, 2021
This could be really good example or framework if the govt is willing to push for mass testing. Kanya kanyang lgu, then provide assistance sa mga families na mayroong positive case. Madaming loans sana gamitin dito, di yung puro kuda na pasaway kasi kayo. https://t.co/71efblI8i5

— gus 🌻 ITSAY 2 (@taytawanloml) March 30, 2021
Netizens even called out Duterte for his once-weekly tirades against Robredo, even taking a swipe at his "magic wand" comment.
Duterte, tama na paninira at pamumulitika. Tumulong ka na lang kay Leni. https://t.co/6cECvLRlZy

— Rico D. del Rosario – χαριζόμενοι (@geniusdaemon) March 30, 2021
Who needs a magic wand if you got competence? ✨ https://t.co/fdRdrxLWtr

— marian codilla (@mariancodilla) March 30, 2021
No emergency powers, No multi-billion dollar loans, no pandemic theater. No magic wand.

May kulang sa tarp, bakit walang mukha ni VP na may nakalagay na. "RUN LENI RUN"? ☺ https://t.co/2O6fyDPyZU

— #Tagapagmulat (@tagapagmulat) March 30, 2021
Eto kasi hanap namin hindi ung kada SONA e puro insecurities ang lumalabas sa bunganga, puro kabastusan at puro killings. Don tayo sa MAY GAWA! 👍 https://t.co/v1RXgfFg4U

— gaeol 👑 (@lovekbdp25) March 30, 2021
There are those, however, who still insisted this is nothing more than the Vice President politicizing the pandemic.
Hmm 😒 tatakbo talaga sya bilang President 😫😫😫

— Nitz Quilitar (@NQuilitar) March 30, 2021
One Netizen even highlighted Robredo's suggestion regarding testing—and how the Duterte administration is still not accepting her suggestion.
While VP Leni is busy coming up with medical solutions for the pandemic, Duterte is busy celebrating his publicity stunt home birthday party w/ pictures taken by no other than his loyal sidekick. https://t.co/mynoKKKbXz

— Francis Baraan IV (@MrFrankBaraan) March 28, 2021
Netizens have continuously clapped back at the Administration for calling out critics politicizing the pandemic, yet not looking at those that do the same in their camp.
Netizens pointed out how Presidential Chief Legal Counsel Salvador Panelo taking a jeep to get to a wet-and-dry market or Duterte's pseudo-simplistic 76th birthday celebration weren't genuine, meant to impress their supporters more than relate to Filipinos.