A name we only ever hear of when memes are discussed is now making rounds on social media after his name was dropped by a Palace official.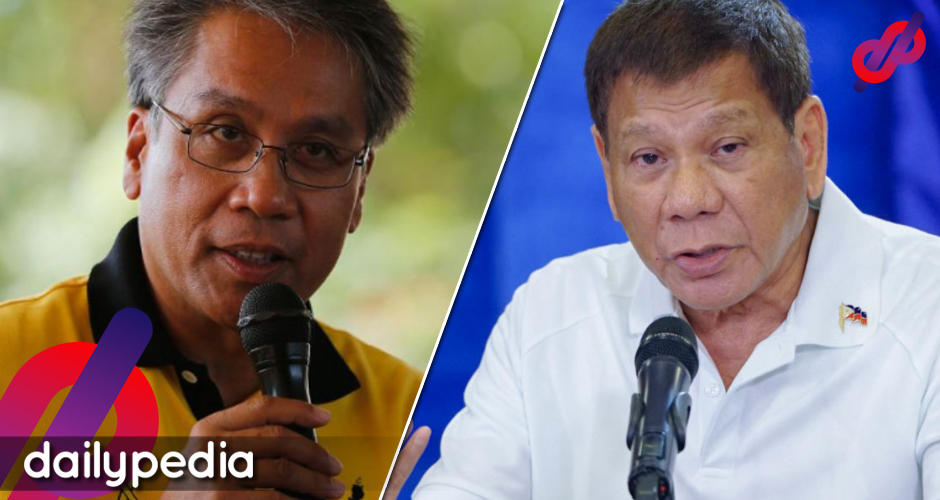 "I think President Duterte is the President that we need right now. Mantakin mo naman. Can you really imagine a Roxas leading this country amidst the many trials that we have had? From COVID pandemic to China?"
That was Palace spokesperson Harry Roque talking to News5 about President Rodrigo Duterte being a better fit right now over former senator and 2016 Presidential candidate Mar Roxas.
"CAN YOU REALLY IMAGINE A ROXAS LEADING THIS COUNTRY?"

Sa kanyang panayam kasama si News5 chief Luchi Cruz-Valdes, iginiit ni Presidential Spokesperson Harry Roque na mabuting pangulo si Pres. Duterte habang pinuna niya naman si dating interior secretary Mar Roxas. #Deretsahan pic.twitter.com/gRD5la6Spa

— News5 (@News5PH) March 24, 2021
This statement, posted many times across other news agencies, has caused a rift on social media big enough to be noticed.
Netizens are now reviving two of Roxas's biggest failures: his handling of the crisis during Typhoon Yolanda in 2013 and the Mamasapano incident in 2015–both of which happened during his tenure as secretary of Interior for then-President Benigno "Noynoy" Aquino III.
Filipinos want leadership, good governance, inclusivity, and political will…

…none of which Mar Roxas has.

— Mariah Cecilia (@thelightmom) March 26, 2021
Mar Roxas as a good president daw? You really have to wonder what the yellows are smoking nowadays.

Lest we forget, he put politics first before extending aid during the Yolanda supertyphoon.

That's not exactly president-material.

— Ronn (@PulbuRonn) March 26, 2021
These points to Roxas doing a worse job than what Duterte has so far achieved, according to Duterte's supporters.
Aminin nyo man o hindi, Duterte is way better in crises and disaster management than Mar Roxas who effed up almost every crises and disaster response during his time.

Time to check if you can still identify your expectations vs reality.

— The Igorot Kid™ (@theigorotkid) March 26, 2021
A Netizen, however, would point out how it was Roxas, who was involved in scrapping the College Assurance Plan or CAP (a pre-need insurance company) that got shelved in favor of Roxas's allies in the insurance industry.
https://twitter.com/thedoctorluck/status/1375058616378658816
One of Duterte's most ardent defenders even went personal with Roxas. He singled out Roxas's 'choice of wife.'–referred to former TV Patrol anchor Korina Sanchez-Roxas.
Putres, MAR ROXAS as President is the worst thing that could have happenned in this country.

Napaka incompetent kaya nyan. And terible ang decision-making skills, lalu na sa mga life-altering issues.

Case in point: His choice of spouse.

— Mark Lopez (@MacLen315) March 26, 2021
Sanchez was [allegedly] taken-off the primetime newscast for ABS-CBN News after allegedly showing bias toward her husband during the campaign trail in 2016.
Perhaps the statement that got most resounded with–those critical of is his line to Tacloban City Mayor Alfred Romualdez.
MAR ROXAS is trending? Oh, so many things the public still recall about him. This quote, which @bobitiglao once described as "chilling words made in the midst of a crisis," following the deadly aftermath of Yolanda in 2013, was one of the reasons why he lost the election in 2016. pic.twitter.com/k2WtnrLpvu

— Pinoytapsilog (@pinoyanghang) March 25, 2021
A mere distraction?
Netizens critical of the Administration, on the other hand, beg to differ.
Those critical of the President say Roque dropping Roxas's name is merely a distraction, something the Duterte administration is already known for.
https://twitter.com/mrfrankbaraan/status/1375402301028900866
Imagine telling this when Mar Roxas isn't the issue to begin with. Let's stick to the current hell issues and hell administration. https://t.co/9sTsPHjFkt

— kwontokki ™♈ (@16mschanel) March 25, 2021
i dont like mar roxas but to go this low knowing that he's not the issue in the first place?? really roque?? ure obviously running out of excuses just to cover up duterte's bad governance. ure making urself a big joke. https://t.co/KB4da01jan

— gleyndel ❄ (@ttintinw) March 25, 2021
Yes, I can imagine. Kung siya naging presidente wala na sana tayo sa kangkungan ngayon. At bakit dinadamay mo si @MARoxas Feeling mo ang galing-galing ng ginagawa niyo ngayon? Tangina mo po with feelings @attyharryroque ! pic.twitter.com/uN66SAmXa5

— PinoyAkoBlog (@PinoyAkoBlog) March 25, 2021
Singer-actress Leah Navarro, who once campaigned for Roxas–is the one leading to defended the former senator.
Yes, I can imagine a better Philippines if Mar Roxas was president. The lessons from Yolanda were well learned, he made the NDRRMC very effective moving forward. Roxas had no part in Mamasapano. His management skills are sorely needed now. #DutertePalpak has zero. https://t.co/ne8h0Edidn

— Leah Navarro (@leahnavarro) March 25, 2021
According to Navarro, "Lessons from Yolanda were well learned."
She also said Roxas had no part in Mamasapano, and that his management skills are needed now more than ever.
One Netizen even pointed out how some educational materials from the Department of Education "vilified" Roxas, calling his actions "pakitang-tao".
What is the beef with Mar Roxas that he deserves this kind vilification in a text book, in the formal education system We are paying our taxes with this @DepEd_PH? pic.twitter.com/Q70z5nebXv

— #PalayainSiSenLeila (@apojoe) March 26, 2021
Other Netizens, however, are still looking at the bigger picture: both Roxas and Duterte are failures in their own right.
Does it help to dwell in the what-ifs? What if Mar Roxas was president? Who knows? In fact, who cares?

Duterte is president. And right now, our economy is worse than ever and our COVID-19 cases is nearing 10,000 a day.

— Barnaby Lo (@barnabychuck) March 26, 2021
Mar Roxas and PNoy admin's handling of Yolanda was truly unforgivable. The terrible response of Duterte and friends in this pandemic isn't an exemption. When there's something wrong, point it out. Demand for what's just and right. STOP THE FANATICISM AND IDOLATRY.

— Jasper The Edger #DutertePalpak (@yesimjasper) March 26, 2021
https://twitter.com/sheisaengel/status/1375329445200887809
One politician would take a swipe at neither of the two, rather than going straight after Roque.
ROQUE'S PRETENDING TO CARE ABOUT HUMAN RIGHTS?

Quezon City 6th District Rep. Kit Belmonte slammed presidential spokesperson Harry Roque for dragging former Senator Mar Roxas on discourses regarding issues that the country faces.

For more news, visit https://t.co/DzrWJkJRvA pic.twitter.com/dIj4IaW8gV

— Inquirer (@inquirerdotnet) March 26, 2021
In a statement, Quezon City 6th District Representative Kit Belmonte tells Roque he would still be a staunch human rights defender had Roxas actually won in 2016.
Roque was last seen on the judiciary bench during the promulgation of the cases filed against the Ampatuans when he represented some of the families of the victims.