A "welcome" bit of news just landed on social media yesterday as the largest supplier of COVID-19 vaccines to the Philippines just got approved for senior citizens.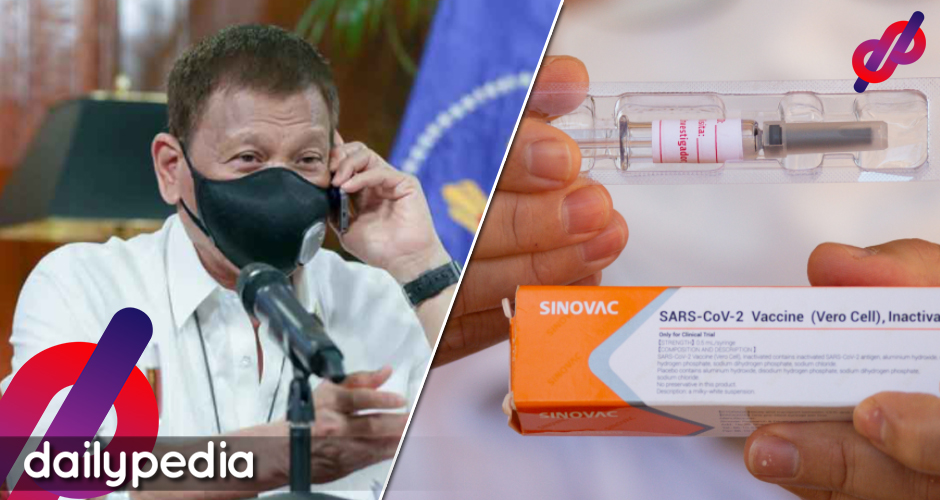 It's a "welcome" development—because people are still apprehensive—but Netizens can now really see how much President Rodrigo Duterte trusts Sinovac Biotech's COVID-19 vaccine.
No less than Palace spokesperson Harry Roque dropped the "good news" that CoronaVac got its recommendation for senior citizens' use.
JUST IN. Sinovac vaccine now recommended for use among elderly by the Vaccine Expert Panel, says Presidential Spokesman Harry Roque. @rapplerdotcom

— Pia Ranada (@piaranada) April 7, 2021
The recommendation comes from the National Task Force for COVID-19's (NTF) Vaccine Expert Panel, composed of some of the country's leading authorities in immunology and epidemiology.
It was confirmed by the National Immunization Technical Advisory Group (NITAG) consultant Dr. Rontgene Solante during an interview with ANC.
'SINOVAC OK TO BE USED FOR 60 yrs ABOVE'

NITAG's Dr Rontgene Solante confirms they are giving the go-signal for senior citizens to be inoculated with Sinovac in the absence of other vaccines. Says it will give 'enough protection' against COVID19 #ANCHeadstart @ANCALERTS pic.twitter.com/Qu8ZeuBncH

— Karen Davila (@iamkarendavila) April 7, 2021
"If there are no other vaccines at this point in time, we have to find a logical solution. Getting vaccinated with Sinovac is an option," Solante said.
He added that experts are not sure of the possible side effects to the elderly, but they can "more or less protect these individuals."
Once this made it to social media feeds of Filipinos, one person immediately popped into their heads: President Rodrigo Duterte.
Netizens are now calling on the President to allay all worries of adverse side effects and be inoculated with CoronaVac in public.
Then the President and his senior citizen posse can now be publicly inoculated with Sinovac #MakeItHappen https://t.co/D86Mtnengy

— Rara/Ichan (@cgarranz) April 7, 2021
https://twitter.com/rapraprn/status/1379748041591193603
-Since Sinovac is now permitted to be used on senior citizens, will President Duterte be inoculated with that vaccine?

— Prinz Magtulis 프린즈 (@prinzmagtulis) April 7, 2021
Some Netizens have even called on not just Duterte, but other elderly members of his cabinet as well.
So duterte and duque can now be given the sinovac vaccine to prove it is okay?

That would be leadership by example and will greatly boost confidence in sinovac.

Let's do it! https://t.co/J4WfIA5mfb

— Papampodi – 1Sambayan ako! (@Papampodi1) April 7, 2021
Kung ituturok ninyo yang Sinovac sa Senior Citizen, iturok ninyo muna yan kay Duque, Roque, kay Galvez, Lorenzana at Duterte.. Mga siraulo!!!

— #JunkTerrorBillNow (@trebronacon) April 7, 2021
Philippine Star desk editor Jonathan de Santos, however, sees it differently.
More tabs open about this than is healthy but, really, if we're supposed to trust FDA on Sinovac why are our politicians doubting them on Ivermectin

— Jonathan de Santos (@desamting) April 4, 2021
Doubts stem from politicians and select celebrities "recommending" ivermectin, and some Filipinos now relying more on symptom relief than outright immunity.
As of writing, the Food and Drug Administration (FDA) has concurred with the NTF panel. They have since forwarded their approval to the Department of Health (DOH).
Both agencies, however, have come out with a statement about using CoronaVac to immunize the elderly.
"The DOH and FDA emphasized that the vaccination of senior citizens using CoronaVac should strictly be preceded by careful evaluation of the person's health status and exposure risk," the statement reads.
They also pointed out how the data from Phase 1 and 2 trials are not enough to establish how effective the vaccine is.