It would have been like any other birthday celebration for President Rodrigo Duterte—one that shows his "simple" and "humble" beginnings—but a slip-up from someone in the gathering has caused an uproar.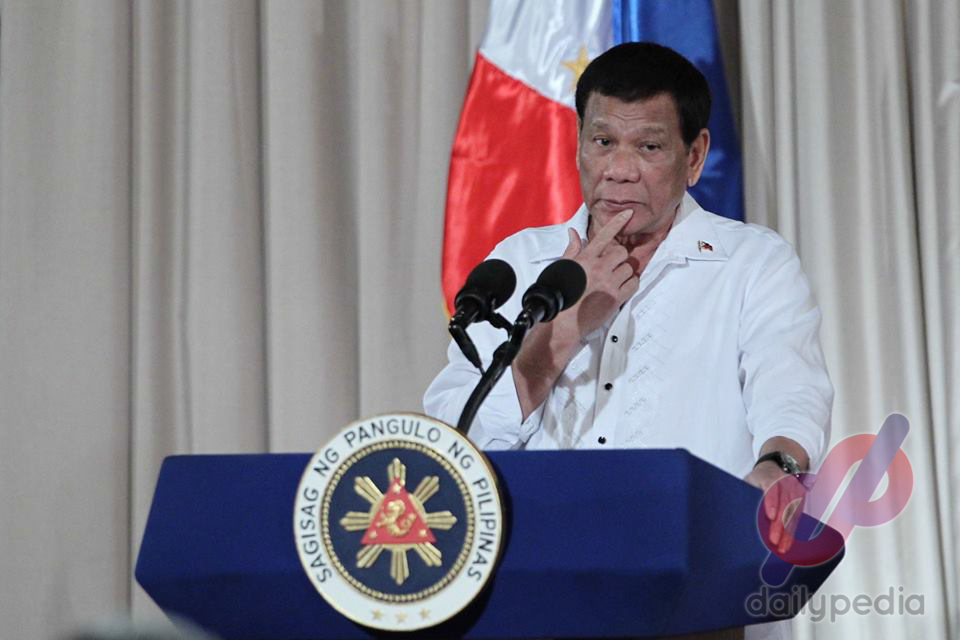 His supporters praised him and would have flown under the radar if this image was kept intact, but screenshots of Duterte's 76th birthday celebration in Davao City proved otherwise.
A simple celebration?

President Rodrigo Duterte on Sunday celebrated his 76th birthday at home in Davao City and a photo of him blowing a candle placed on a cup of rice quickly went viral.

READ: https://t.co/7ae8fZh6Cy pic.twitter.com/nOBrL4jo32

— News5 (@News5PH) March 29, 2021
However, reports from various media outlets cite an angle not shown by the man who took the shot (Senator Christopher "Bong" Go).
And this one angle earned a lot of flak from Netizens.
Bayan secretary-general Renato Reyes Jr. reacts on President Rodrigo Duterte's 'pretension of being poor' during his 76th birthday where he blew a candle on a cup of rice. pic.twitter.com/nCo7dwqKql

— Inquirer (@inquirerdotnet) March 29, 2021
The photo shows the Duterte family table with a spread that has more than what Go's photo showed—including a roast pig.
That roast pig drew reactions from the Netizens and raised a deception claim as Go cropped out those stuff from the one he posted online.
Guys, please. Huwag kayong pahatak sa straw man fallacy ng mga DDS.

It's not about the lechon, it's about the deception.

They tried to deceive us. Period. Point blank.

That's the issue. They can take the lechon and their fallacies somewhere else.

— nico quejano (@nicoquejano) March 29, 2021
the video posted that was out on social media was duterte blowing a candle on a plain rice as a cake, but on a different angle, a lechon was literally on the table lol.

the worst part? when he tried to touch the girl's private part, it's harassment.pic.twitter.com/MzK6ewVtrJ

— ً kai ; (@archercullens) March 29, 2021
Those loyal to the President, however, passed it off as a non-issue. They defended that roasted pigs are consumed most of the year by people from Visayas and Mindanao. They implied that it's common to see it on a dinner table.
Isn't it ironic that the Tagalog-speaking regions only see lechon during special occasions while it is something that is being consumed by people from all social classes during most of the year in the Visayas and Mindanao? No wonder pati lechon ay pinupulitika na din.

— Benedict Exconde (@iskonglasalista) March 29, 2021
LECHON POLITICS, ca. 2021

IMPERIAL MANILA: Lechon is for the rich.

VIS-MIN: Lechon is for everybody, rich or poor, special occasion or not.

— Pinoytapsilog (@pinoyanghang) March 29, 2021
That one image would cause the word lechon to trend on Twitter, with over 12,000 uses as of writing.
#DuterteManyak trends
"You should know by now that the president likes to kid around," said Palace spokesperson Harry Roque, in an attempt to pass off a hashtag that has also trended on microblogging site Twitter: #DuterteManyak.
This would surface after this clip—which also showed the now-infamous lechon—made round on social media.
TW: Molestation, sexual assault

Habang tumatagal, mas lalong nagiging manyak ang pangulo. #DuterteMANYAK pic.twitter.com/8cZs0aWmx1

— GABRIELA #WomensDay #IWD2021 (@gabrielaphils) March 29, 2021
According to Roque, this shouldn't be an issue for two reasons: (1) the housemaid has been with them for years, and (2) his common- law wife, Honeylet Avanceña, was in the same room and did not even flinch.
Regarding "panghihipo" claims as seen in a video of President Rodrigo Duterte taken during his birthday in Davao, his spokesman Harry Roque defended Duterte's actions saying he was only poking fun and that the president has a close relationship with members of his household. pic.twitter.com/H7z6dV3vxY

— Philstar.com (@PhilstarNews) March 29, 2021
This reason, however, did not fly with Netizens, who promptly blasted Roque for saying this was all part of Duterte's personality.
i am so tired of hearing harry roque defending & justifying the kabastusan acts of the president as a "joke" or "sense of humor" pareparehas kayong baboy. #DuterteManyak#DuterteManyak #DuterteManyak

— mark geronimo (@markgeronimo_) March 29, 2021
https://twitter.com/_cheesymochi/status/1376482742477619202
Attempting to grab someone's private parts w/o their consent, regardless of your relationship with the person, regardless if it was a joke, regardless of your position, will never be funny. And the fact that this is not the first time we've seen how dirty you are.#DuterteManyak

— Violet (@eggygoosehead) March 29, 2021
No malice dahil matagal nang kasama? Ito ang problema @attyharryroque, nino-normalize niyo kahit mali. Anong mensahe niyan sa mga Pinoy lalo na't ECQ na naman? Na okay lang manghipo dahil matagal nang kasama sa bahay? Kilabutan ka Harry. Palala ka nang palala. pic.twitter.com/Ac1nEEC9D8

— Jules Guiang (@julesguiang) March 29, 2021
It isn't the first time Duterte would get flak from how he has been shown whenever he flies home to Davao City.
Netizens, particularly the President's supporters, would fawn over an image of him supposedly switching out a supposedly fancy dinner spread in Malacañang for a can of sardines.
This would be dismissed as nothing more than pakitang-tao or for the show by critics, especially since photos of Duterte often show him with "simple" meals.