In what some netizens described as 'surprising', the Court of Appeals (CA) ruled in favor of former senator Antonio Trillanes IV to reinstate a 2007 rebellion charge.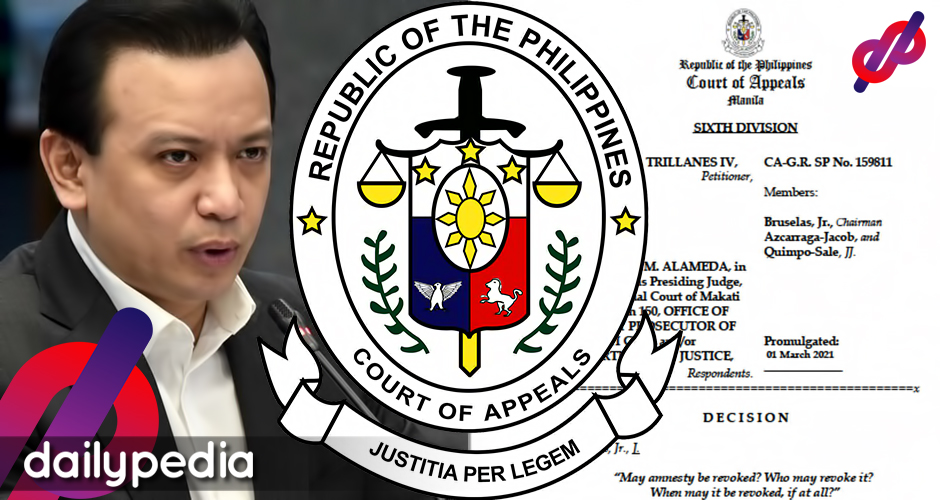 The news sparked headlines along the lines of "Duterte gov't loses its bid" to send one of its biggest critics to jail outside of detained Sen. Leila De Lima.
According to the CA, Makati Regional Trial Court (RTC) Branch 150 judge Elmo Alameda "committed grave abuse of discretion that amounted to excess of jurisdiction", essentially saying Makati RTC Branch 150 did not have jurisdiction over the case.
Duterte govt loses its bid to jail Senator Trillanes in the amnesty case, at least at the Court of Appeals level as the appellate court says Makati RTC Branch 148 no longer has jurisdiction on the rebellion case. Branch 150 refused to reopen the coup d'etat case. | via @lianbuan pic.twitter.com/CNerTzUrtu

— Rappler (@rapplerdotcom) March 2, 2021
The appellate court also pointed out that the RTC limited itself to only receiving affidavits and hearing oral arguments.
In a statement, Trillanes said the rule of law prevailed when the CA junked the revival of his rebellion case.
He also thanked the CA justices for their decision, saying "Sana all na judges and justices ay may ganitong sense of justice to check the prevailing authoritarianism in the country."
This was lauded by netizens supportive of Trillanes and confused those who were critical of him.
One netizen quipped Solicitor General Jose Calida after he lauded Alameda's revival of the rebellion case.
CALIDA LEFT THE GROUP

BREAKING

Court of Appeals grants former Senator Antonio Trillanes' petition challenging Makati court's ruling reviving his rebellion case.

Via CNN PHL pic.twitter.com/QIrwtyZLEt

— Faith Francisco (@PingPingFaith) March 2, 2021
Others lauded the CA justices as well as firing back at lawsuits from President Rodrigo Duterte's more high-profile supporters.
Pansin ko lang in practice, talagang naipapanalo on appeal ang mga DDS-induced suits. https://t.co/z6VqcjwDY0

— INOR Barskie (@ironicallyours) March 2, 2021
Boom! Congratulation, @TrillanesSonny ! https://t.co/isKB9BEaTO

— PinoyAkoBlog (@PinoyAkoBlog) March 2, 2021
Those critical of Trillanes took to Facebook, agreeing with critics that the local justice system still works, though some netizens believe Trillanes "bribed" CA justices into favoring his petition.
Alameda was the same judge who handled Trillanes' rebellion case in 2007 but had it dismissed in 2011 after then-President Benigno Aquino III gave amnesty to Trillanes.
Duterte revoked the amnesty in 2018, which netizens believed was an effort to silence him as a critic of the administration.
What the CA has done is to essentially keep Duterte's decision intact whilst allowing the rule of law to prevail.