The private sector in the country remains persistent in acquiring vaccines from firms Moderna and Novavax.
Presidential Adviser for Entrepreneurship Joey Concepcion recently said that the private sector is looking to consolidate 8 million doses of the Moderna vaccine.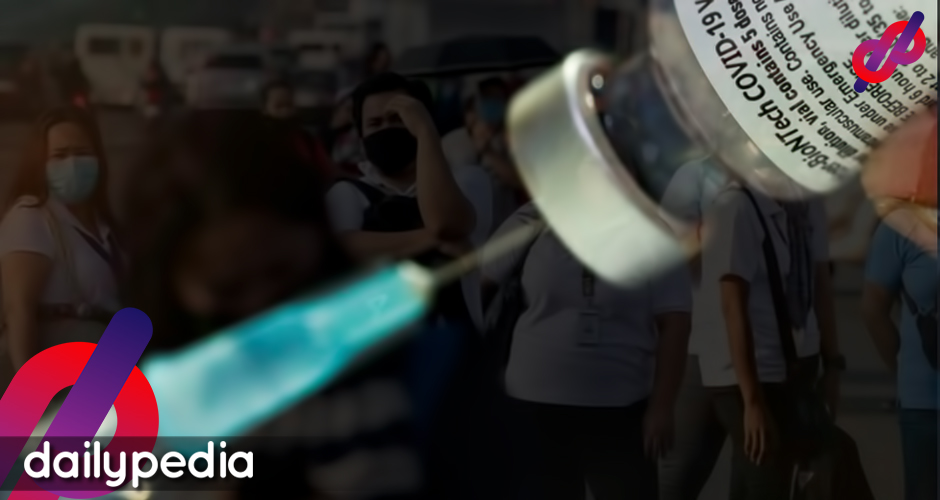 This came after AstraZeneca rejected further orders of its vaccine.
Around 800 companies have expressed interest in securing the Novavax vaccine which has an efficacy rate of 89 percent.
The government will also not be donating any vaccines to the private sector.
"Hindi na kailangan ng donation kasi malaking bagay na rin na kami ang bumibili ng vaccines para sa empleyado. Itong mga vaccines na ito na Moderna at Novavax, mas mahal ito kaysa sa Astrazeneca," said Concepcion.
The vaccine program of the government is set to commence as soon as the vaccines arrive in the country.
President Rodrigo Duterte has been on record advising the public to just wait for a vaccine to partially mitigate the problems brought by the pandemic.
But the Philippine government is relatively late in its vaccine rollout which has people wondering what the problem is.
Singapore is way ahead of the Philippines in vaccinating people.
Singapore now has both the Pfizer BioNTech & Moderna vaccine. Duterte, you seeing this?

— Jamina Rosales (@sarminafied) February 17, 2021
So far, the Duterte administration has shown that it is too incompetent to get anything done right, netizens say.
Aba sabi ni Roque si Duterte ay 10 Steps Ahead, ang tanong po pasulong ba yan kse parang paurong yung steps kya bagsak rating ng governance ni Duterte! Hwag mu kameng ungguyin Roque, hindi maitago ang mga delays ng gobyerno, vaccines nga eh wala pa kumpara sa ibang bansa!

— Ricky S (@saudiboy2) February 17, 2021
Duterte also recently went after Vice President Leni Robredo, saying that he'd be afraid if she is elected president. His priorities are just all over the place, said a netizen.
Dear Supreme Leader Duterte,

Instead of questioning VP Robredo's presidential qualifications, just certify the indemnification bill being pushed by Congress for it to become a law so that we could finally get the damn vaccines.

— Peter Abreen (@abreenism) February 17, 2021
One netizen feels like the vaccine plan was just for show and that the government was just going to delay the program as it always does with other issues.
https://twitter.com/pepcpam/status/1361982244395446272?s=20
The Duterte regime since March 15, 2020. Ayaw magkaroon ng vaccine ang mga Pilipino. Ayaw din bumalik ang kabataan sa mga eskuwelahan. (Pero binuksan ang mga sinehan at arcade? Mga tanga.) https://t.co/rCUJjLRPG7

— Jecon Dreisbach (@jecondraysbak) February 17, 2021
Pharmaceutical firms may not be confident in giving the Philippines vaccines due to its facilities, which are relatively poor compared to those in other countries.
https://twitter.com/nelreis_/status/1361797559413530624?s=20
Duterte should be addressing the delay and the procurement of the Covid 19 vaccines rather than attacking his critics.

— Frank Opinion (@FrankOpinion65) February 16, 2021
Corruption can never be counted out wrote a netizen.
alam niyo sa ibang bansa pag sinabing influenza vaccine, wala ng tanong tanong anong brand…di ba? taga niyo na covid vaccine–kung anu anong vaccine brand ang binibili kasi kikita kayo! litse! #duterte samok! https://t.co/Ah8dBDCV1J

— Jucadz (@jucadZ) February 17, 2021
17 million doses of AstraZeneca vaccines are expected to arrive in either May or June. In addition, 5 to 8 million doses will also be arriving from the COVAX facility.
The second batch will then arrive on the third quarter of the year.
The AstraZeneca vaccine has already been approved for emergency use by the FDA.
The government is looking to have around 70 million Filipinos vaccinated against COVID-19.