It's not uncommon for district and partylist representatives, referred to by most as congressmen, to have ulterior motives for their constituents in filing bills and appearing in the House of Representatives.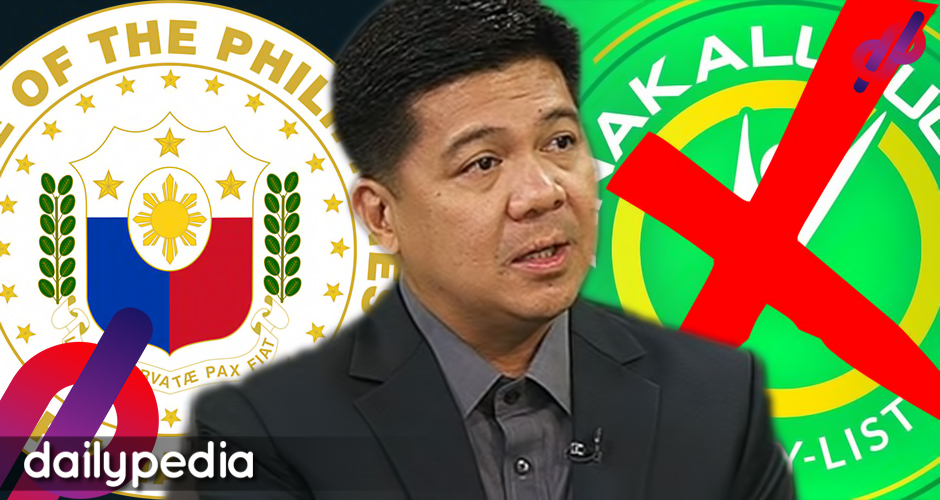 One partylist representative, though, seems to have "strayed from the path" of the very partylist he represents: Anakalusugan partylist Rep. Mike Defensor.
This was evident as Defensor's first order of business was to follow up on an impeachment complaint—on Supreme Court Associate Justice Marvic Leonen.
In today's session, Anakalusugan Rep. Mike Defensor inquires on the status of the impeachment case filed at the House against Supreme Court Associate Justice Marvic Leonen. | @JMAurelioINQ pic.twitter.com/wcu7HrsrDm

— Inquirer (@inquirerdotnet) February 22, 2021
Eagle-eyed netizens immediately took notice of Defensor's "priorities" and pointed out how a partylist that is supposed to represent personal health for all Filipinos—as stated in this 2018 BusinessMirror opinion piece—is concerned with Supreme Court justices.
https://twitter.com/dumidyeypee/status/1363757572717563910
https://twitter.com/giankabogable/status/1363761126815657984
ano ang mandato ng Anakalusugan Party-list bilang isa itong inihalal na party-list ng mga tao? bakit ito yung inuuna ng kinatawan niyo? https://t.co/geRvW49feW

— JAYPEE #DefendPUP #JoinSAMASAPUP (@HeyJeypi) February 22, 2021
One even argued who Defensor is actually representing.
Anakalusugan rep pero hindi pagsugpo sa CoViD at pagkakaroon ng bakuna sa Pilipinas ang unahin. Duterte BBM rep ka dapat. https://t.co/LGTk0coD9W

— karen claridad (@k_claridad) February 22, 2021
Where Defensor's priorities really lie
With all due respect, Rep. Defensor has filed his fair share of health-related bills, all of which seek to improve health care in provinces that badly need them.
He is the principal author of several Republic Acts that have since helped places like Siargao (RA 11500), Caraga (RA 11472), Talisay City in Cebu (RA 11473), and Pamplona in Camarines Sur (RA 11495).
Early in his political career, Defensor—who was then a Quezon City representative—would also author RA 8976 or the Philippine Food Fortification Act of 2000.
He has also filed bills to help out the municipality of Rizal in Palawan as well as other bills concerning overall health—none of which have managed to get past the Senate or even the House Committee on Health.
He has, however, filed several bills on trade and industry and economic affairs—two sectors which his partylist should technically have no interest in.
Defensor was rather active in the health sector at the start of his term as Anakalusugan's representative, going as far as being the vice-chairperson of the Committee on Health before Taguig-Pateros Rep. Alan Peter Cayetano got booted out of his House Speaker seat.
Since then, he hasn't been vocal at all on health issues hounding the country that's not related to COVID-19.
Another issue that Defensor has been vocal on is the ever-popular topic of charter change.
BASAHIN: Pahayag ni Anakalusugan Partylist Rep. Mike Defensor kaugnay sa pagsusulong ng Kamara ng economic Cha-Cha. @dzbb pic.twitter.com/qVWWx4PppY

— Isa Avendaño-Umali (@Isa_Umali) February 16, 2021
In this statement released to the media, Defensor asked the Lower House to first convince the Senate to "get onboard its Cha-cha express" before any of them tackle amendments to the 1987 Philippine Constitution.
He asked the new House leadership to solve two contentious issues: the need to convene as a constituent assembly and the question of needing to vote as one Congress or as separate Houses.
Mining fiasco: Defensor vs Lopezes?
Defensor has been quite vocal about the ABS-CBN franchise, seeing as he is still the vice chairperson of the House Committee on Legislative Franchise.
He has also been caught in the crossfires of issues surrounding the mining industry as the chairman and CEO of Pax Libera Mining.
A quick search online would yield news articles suggesting that Defensor has a personal vendetta against the Lopezes after the late Environment Secretary Gina Lopez had closed down mining corporations which violated environmental laws.
Gina Lopez is the sister of ABS-CBN's chairman emeritus Eugenio "Gabby" Lopez.
In an interview with CNN Philippines, Defensor denied these claims, saying Pax Libera Mining is not covered by the Department of Environment and Natural Resources (DENR-Central) in Metro Manila, but DENR-ARMM. "Sec. Gina Lopez did not suspend any mining corporations in Tawi-Tawi because our mines… are in the ARMM."
Several rumors, however, broke out in November 2020 about Defensor's involvement in a certain quarrying operation in Rodriguez, Rizal that contributed to the massive flooding in the province after Typhoon Ulysses.
Majestic Earth Core Ventures, Inc. is one of the 16 quarries operating in Rodriguez which was seen as a direct contributor to the severe flooding in the area. Defensor was listed as its Chairman and President; however, the company's website has since redacted Defensor's name and is apparently undergoing an overhaul of their website for 2021, merely getting redirects to their Facebook page as of this writing.
Defensor's involvement in Majestic Earth Core Ventures has not been proven as of today.
As for Anakalusugan, the partylist has been largely quiet in the news and onsocial media platforms, with their last post on their Facebook page dating from September 2019 and their Twitter account having absolutely none.