The Department of Education has been under fire for having several errors in a recent music class video uploaded on their YouTube channel.
Netizens called out the agency and aired out their disappointment in the video.
DepEd has faced several instances of public scrutiny after making constant grammatical and typographical mistakes on their online learning modules. 
Netizens have called out the Department of Education (DepEd) once again after it uploaded a video showing children wrong rhythmic patterns in an online Music class.
In the now-deleted video, which was uploaded to DepEd's YouTube channel, Teacher Eujan Abracia demonstrated how to read and clap the rhythmic patterns based on different time signatures.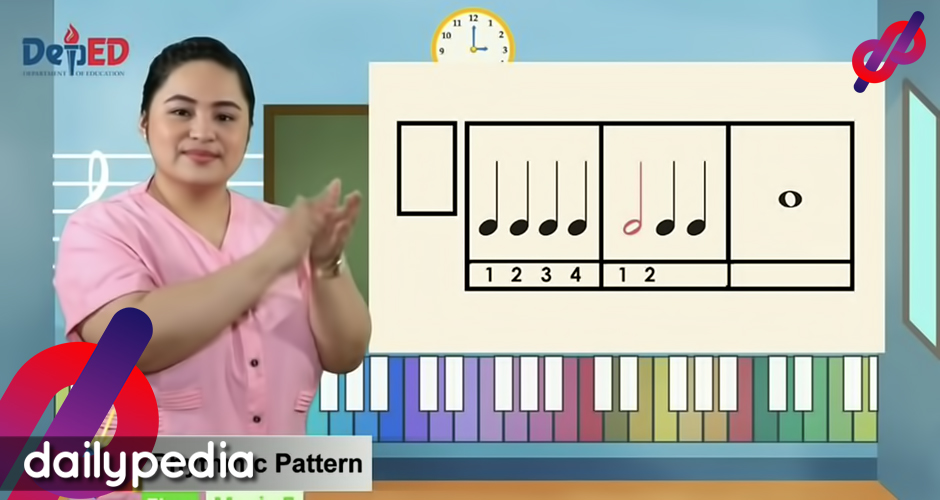 However, when Abracia was representing the whole note, she clapped four times instead of just clapping once and kept her hands together during four beats.
The video was re-uploaded by a netizen named Joseph Tinio who asked DepEd about the supposed lesson.
DepEd? What the fuck is this shit? pic.twitter.com/WW2GdwgYB4

— Joseph Tinio (@sephtinio) January 2, 2021
There were also other errors in the video. For example, the instructor was confused about how to say time signatures. So instead of saying "four-four" when it comes to 4/4, she said "four-fourths" like how it's verbalized in mathematics.
"Also four-fourths? FOUR-FOUR! Di yan math! Di yan fraction!" Tinio stated in a follow-up tweet.
The notes are to be held based on the TIME value or # of beats (quarter = 1, half = 2, whole = 4). See vid for the explanation

Also four-fourths? FOUR-FOUR! Di yan math! Di yan fraction!

Minor subject na nga ang MAPEH, maliit pa tingin sa mga subtopics na nakapaloob dito? pic.twitter.com/k1j27qTbcD

— Joseph Tinio (@sephtinio) January 2, 2021
Another netizen pointed out the errors in the video and asked DepEd if it was really their best.
First of all, hindi ganyan ang sukat ng beats.

Second of all, hindi "four-fourths" kundi "four-four." Time signature 'yan, hindi fraction.

Third, tangina, ito na ba yung best talaga ng DepEd sa pamumuno ni Liling? https://t.co/tjERzWghVF

— VACCINE MEDINA (@Punongbayan_) January 2, 2021
Someone then made a video correcting one of the errors in the initial video.
https://twitter.com/AlCagmat/status/1345601318438674434
"DepEd doesn't really care about students and teachers at all," @_bbyongg wrote.
deped doesn't really care about students and teachers at all pic.twitter.com/9dZ2EZDg3X

— ¯_(ツ)_/¯ (@_bbyongg) January 3, 2021
A Twitter user also compared DepEd's way of teaching to a TikTok video. In the clip, a man was showing how every piece of block fits into the square hole even though each shape has a corresponding slot.
https://twitter.com/danglmn/status/1345438964249886720
Others then used the deleted DepEd video to emphasize how music and arts are two of the "most neglected" subjects in MAPEH.
IN MY EXPERIENCE (disclaimer) Music and Arts are the most neglected MAPEH subjects. Idk if it's because of the teacher, the materials, or the system? Basta may mali! I just passed it, end of story ng walang nadalang "legit" knowledge. C'mon DepEd, that subject deserves better. https://t.co/r7u3jdbWkq

— Park Joonar (@park_joonar) January 3, 2021
On the other hand, @Mrcxsm thought about the teachers who had no choice but to follow the teaching materials of DepEd.
I feel bad for the teachers. I mean, it's not their fault that this administration is not prioritizing the quality of our education system.

It's very likely that the teacher on the video just followed the teaching materials made by DepEd. https://t.co/no6lbn7u8G

— Mar(x)c (@Mrcxism) January 3, 2021
Another reminded people not to direct their disappointment to the teachers who are also "tired", "hard-working", and "overworked."
Back in August, netizens criticized DepEd for having grammatical and typographical errors in its TV learning modules.
Education Undersecretary Alain Del Pascua then admitted that there were a lot of errors as they have received messages from concerned citizens.
Singer Lea Salonga has also expressed her disappointment towards DepEd after finding several errors in their modules.