A sweet birthday surprise went viral on Facebook after a lady showered her boyfriend with love and affection during his 25th birthday.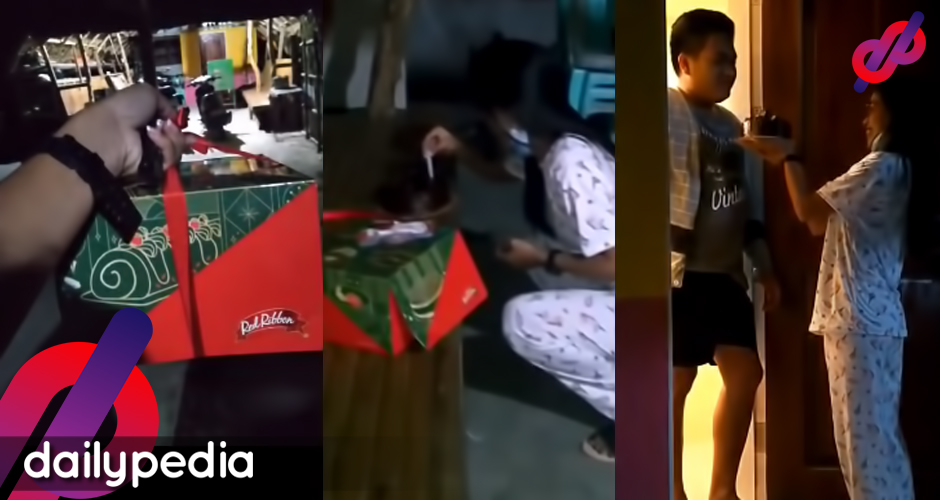 After Cindy Fornea posted photos and videos of her surprises to her boyfriend Kim Claidy Lopez, netizens quickly commented on how touching and inspiring it was.
Cindy's surprises were simple but sometimes simple is just what people need. She surprised Kim in his home and brought him a cake. When the morning came, they went outside to eat where she surprised him with a gift and yet, another cake.
In the caption of her video, she said that she waited for 12AM to strike because she wants to be the first person to greet her boyfriend a happy birthday.
"Gusto ko sa unang oras ng birthday mo ako ang unang babati sayo at unang makikita mo pag dilat ng mga mata mo sa oras ng Birthday mo. Sobrang saya ko kasi kahit saglit napasaya kita. Nawala yong kaba, panlaw at takot ko nong nakita ko ng ngumiti ka. Kasi naging worth it yong ginawa ko."
A photo on her post now has more than 68,000 shares on Facebook.
When asked what she felt when she saw her post going viral, Cindy answered that she was delighted as it was really unexpected.
"Hindi ko naman inaasahan yun at hindi ko rin ginusto yun. Ang gusto ko lang naman is mapasaya si Claid sa birthday nya. Natutuwa naman ako kasi madaming nainspired sa caption ko sa effort ko. Na hindi lang dapat lalaki ang mag effort," she told DailyPedia.
She said that she initially had a Plan A and Plan B regarding her boyfriend's birthday. The first plan didn't work so she ended up doing the second one.
"Kaya yun ang naiisip ko na matutuwa siya kasi hindi biro ang mag motor papunta sa kanila ng ganung oras. Ginawa ko yun? Kasi gift sya ni God sakin nung birthday ko at gusto kong pahalagahan yun."
The two met when at the city hall of Mecalelon, Quezon where they both worked. They would often see and smile at each other until the day that Kim finally messaged Cindy. Their flirting started via memes until the latter decided to make all the jokes real.
Cindy then said that her birthday wish for her boyfriend is to stay happy, stay healthy, and for his dreams to come true.
"Deserve naman niya lahat ng blessings na natatanggap nya at matatangap palang niya," she wrote.
The couple has now been together for three months.