As the IATF sticks to its guns and claims we are very much on time for vaccines, one of the Duterte administration's allies in Congress says they were actually late.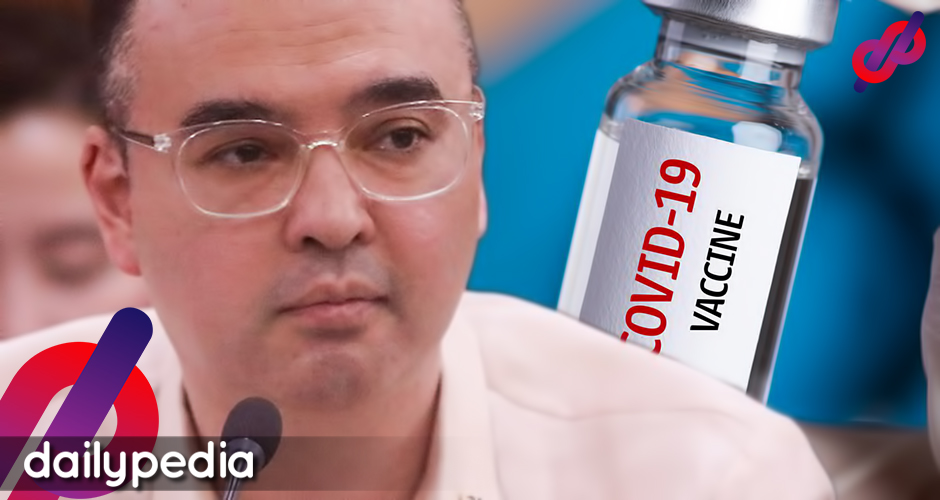 In a session with reporters on January 7, Taguig-Pateros Rep. and former House Speaker Alan Peter Cayetano said we were late with picking up vaccines for COVID-19.
Cayetano: Aminin natin na nahuli tayo at unless mag-focus tayo sa vaccination, all these other issues will seem very small | via @joycebalancio

— ABS-CBN News (@ABSCBNNews) January 7, 2021
He stressed that while Congress has plans to talk about charter change once more, the country's vaccination situation is more important.
Cayetano: Kahit anong political issue, economic issue na gagawin natin na hindi nilalapit sa pagkakataon na ma-vaccinate ang karamihan at lahat ng Pilipino ay kailangan isantabi at unahin ang vaccination | via @joycebalancio

— ABS-CBN News (@ABSCBNNews) January 7, 2021
"Kahit anong political or economic issue… ay kailangan isantabi at unahin ang vaccination," Cayetano told reporters earlier today.
Cayetano is right in this sense, as a recent study published by debt watcher Moody's Analytics placed the Philippines in last place for Asia-Pacific countries who will recover from the pandemic—ahead only of India for all Asian countries.
According to reports, Moody's Analytics chief economist Steven Cochrane said both countries are expected to struggle due to recession and "uncertain fiscal support of their policymakers."
The Philippines is pegged by Moody's to recover by fourth quarter of 2021, with India following suit in the first quarter of 2022.
On the other hand, neighboring countries Hong Kong, Indonesia, Australia, and Thailand are expected to recover by mid-2021, while China, Taiwan, and Vietnam have already recovered and are looking to progress more throughout the year.
Moody's pegs the country's recovery to start at 4.5% this 2021 before rising to 6.2% by 2022. That's after a massive 9.9% dip in GDP in 2020.
Cochrane places the blame for the country's slow growth on the Duterte administration's lackluster approach to fiscal stimuli alongside a quarantine that looks to persist until March 2021.
He also agreed with Cayetano—although their statements weren't made in conjunction with each other—that the country lagged behind its neighbors in procuring the COVID-19 vaccine.
For its part, Malacañang has continuously insisted that we are very much on time for procuring vaccines—only that the major countries have taken at least 80% of the stocks from pharmaceutical companies.
"'Wag kayong mag-alala kung talagang kailangan umutang, uutang pa tayo para gastusin. Ito po ang tinatawag nilang fiscal policies," Presidential Spokesperson Harry Roque would tell reporters in an online briefing.