It looks like the legislative branch is taking notice of the Christine Dacera case, with no less than the Senate President chipping in with his two cents.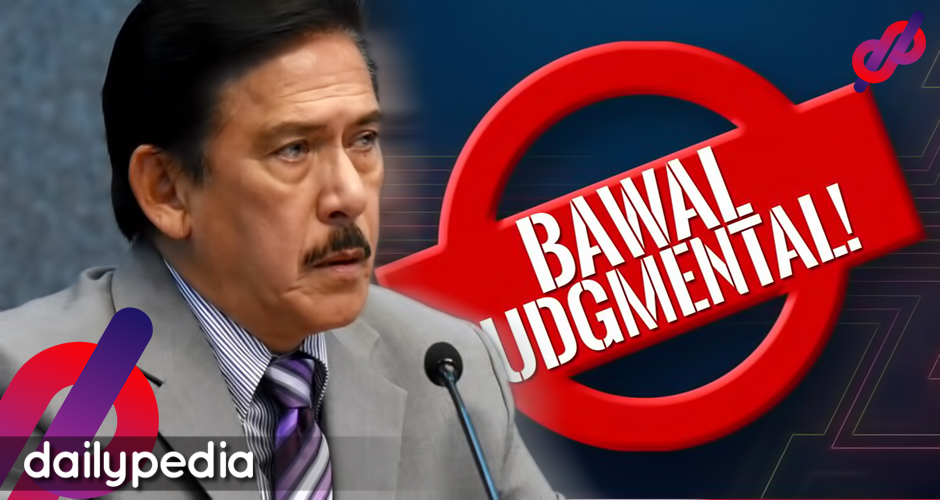 On January 6, Senator Vicente "Tito" Sotto tweeted how people should not be too quick to judge others.
Many individuals take things and events at face value. A usual homo sapiens mistake. Kaya dapat, bawal judgemental, specially if you do not know the reasons behind certain situations or actions of people! In the end, nakakahiya ka pa. Be careful in judging people!

— Tito Sotto (@sotto_tito) January 6, 2021
Taking a cue from his show Eat Bulaga's segment "Bawal and Judgemental", he said that people tend to "take things and events at face value."
"Kaya dapat, bawal judgemental, especially if you do not know the reason behind certain situations or actions of people," Sotto said.
Netizens were quick to respond with things like apprehending an infamous quarantine violator…
Tito Sen. Pwede pkisabi yan sa infamous quarantine violator. May manhunt agad-agad… Pano na kung may mga trigger-happy ulet sa pamamaril? More mothers will grieve.

— aileen audet (@AudetAileen) January 6, 2021
… along with firing back at the senator for generalizing the Filipino people.
True but mostly are more discerning and don't take anything at face value lalo na pinagsasabi ng mga pulitiko. Kaya Mr. Senate President don't ever think that the people (except to a few) believe in your justification about ABSCBN franchise renewal.

— arlie dollaga (@aybama) January 6, 2021
Remember you lost when you ran as senator under GMA after being the Campaign Manager of FPJ. And you used to be the topnotcher. A sure winner.

Give the people more credit.

— arlie dollaga (@aybama) January 6, 2021
Sotto's comment undoubtedly came from speculations and theories that netizens have formed since the Philippine National Police (PNP) has come out with a rape-slay angle on the death of the 23-year-old flight attendant.
Between netizens assuming that all 11 "men" raped or at least took part in the death of Dacera, netizens are now calling for justice not just for the flight attendant but also for the mistakenly-identified suspects.
Netizens are also calling out the PNP—particularly its chief P/MGen Debold Sinas—for continuing to push the rape-slay angle despite the glaring lack of evidence.
There's also a prevailing belief that the actions of Sinas reflect a need to revitalize the police force after what can only be described as a disastrous 2020.
Sinas' statements, however, are hardly echoed by his peers, including PNP spokesperson P/BGen. Ildebrandi Usana and the man who replaced Sinas as NCRPO chief, P/BGen Vicente Danao, Jr.
Sinas earlier said the 11 suspects had 72 hours to surrender. Usana, however, said the PNP will wait for the results of the inquest proceedings before going after the suspects as a warrant has not been issued for their arrest.
Danao, meanwhile, quipped that for a case to be considered "solved", Sinas should already be able to tell the public who the perpetrator was in the supposed Dacera rape-slay case.
Sinas has yet to present a definitive suspect nor evidence to support his theory, banking on mere speculation to present the 11 gay men who were with Dacera as suspects.