Vice President Leni Robredo shared the story of Dr. Jess Dexisne from Albay.
On October 2, 2020, the 32-year-old became Barangay Bagacy's first-ever doctor. His neighbors were so happy, they even decided to chip in and celebrate the achievement.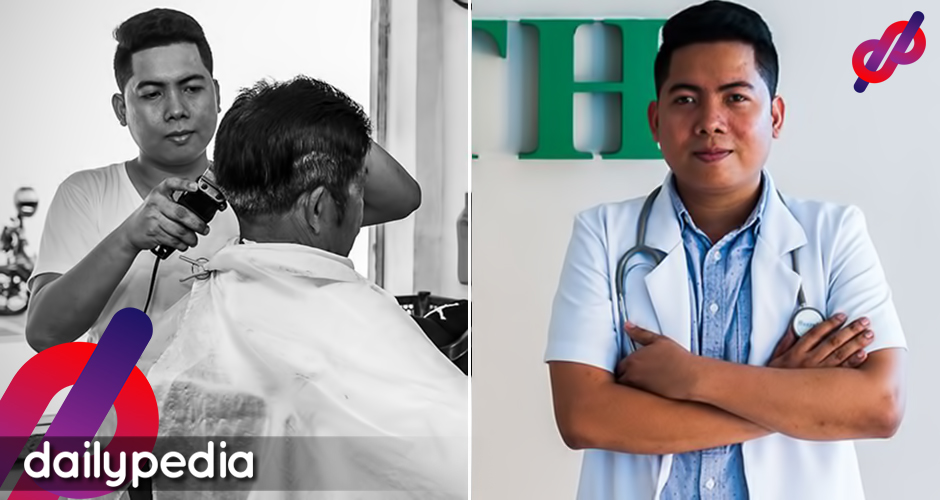 Being the eldest of 6 siblings, Jess's journey wasn't smooth at all. He came from a family who had always experienced financial struggles. This motivated him to study harder. Ever since he was in high school, all the way until he took nursing at the Immaculate Conception College, he was a working-student, part-timing at his grandfather's barbershop so that he can earn extra income.
When his grandfather died, he moved to another barbershop to continue earning money to help fund his studies. He then passed the Philippine Nursing Licensure Examination on his second try.
Jess decided to continue studying and pursued a medical degree at the Ago Medical and Educational Center-Bicol Christian College of Medicine (AMEC-BCCM) in Legaspi City. Fortunately, he got a scholarship that helped him cover his tuition.
But despite that, he still continued to work at a barbershop to cover his school expenses. And now that he's finally a doctor, he didn't forget to express his gratitude to those who helped him.
"I'm grateful to God for this blessing and to my parents and so as the AMEC-BCCM for the scholarship. I'm also thankful to our dean Dr. Ofelia Samar-Sy who untiringly supported my journey to realize my dream to be a doctor from a poor family. Being a barber, this paved the way to finish my medicine [degree] and now [I am] a full-fledged doctor," he said.
Jess added that he wants to be a surgeon that will help poor patients.
When asked if he had any messages for the young ones, he said that he hopes that the kids won't lose hope.
"For our youth, specifically that we are in the pandemic, don't lose hope, continue your dream and perseverance to finish your education despite the challenges because you will never achieve your dream if you quit."