As the country reels from the massive hit it took from Typhoon Ulysses (international name: Vamco), the academe has sounded the call to end the semester anew.
Statements have been issued by students and faculty from the Big Four as a response to their student's struggles in the last three weeks.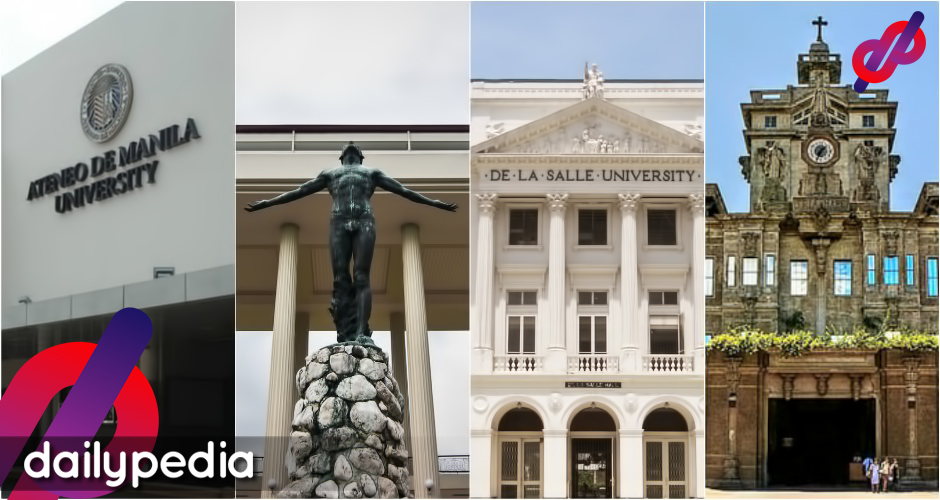 Students and faculty from University of Sto. Tomas (UST), Ateneo de Manila University (ADMU), De La Salle University (DLSU), and the University of the Philippines (UP) have all called for an academic break in the aftermath of both Typhoon Ulysses and Typhoon Rolly.
The Big Four along with other universities have since called off online and modular classes from at least November 16 to 21.
— University of Santo Tomas (@UST1611official) November 15, 2020
At least 130 members of the UP faculty have signed a petition to end the semester, asking for a pass or drop grading system instead of the usual numerical one.
https://twitter.com/phkule/status/1327985882888998914?s=21
Students from ADMU have asked for a strike, though it has been turned down by their student government, the Central Assembly.
ICYMI: With a 7-2 vote, the Sanggunian Central Assembly has denied the motion to endorse the petition for a mass academic strike. pic.twitter.com/JuxJzxAXEn

— The GUIDON (@TheGUIDON) November 17, 2020
More than 7,600 students from DLSU, on the other hand, have signed a petition calling for an academic break.
DLSU students release a petition calling for an academic break and government accountability following onslaught of Typhoon #UlyssesPH. It has garnered 7,682 signatures as of 5:10pm on November 15. 📸 One La Salle for Human Rights and Democracy | via Yanna Estrellado pic.twitter.com/TghXLMZ6g6

— Rappler (@rapplerdotcom) November 15, 2020
Government actions, statements on #AcademicBreakNow
All of these have resulted from this decision by the Commission on Higher Education (CHED) denying petitions for a nationwide and Luzon-wide academic break.
JUST IN: CHED rejects calls for nationwide and Luzon-wide academic break, leaves it to schools to suspend classes — Chairperson Popoy de Vera https://t.co/sDo55hwVGt #TheSource pic.twitter.com/0Lh62fdoFA

— CNN Philippines (@cnnphilippines) November 17, 2020
CHED chairperson Popoy De Vera has even suggested taking a break instead of suspending the semester outright.
CHED on calls for academic break: Take a short break for things to normalize then adjust the academic calendar

— CNN Philippines (@cnnphilippines) November 17, 2020
CHED Chairman De Vera: I voted against the proposal to reduce UP's semester. Kawawa ang mga bata at faculty. UP should end the sem in January, not December.

— CNN Philippines (@cnnphilippines) November 17, 2020
CHED has since left the decision to suspend the semester to respective colleges and universities.
Malacañang, through Presidential Spokesperson Harry Roque, on the other hand, would devalue calls for an academic freeze.
"Babagsak kayo."

Palace spokesman Harry Roque responds to the students of Ateneo de Manila University who declared a mass student strike to condemn what they call the government's "criminally neglectful response" to the recent typhoons that ravaged the country | @chiarazambrano pic.twitter.com/tvvNsseJhq

— ABS-CBN News (@ABSCBNNews) November 15, 2020
Roque was quoted as saying Ateneo students "would fail" should they push through with a student strike.
Netizens, majority of student body not happy with CHED decision
Netizen, both students and faculty, were not happy with CHED's statement and the government's inaction on calls to at least end the 1st semester early.
Sink-ronus Class

At times like this, we need extra compassion for students and teachers greatly affected by the typhoon. We are not okay. #NoStudentLeftBehind #AcademicBreakNow pic.twitter.com/GN2wuoMsdt

— chachi sells stickers 4 a cause (@chachichirya) November 15, 2020
https://twitter.com/frvrhstyles/status/1327846594922745857
we're in the middle of pandemic and a crisis and this DepEd and CHED are still expecting us to act normal like nothing happened? na parang walang bagyong dumaan? the country needs us yet you're still thinking about our modules and online classes. #AcademicBreakNow

— ًmaui (@smaureenxvera) November 15, 2020
STUDENTS: #AcademicBreakNow

BRIONES: pic.twitter.com/akHI5vT3tG

— R (@vlscorvn_) November 15, 2020
"they say beggars cannot be choosers, but i never thought humanity was something to beg for."

Sumigaw lahat ng pagod at nananawagan!#MakSciMagingay #AcademicBreakNow #AcademicBreakNowMakati pic.twitter.com/JRzYFpGS75

— aal ★ comms open! (@4alpas) November 17, 2020
Yes, I'm a teacher from MSU Gensan and I'm all for Academic Break. #AcademicBreakNow

— The April Guy (@therickybustos) November 16, 2020
"PuRO ReKlaMo" isn't ranting. It's called speaking up. People need to speak up to be heard! No matter what age, what gender you are. You deserve to speak up and thats on periodt. #AcademicBreakNow

— Rex Ramirez (@jrxrmrz_) November 16, 2020
Before the day ended, it was decided that classes shall resume on Monday—as if nothing happened.

I was told to be silent, but I couldn't help but express my dismay. I couldn't find any logical reason to justify their decision.

I am a teacher, but I stand with #AcademicBreakNow.

— Archiekins (@SirArchiekins) November 15, 2020
Students on edge have gone to protesting at Katipunan Avenue to voice out their opinion on CHED's decision.
NGAYON: Naglulunsad ng protesta sa Ateneo ang mga estudyante mula sa iba't ibang pamantasan upang singilin ang gobyerno ni Pangulong Rodrigo Duterte sa kriminal na kapabayaan nito sa mga nagdaang sakuna.#YouthStrikePH #OustDuterte pic.twitter.com/yIYQsk6Kv1

— Philippine Collegian (@phkule) November 17, 2020
Progressive group Anakbayan Laguna has also come out with a statement, going as far as asking that classes be suspended until President Rodrigo Duterte steps down from his post.
Maging sa kasagsagan ng pandemya at mga nagdaang hagupit ng bagyo, malinaw na malinaw na hindi kailanman isinasaalang-alang ng gobyerno ang ligtas, dekalidad, demokratiko, at abot-kayang edukasyon.

(1/11) pic.twitter.com/J4GKxk0keS

— Anakbayan Laguna #OustDuterteNOW (@AnakbayanLaguna) November 16, 2020
Students would find allies in both former and current government officials, including Kabataan Partylist Rep. Sarah Elago.
I, Kabataan Partylist Rep. Sarah Elago, stand with Thomasians calling for #AcademicBreakNow #CompassionForThomasians 🙏✊ pic.twitter.com/SGn08vB4Ou

— Sarah Elago (@sarahelago) November 15, 2020
Elago called for compassion as students from UST have continually asked their governing body to suspend the semester.