Social media erupted after photos of a Duterte mascot punching a coronavirus mascot spread online.
The Joint Movement for Free COVID-19 Vaccine, led by the World Philosophical Forum Philippines Inc., held a press briefing and covenant in Pasay last Wednesday in an effort for the country to secure China's Sinovac vaccine.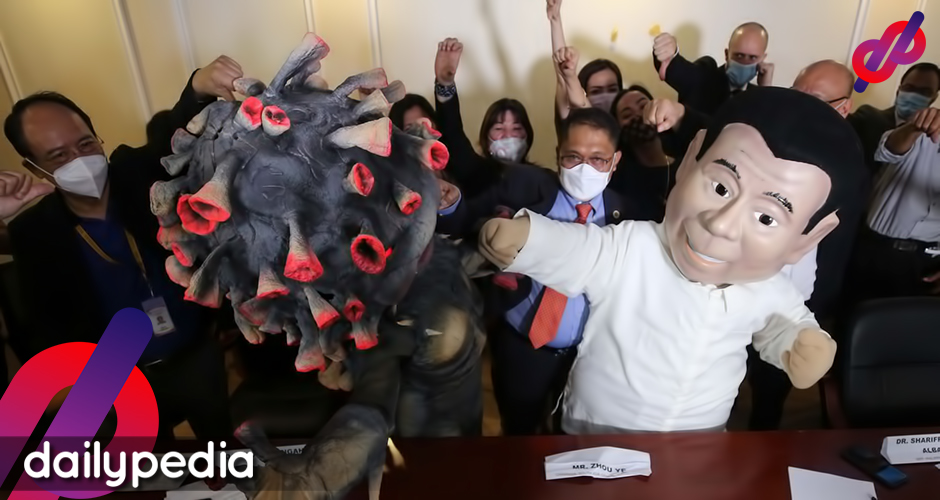 Sinovac Biotech, a Beijing-based biopharmaceutical company, recently developed a coronavirus vaccine and the said group seeks to "help" the Duterte administration in working with the Chinese government to regarding the vaccine.
The vaccine is called CoronaVac and is at Phase 3 in global trials in China and Brazil. The South American country branded it the "safest" and "most promising" out of all the approved vaccines, said São Paolo governor João Doria.
Sinovac will have clinical trials in the country.
However, people did not expect mascots to come out. Critics said that the antic was done as a means to make Duterte look strong. Some found it to be funny, but most saw right through it.
How exactly did this help achieve their goal… https://t.co/DHWUXRoIrW

— Jai Cabajar (@jaicabajar) October 28, 2020
The stunt was flat out pathetic, said one netizen.
This pretty much sums up Philippine government's covid crisis response. Comedic and pathetic. https://t.co/JYtLreiR6X

— 𝐌𝐢𝐬𝐬 𝐊𝐫𝐢𝐳𝐳𝐲 (@krizzy_kalerqui) October 28, 2020
Kinailangan pa talaga ng mascot ha. Sigurado kayo diyan? I mean, talaga, mascot? Jusmio. https://t.co/0JnTNthWKt

— ethelMEspiritu (@EthelMEspiritu) October 28, 2020
Many didn't think the mascots helped in any way, shape, or form.
Ito lang kaya nilang gawin https://t.co/JX1xCOYK6L

— AltABSCBN (@AltABSCBN) October 28, 2020
One netizen joked that Duterte is actually the virus.
This is brilliant. Spot on ang Duterte mascot. I'm just curious though, who's the guy in white? pic.twitter.com/G8qf87VEQk

— The Professional Heckler (@hecklerforever8) October 29, 2020
That Duterte mascot fuels my hate fire

— Paul (@pilosopaul) October 28, 2020
More joked that they are expecting COVID-19 cases in the country to drop.
IM EXPECTING THAT AFTER MASCOT DUTERTE PUNCH COVID THE CASES WILL ✨dROP✨

— KWEK-KWEK (@jinxnix) October 28, 2020
Ano na namang kabobohan 'to? Does this group really think it can convince China with the use of mascots? Seriously? The only way this use of mascots makes sense is as another propaganda to make Duterte look like a literal action man against Covid among his supporters that have pic.twitter.com/Wydmc76qMU

— TheEmperor (@Eric_Cabahug) October 29, 2020
We don't need a mascot since Duterte is already China's fucking puppet. https://t.co/ojebmRhdoz

— Arby (@arbymedina) October 28, 2020
Others still have questions about the stunt.
I just need to know who decided to create this COVID mascot, why did they put titties on it, and why is the president duterte mascot touching it inappropriately?? I need answers! pic.twitter.com/hJIF0xVbB2

— Lai Sol (@yabadabadai) October 29, 2020
https://twitter.com/ianjereth/status/1321407357704761346?s=20
After the vaccine's safety profile, effect and study design were reviewed, the panel "positively" endorsed it, said Food and Drug Administrator Director-General Eric Domingo.
A similar stunt was set up last August in San Pablo City, Laguna wherein people with sticks were seen attacking a coronavirus mascot.
It came following the city's initiative to implement health measures to prevent further spreading of the disease.
In the video, a "distancing stick" was introduced to remind people to socially distance when in public.
People said budget was wasted on entertainment purposes instead of using it to improve the public health sector.