Maj. Gen. Debold Sinas has been appointed the new chief of the Philippine National Police (PNP) by President Rodrigo Duterte, the Malacañang announced Monday.
"Tinalaga po ni President Rodrigo Duterte si Debold Sinas bilang bagong Philippine National Police chief effective po bukas, November 10," presidential spokesperson Harry Roque said in an online briefing.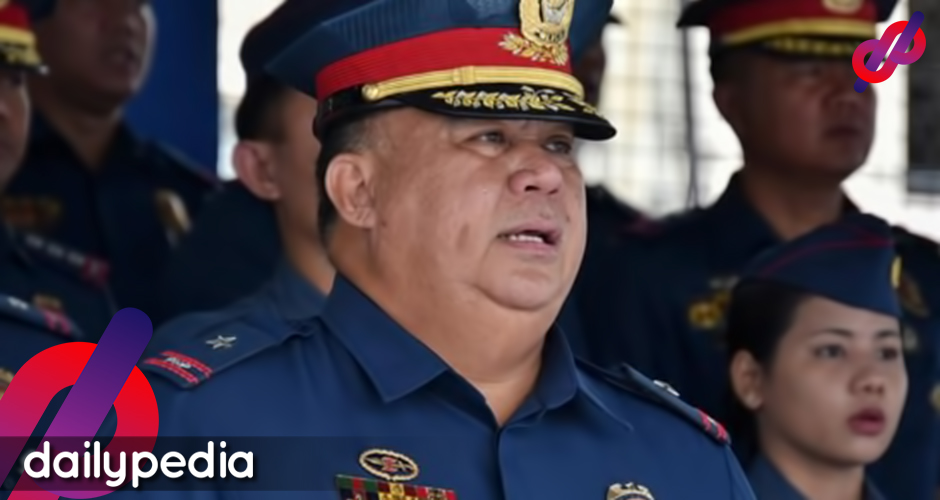 Sinas is about to succeed the outgoing General Camilo Cascolan on Tuesday.
Sinas is a member of the Philippine Military Academy Hinirang Class of 1987 and was the regional director of the Police Regional Office 7 (Central Visayas) before heading Metro Manila's police force.
He was criticized last May for celebrating his "mañanita" at Camp Bagong Diwa in Taguig City where plenty of police officers were seen flouting COVID-19 health measures while Luzon was on strict lockdown rules.
The PNP has since filed criminal and administrative complaints against Sinas and 18 others.
Malacañang, however, wants the Filipino people to give Sinas "a chance" as he was a "very big" addition to Duterte's anti-narcotics campaign.
"Let's just say that appointment to the post is a matter of trust and confidence, and he is for the moment, the most trusted by the President," Roque told reporters.
"Let's give him (Sinas) a chance. He has 6 months to prove his worth. Let's see if after 6 months he will inspire people," he added.
Sinas, with all the controversy surrounding his questionable decisions, has yet to be punished.
The veteran cop is an ally of the president, and people are not expecting him to face any consequences. This is also the reason why many are against his promotion to PNP chief, people are noticing the "double standards" in the country's' politics.
Actress Saab Magalona will never forget how Sinas went unpunished after his birthday celebration, while average citizens immediately get jailed or fined for violating health protocols.
#Mañanita #NeverForget https://t.co/L5TViJWs22

— Saab (@saabmagalona) November 9, 2020
The PNP recently reported that around 130,517 people on November 8 have been charged for violating health protocols.
73,437 of them are from Luzon, 31,334 from Mindanao, and 25,746 in the Visayas, said  Lt. Gen. Guillermo Eleazar.
He added that for the past 234 days, 517,462 were approached for violating quarantine protocols and ordinances.
"It is important that our commanders on the ground re-strategize to ensure the protection of the people," he said
Columnist Gideon Lasco said Sinas is basically "the symbol of the government's double standards and intoxication with power." His promotion only shows Duterte's "shameless hypocrisy and total lack of respect for the Filipino people."
Debold Sinas is the symbol of the government's double standards and intoxication with power.

For Duterte to elevate Sinas as PNP chief instead of punishing him speaks of his shameless hypocrisy and total lack of respect for the Filipino people.

— Gideon Lasco (@gideonlasco) November 9, 2020
Philip Jamilla seems to also dislike Sinas.
Or, quite frankly, this isn't actually fucked up. The Philippine National Police, after all, is an institution built on state repression and violence. Debold Sinas isn't just a pasaway cop that got away due to double standards: he's a murderous butcher being rewarded for his job.

— Philip Jamilla (@pmjamilla) November 9, 2020
Smarter netizens believe Duterte's promise of solving corruption will remain a promise until his term has ended.
The promotion of Debold Sinas is a clear proof of the Government's double standards.

For this government to say that they will eradicate corruption, yet promotes a law violator, is nothing but lip service.

Only in the Philippines where this is okay.

— MIKOPALMOS (@mikopalmos1) November 9, 2020
Why does this dipshit get to be a PNP chief? Duterte truly is the commander-in-shit and Sinas – being the exemplar of double standards – is the new PNP shit. https://t.co/lpoqvGBN2M

— Wilfred Gabriel Gapas (@senseigab) November 9, 2020
The double standards are so apparent it's not even funny.
Na isang klarong paglabag sa mga health protocols ng ating bansa. Ang pagtalaga kay Debold Sinas ay isang pruweba ng pagkakaroon ng double standard ng pangulo, kung saan inuuna ang pansariling interes kesa sa bayan.

— Anakbayan Dimasalang (@ABDimasalang) November 9, 2020
https://twitter.com/marronsantillan/status/1325658477331533830?s=20
A netizen is curious about how Duterte's supporters are going to defend him on this one.
And I'm not surprised at all! as they say birds of same feathers flock together. What Im after is how DDS will counter this "promotion" thing. truly a double standard. I guess even Duts appoints the devil, DDS will still praise him. What a distorted minds. Sinas

Welcome to PH

— James Cedric L. Hassan (@JamesCedricLim) November 9, 2020