Dr. Vicki Belo, one of the most popular dermatologists in the country, has been called on by netizens to apologize to South Korean singer-actress Lee Ji-eun, or better known to her fans as just IU.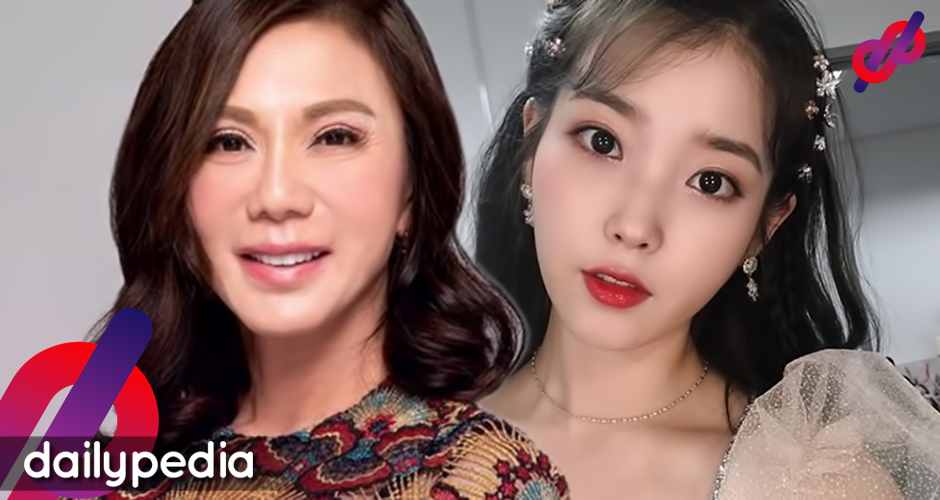 As an expert on cosmetics, Belo has a habit of sharing her thoughts on celebrities who have undergone body modifications. Most of the time she gets it right, but IU's fans think she was incorrect in this one.
In a now deleted TikTok video, Belo said the Hotel del Luna star had her eyes and nose done.
"She did Blepharoplasty on her eyes to make them wider and bigger. She did Rhinoplasty on her nose to make her bridge higher and more pointy on the tip of her nose, she did fillers on her lips, especially more on the upper lip," she said.
She also said IU "looks much prettier" because she underwent Thermage treatment to make her face smaller.
IU's fans immediately demanded that Belo apologize because they do not think their idol went under the knife.
They posted photos of her to disprove Belo's claims.
https://twitter.com/lilbubjieun/status/1326510931338170368?s=20
They want Belo to show evidence that IU did in fact undergo plastic surgery.
Look at this natural beauty!! PLASTIC SURGERY WHAT????@VickiBelo Don't mess with the wrong family!! Show us proof! @VickiBelo #UaenaReportBeloIGPost#ProtectIU pic.twitter.com/jOi4SPaXNm

— blue rose (@dlwrellema) November 11, 2020
IU was born a beauty, her fans argued.
third the fillers in her lips
mrs @VickiBelo IU already had plump lips when she was a kid pic.twitter.com/wcAPbOf1M6

— elizabeth⁷ᴮᴱ (@speak_yourself1) November 11, 2020
Maybe Belo should issue an apology.
https://twitter.com/leejiweuns/status/1326522211767705602?s=20
Her comments can be perceived as a case of slander.
.@VickiBelo @belobeauty although cosmetic surgery is not a bad thing but spreading false information is. She did an intense diet to lose the fats. Do some research first. Kindly take down your recent video about our artist and apologize for the false information.

— VOTE FOR IU! (@smolbbjieun) November 11, 2020
https://twitter.com/sjbm21/status/1326521342418583552?s=20
Dra. Vicki Belo pointing "possible plastic surgeries" to Korean Celebrities is UNCALLED for.

That was a clear DEFAMATION.

You are a professional, keep your so called "info" by yourself or private consultation.

Why not expose your own clients?

— Keytie (@moonkeyt_) November 11, 2020
I think @VickiBelo studied more about the surgery and forget about puberty. IU is young & chubby when she started her journey in the industry, I believe she just loss some weight during trainings and that's all.#BeloApologizeToIU#UaenaReportBeloIGandTikTokPost #ProtectIU https://t.co/jXByQyPYmw

— Rosé Anne (@RoseAnneB__) November 11, 2020
this is why fact checking is a must before posting anything serious/sensitive,
the video is a clear act of defamation for spreading misinformation. a beauty tip for you, delete the video and apologize for clear skin @VickiBelo

— ar (voting acct) (@jieunfanboy) November 11, 2020
South Korea is among the top 10 countries with the most aesthetic surgeries per year. As a matter of fact, plastic surgery is not something South Koreans frown upon because it is so common that it has become a part of the norm.
They usually get their bodies done after graduating to prepare themselves for the next chapter in their lives.
https://twitter.com/smolbbjieun/status/1326517823510728709?s=20
https://twitter.com/Ysa_uaena/status/1326512735434153985?s=20
Are you really a doctor? Cause you seems didn't know how to difference between lost weight and did cosmetic surgery, you shoud do research before give information to the public @VickiBelo
IU didn't do cosmetic surgery as your said. Here her baby photos and she didn't much change pic.twitter.com/2TGvBkvlJU

— November_Rainy ☔ (@November_Rainy_) November 11, 2020
Vicki Belo is the founder, CEO, and Medical Director of Belo Medical Group.
She is married to cosmetic doctor and model Hayden Kho, who cheated on her with actress Katrina Halili in 2015.
Kho and Halili's sex tape was leaked to the public which ruined her image. It resulted in Kho losing his license to practice medicine.
Belo eventually forgave Kho and reconciled with Halili.
"Medyo awkward. Parang hindi mo alam kung paano mag-umpisa. Parang hindi makatingin with each other. Pero eventually, nag-pray kami. Nag-umpisa si Hayden. I think everybody was ready. Talagang ang ganda ng nangyari," Belo told ABS-CBN News in 2015.
"May sakit pa rin. May konting turok pa rin. Ang feeling ko kasi, gagawin ko ito kapag wala ng pain. But I don't think it will ever happen. Kasi nung nakita ko si Katrina, parang lumakas ulit. Akala ko nakalimutan ko na, pitong taon na. Pero feeling ko kasi, kung ang Diyos nagpapatawad, ang dami ko rin namang kasalanan, sino ba naman ako para hindi magpatawad?" she said.