It's horrifying to think that simply being against injustices from the government—and voicing out your opinions about it—can lead to you being denied a proper burial for your only child.
A commotion ensued at the Manila North Cemetery after prison guards and lawmen virtually took over the burial of Baby River, the three-month-old daughter of activist Reina Mae Nasino.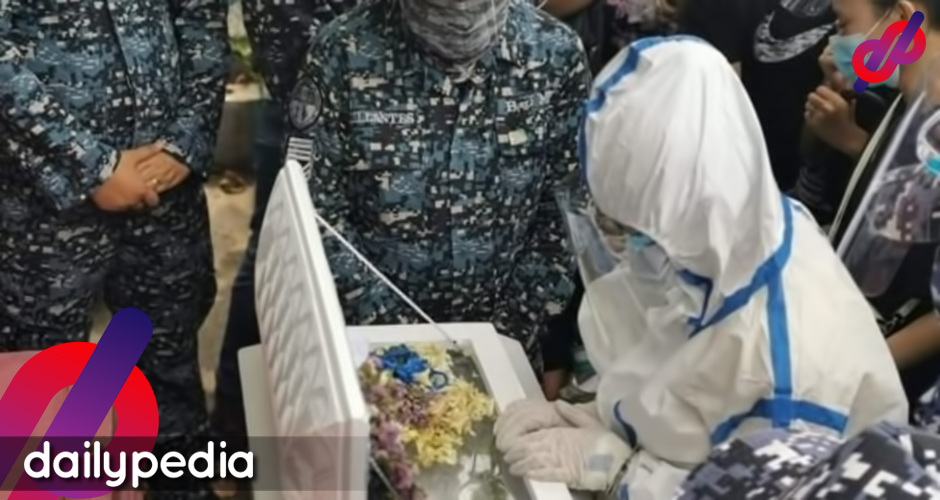 According to reports, about 20 policemen from the Manila Police District (MPD) were stationed at La Funeraria Rey in Pandacan, delaying the release of Baby River's remains. The funeral parlor held Baby River's remains until 1 pm, or when the remains were supposed to be blessed at a church.
Baby River's remains would eventually be released at 12 noon, though the funeral car would speed off—preventing Nasino's family from having a traditional funeral march. The funeral car was also heavily guarded by policemen from MPD.
Nasino's child would eventually be laid to rest at 3 pm—but not without some very contentious decisions from MPD personnel.
Netizens were appalled at the display of what can only be described as overkill over the burial of a 3-month-old child. Between comparisons to convicted politicians and the anguish they themselves felt at the overreaction of policemen, people from all over cited a myriad of things that went wrong at Baby River's burial.
Preferential treatment for convicts vs political detainee
This is probably one of the most highlighted reasons why people are raring to have a go at MPD personnel—and the government's treatment of its detainees in general.
People repeatedly asked how policemen can treat someone who isn't even convicted this way—yet allow convicted politicians to attend family events as they please.
Eh dito sa mastermind ng Maguindanao Massacre? Anong ginawa niyo? Wala, as in wala, hinayaan niyo lang siyang mag-party. https://t.co/bEKf7PJq4u pic.twitter.com/9ACtcIcbHb

— Barnaby Lo (@barnabychuck) October 16, 2020
THIS IS HOW UNFAIR, SELECTIVE, AND ROTTEN TO THE CORE THE PHILIPPINE JUSTICE SYSTEM IS. It's so hopeless and terrible, it doesn't even deserve to be called "justice system". pic.twitter.com/LxBqmLuSAx

— 𝐌𝐢𝐬𝐬 𝐊𝐫𝐢𝐳𝐳𝐲 (@krizzy_kalerqui) October 16, 2020
Others pointed out how the police—and the government by extension—only had the guts to go against the small fry.
Our rage over the police's inhumane treatment of this mother and child is legitimate. What we feel is aggravated by the number of times the govt showed preference for those with political clout vs the poor, including dissenters. 😡😡😡 https://t.co/IqdSYAxDbx

— Jboy Gonzales SJ (@jboygonzalessj) October 16, 2020
So much disrespect for the living and the dead. Covering a grieving mother in full PPE and militarised police as she buries the child she bore in prison? All for the crime of progressive politics? If you geniuses wanted to radicalise the public then this is definitely it. https://t.co/bjH2VYBxY0

— Ica Fernandez (@icafernandez) October 16, 2020
https://twitter.com/pinoymommy/status/1317010662904582145?s=21
Pano kung ikaw yon: nilayo sayo ang anak mong agaw-buhay, tapos ganto pa gagawin sa bangkay nya. Di man tayo nagkakasundo sa pulitika, pare-pareho tayong anak o magulang. Kalupitan ang ginawa nila kay Reina Mae at Baby River. Ang batas ay batas, pero ang batas, dapat makatao. https://t.co/yyzwExHIGQ

— Chel Diokno (@ChelDiokno) October 16, 2020
Sa mga maliliit na tao lang sila matapang! Tapang-tapangan! https://t.co/1djltU2QfH

— Tonette, Tonette (@tonetjadaone) October 16, 2020
Marcos vs political detainee
People looked at how the Marcoses have always been treated better by law enforcement—particularly Imelda Maros, who was never accompanied by the same number of officers during her trial.
How the PH government treats dictators vs. the 3-month old baby of a human rights activist. No respect for the state forces.#JusticeForBabyRiver #FreeAllPoliticalPrisoners pic.twitter.com/lA5nEN4KfU

— #Resist (@prince_turtogo) October 16, 2020
Grabe ito. Sumasabog sa kasaysayan. Mula't sapul ay marahas at may kiling sa makapangyarihan, sa Batas Militar nga naman ni Marcos nagkahugis at nabigyang basbas ang ganitong uri ng pamumulis. Militarized, beholden to politician, at walang takot dahil sa impunity. https://t.co/4bAuhMMhXW

— Glenn Diaz (@glennndiaz) October 16, 2020
I dont understand this ☹ https://t.co/raFaK8tW6C

— Jasmine (@jascurtissmith) October 16, 2020
The Marcoses even got to bury their father, the late dictator Ferdinand Marcos, with full military honors at the Libingan ng mga Bayani in spite of the deceased strongman's disproved claims of military heroism.
Grandma on her knees
The worst images seen thus far are those of Marites Asis, Nasino's mother, having to go on her knees just to have Baby River's remains be released from La Funeraria Rey in Pandacan.
The incident of the PNP snatching of the remains of baby River Nasino & the inhumane treatment of political detainee Reina Mae during the funeral is despicable& must be condemned. What has become of our country that a baby is separated from a mother this way? #JusticeForBabyRiver

— Angeli P Valenciano (@AngeliPV) October 16, 2020
***That a grandmother had to go down her knees and beg for state forces to ALLOW her grandchild's remains to be brought to the cemetery is so insidious, so morally bankrupt, that it can only ever happen under a fascist regime. https://t.co/M2lfIs5Euc

— Alfonso Manalastas (@not_alfonso) October 16, 2020
NO ONE SHOULD BEG FOR THE RIGHT TO BURY THEIR FAMILY'S REMAINS!!!!

ESPECIALLY A BABY!!

NAPAKASAHOL!!!! https://t.co/kkxS1OErbb

— Malignant Energy Twt ✨🙃✊ (@darnitJC) October 16, 2020
I can't even https://t.co/8TiBaY6f6c

— Jeff Canoy (@jeffcanoy) October 16, 2020
Reina Mae Nasino not even allowed to cradle her dead child for the last time. Cops surrounding her like she would escape anytime. Grabe ang kawalan ng respeto at pagkatao ng mga pulis na ito at mga nag-utos sa kanilang maging hayop. https://t.co/KQ2vS8JSRM

— Teddy Casiño (@teddycasino) October 16, 2020
Netizens have continuously called out MPD Director Rolando Miranda, who led the contingent of police officers at the funeral parlor and prevented Baby River's remains from being released to allow for a funeral march.
Lack of personnel from MPD, BJMP?
Speaking of the MPD, one of the reasons they are involved in Nasino's case is their supposed lack of personnel. Netizens, however, reminded both the MPD and the Bureau of Jail Management and Penology (BJMP) of the fact that they had personnel—more than enough, in fact—to keep Nasino "in check".
Imagine…

If there was even half as much zeal in guarding the West Philippine Sea…. https://t.co/9AcjvX8yrF

— Goyo Y. Larrazabal (@GoyYLarrazabal) October 16, 2020
Read here all the excuses that led up to Baby River's death, mostly to do with "Manila City Jail has no resources…" Did Reina Mae even receive proper prenatal care?

Pero may pambili ng DOLOMITE yall. #JusticeForBabyRiver #FreeReinaMaeNasino https://t.co/sspIzR4epo

— Pia Magalona ⁷ #DefendOurFreedom (@piamagalona) October 16, 2020
Hindi po siya convicted criminal. Hindi po siya drug trafficker.
Aktibista lang po siya.
Bakit ganito kalupit… sa kapwa Pilipino pa?!

Absolutely heartbreaking 💔 https://t.co/Abh6BJjZ5t

— Karen Davila (@iamkarendavila) October 16, 2020
Tens of people with placards is no commotion. But armed men in uniform, police cars, and a SPEEDING HEARSE with a baby's corpse??? Iyon.

Kasama si Reina sa pakikibaka, kayâ marapat lang na makidalamhati ang mga kasama. Hindi natatagpas ng paninisi ang mga sungay n'yo, demonyo. https://t.co/SQFBgQZUvb

— Juan Miguel Severo (@TheRainBro) October 16, 2020
"lack of personnel" https://t.co/A1le1RmfI8

— Sarah Elago (@sarahelago) October 16, 2020
Bullshit. https://t.co/soZ1fR0FYz pic.twitter.com/cPPI5kiF79

— Bern (@prodeeboy) October 16, 2020
According to reports, at least 20 policemen were deployed at La Funeraria Rey, with more lawmen waiting at the Manila North Cemetery. Their purpose was to supposedly prevent the grieving Nasino from escaping.
How we got here
July 1 saw Nasino giving birth to Baby River after being granted a furlough due to her pregnancy. She would be separated from her baby two days later, uncertain if she would be able to raise her child.
Nasino would plead before Manila Regional Trial Court (RTC) Branch 20 on July 2, asking that she be allowed to stay with Baby River for 6 months—either at Dr. Jose Fabella Memorial Hospital or at a prison nursery.
Nasino would also file an urgent motion for furlough on October 9 to see Baby River because the baby's doctor at the Philippine General Hospital asked for her presence. Baby River would die that day due to her lungs succumbing to bacterial infection.
Both motions were denied by Manila RTC Branch 20 and instead ordered that Baby River be turned over to Nasino's relatives.
5 months prior to Nasino giving birth, the National Union of Peoples' Lawyers would file a petition at the Supreme Court to grant the temporary release of political prisoners, citing humanitarian concerns. The high court's decision: redirect all political prisoners to lower courts for bail hearings.
This decision would come all too late, as Baby River would be born and later die within the span of 3 months.