He has been at the top of his classes since elementary to college but that isn't a guarantee that he'll automatically be "rich and famous."
He then gave teachers, students, and parents inspiring words with how to deal with life and not just study hard to pass, but study hard to learn.
Most of us were probably brought up with the mindset that we have to be successful in school to be able to have a successful career.
So a lot of people tend to risk everything just to have high grades. And whenever we receive a low or failing mark, we tend to feel useless and demotivated.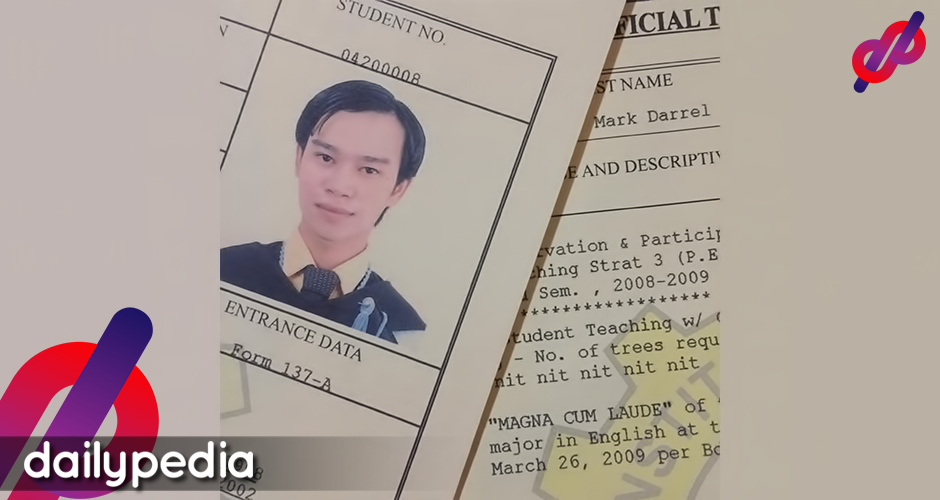 While there is nothing wrong with going for the gold, a netizen says that being an achiever in school is not the most important thing, rather it is to become happy and contented.
A Facebook user named Marky Bee joined the #DropYourHonorsChallenge not to brag, but to say that not everything is about grades.
Marky was a class valedictorian in both elementary and high school. This qualified him to be a student at the University of the Philippines – Diliman after passing its entrance exam.
He also excelled in college. He was a Magna Cum Laude, qualified to be an exchange student in the US, and was a PRC LET Passer.
If a person had that amount of achievements, people would automatically think that he or she would be at the top of the career chain and earning big money.
But Marky is not. He is currently a graduate school drop-out, single, unemployed, broke, and has no investments for his future whatsoever.
So what's the lesson of his post?
"Nothing wrong to always academically excel in school dahil ang honors, awards, and other recognitions, they are not always served on a silver platter, pinaghihirapan at pinagpupuyatan yan. You can use it to your advantage later on but it does NOT always guarantee success in life," he wrote.
Marky added that valedictorians don't always become "rich and famous" because not everything is about a person's IQ, but their EQ as well.
"They're book smart, yes but they're always edged out by those who are streetsmart."
He then wrote a little message to everyone. He told teachers to also give time and help the youth with their talents and skills, rather than just focusing on academic subjects.
"To teachers and parents, more than educating children academically, please hone their talents and skills because it will help them figure out what they want to pursue in life, and take good care of their mental and emotional well-being."
Marky added that students should not study hard not just for the numbers, but also to actually learn.
"Grades are just a bonus. Compete with no one. How you will ace life after school is the real challenge."
Then he said that people should not feel pressured with achieving something in life.
"We have different timelines. Carry on. It is never too late to reinvent yourself, pursue your passion, and find that happiness," he wrote.
"Pursue what makes you truly happy and fvck off those timelines and timetables, pressure and deadline imposed by the society on you."
He then reminded everyone that life is not a race and there will be a time that we will be wherever we're meant to be.
"You may not have all the things that others have but when along the way you discover what is your true purpose in life, you'll be delighted. That. Will. Complete. You."
The post now has more than 37,000 shares on Facebook.