Incumbent House Speaker Alan Peter Cayetano was mocked on social media as he and his allies turn to his "media brothers and sisters" for help in getting names of the 186 lawmakers who voted to oust him as Speaker of the House.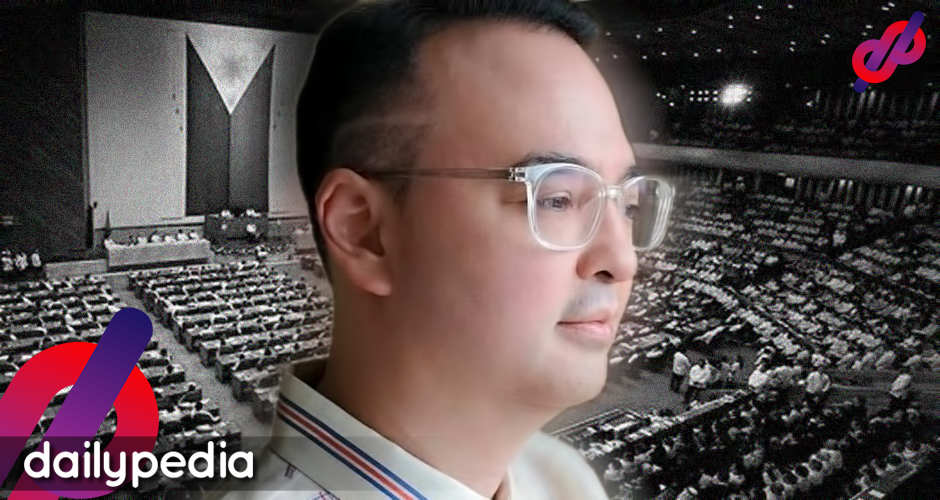 Cayetano questioned the validity of the session that elected Marinduque Rep. Lord Allan Velasco as the new Speaker of the House. "Dapat alam ng lahat (media, rest of the House of Representatives) na may session na mangyayari," said Cayetano.
He said Velasco and his allies can declare the end of the world, but that the session Velasco had with other lawmakers was "nothing more than a social club that violated IATF rules."
As of October 13, the House of Representatives has ratified Velasco's election as the new Speaker of the House.
Cayetano seemed like he was out of words as he kept addressing reporters present as "mga kapatid sa media" upon learning of Velasco's election outside of the plenary hall.
Journalists, however, were not buying it.
ABS-CBN reporter Jeff Canoy called Cayetano out for saying "hindi na kailangan ng mas malaking gulo dahil sa COVID" and him (Cayetano) saying "there is no democracy without a free press", no one was buying what Cayetano was selling.
Cc: ABS-CBN shutdown https://t.co/56bQeuPpst

— Jeff Canoy (@jeffcanoy) October 12, 2020
https://t.co/fWgiYF1zX0 pic.twitter.com/oJKTp4ko3x

— Jeff Canoy (@jeffcanoy) October 12, 2020
Recall that Cayetano defended the House's refusal to renew the legislative franchise of ABS-CBN, even after 12 hearings that proved the network did not violate any provisions of their previous franchise.
CBS News producer Barnaby Lo agreed with Canoy. He stressed Cayetano's defense of the House decision as a faux pas, saying ABS-CBN's closure added to the commotion caused by COVID-19.
Talaga ba? Parang laking gulo nung libu-libo ang nawalan ng trabaho dahil pinasara niyo ang ABS-CBN? https://t.co/CiyaBc56HI

— Barnaby Lo (@barnabychuck) October 12, 2020
Even Rappler multimedia producer Nick Villavecer pointed out how Cayetano was now more worried for his wife because he "might lose his job (as House Speaker)" more than the retrenchment of thousands of ABS-CBN employees across the country.
Worried siya matanggalan ng trabaho pero 'di siya worried sa mga tinanggalan niya ng trabaho when he killed ABS-CBN's franchise. 🤡 https://t.co/nVBpQX476n

— Nick Villavecer 🍥 (@nickvillavecer) October 12, 2020
Tech journalist Jam Ancheta, meanwhile, shared a quote from Camarines Sur 2nd District Rep. LRay Villafuerte, asking "friends in the media verify with the other camp" and get the names of the lawmakers who voted in favor of Velasco.
Now look! A congressman is asking help from the media! Kakapasara nyo lang ABS-CBN di ba haha ayan. Binawasan nyo eh haha https://t.co/LSHvT42z0b

— Jam Ancheta (@JamAncheta) October 12, 2020
Other netizens also chimed in—particularly notably Kakie Pangilinan, daughter of Sen. Kiko Pangilinan, and Jillian Robredo, daughter of Vice President Leni Robredo.
sir u can go get in the pond if you want to be a silly goose https://t.co/4bzNaRmEB9

— pankakie (@kakiep83) October 12, 2020
……..oh https://t.co/Rqj5FaD0Yd

— Jillian Robredo (@jillrobredo) October 12, 2020
Malacañang, for its part, is not taking the speakership row sitting down because it has affected the passage of the 2021 national budget.
President Rodrigo Duterte has summoned both Cayetano and Velasco to the Malacañang Golf Clubhouse, or Malago, today, October 13, for a meeting regarding the passage of the 2021 national budget—and possibly to settle the House speakership row once and for all. This is according to Presidential Spokesperson Harry Roque.