So is he in or is he out?
This is probably the question that will puzzle netizens for the next few weeks as the House of Representatives moved to reject supposed outgoing House Speaker Alan Peter Cayetano's offer to resign from his post.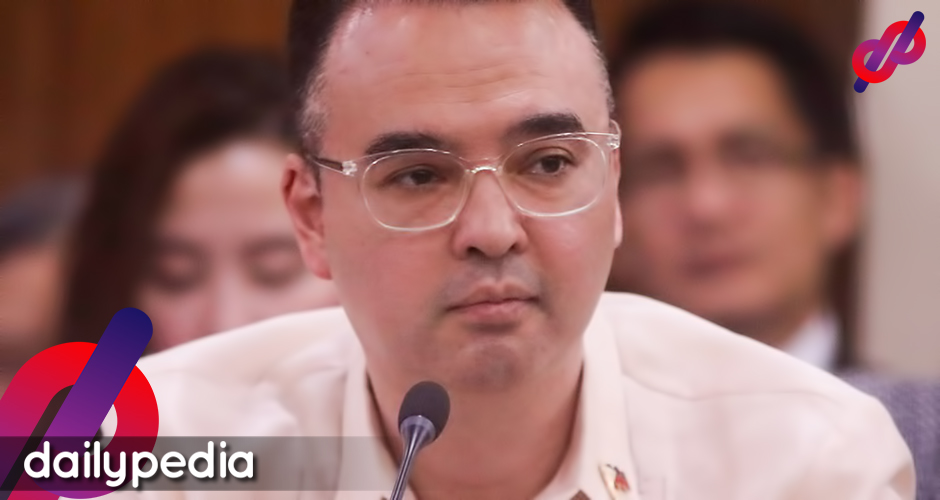 Congress recently heard an "impassioned" privilege speech from Cayetano as they were in the middle of deliberations for the 2021 National Budget.
The House would later reject his offer for a resignation.
While it seems that Cayetano will remain as Speaker of the House, celebrities and netizens were quick to point out how "overly dramatic" Cayetano's speech was.
To them, it seemed the supposed outgoing Speaker of the House was trying to win sympathy votes to have his term persist until his 50th birthday—or until October 28, 2020, two weeks after he is supposed to step down.
https://twitter.com/julesguiang/status/1311219223725666309
https://twitter.com/therainbro/status/1311216984592248832
Si Cayetano yung kaibigan mong talak nang talak kapag hindi napagbigyan ang gusto.

— Myk (@mykapalaran) September 30, 2020
https://twitter.com/yolointheph/status/1310989973156499459
https://twitter.com/punchthelies/status/1311227032345378818
https://twitter.com/krizzy_kalerqui/status/1311233560448135169
Others have pointed out how "weak" his leadership of the House of Representatives is—specifically during this pandemic—and forcing the President to step in. Again.
Mhmm. A lesson on hope and priorities c/o an institution that prioritized the Anti-Terror Bill and ABSCBN shutdown in the middle of a pandemic. https://t.co/D4KwiLVWdK

— Tricia Robredo (@jpgrobredo) September 30, 2020
Whoever gets the Speakership, one thing is clear as daylight: It is Duterte who pulls the strings in Congress.
Anything about separation of powers is BULL.

— inday espina varona (@indayevarona) September 30, 2020
Leader mo tapos independent? OXYMORON https://t.co/jTw4r2F3AG

— PinoyAkoBlog (@PinoyAkoBlog) September 30, 2020
https://twitter.com/julesguiang/status/1311237500057206784
https://twitter.com/julesguiang/status/1311296370247041027
Breaking the norm?
The norm, after the House Speaker vacates his post, should be for the Deputy Speakers to elect a new House Speaker amongst themselves—with the vote of the House of Representatives.
However, one of his closest allies, Anakalusugan Partylist Rep. Michael Defensor, said he "objects to his offer of resignation."
"I would like to remind you that you are not an appointee of this Congress. You were elected by 266 of our 304 representatives," said Defensor. He added that Cayetano himself said he was "indispensable", and that his "gentleman's agreement" with his would-be successor, Marinduque Rep. Lord Allan Velasco, no longer applies "because our Congress is on a boat riding through a storm."
Towards the end of his speech, Defensor would move that the House vote on whether they should accept Cayetano's offer to resign instead of electing a new Speaker of the House. This would be seconded by Bulacan 1st District Rep. Jose Antonio Sy-Alvarado.
After a rather confusing vive voce vote—a vote done by shouting aye or nay—Deputy Speaker Raneo Abu would call for an individual vote. The result: the House overwhelmingly rejected Cayetano's resignation with 184 yes votes, 1 no vote, and 9 abstentions.
How did we get here
The House leadership previously attended a private meeting at the request of President Rodrigo Duterte, only for the supposed outgoing House Speaker and his successor to reveal details of what should have been an internal meeting.
Allegations of insults aimed squarely at Velasco were thrown out by Oriental Mindoro Representative Salvador Leachon earlier today during the meeting. Leachon is a close ally of Velasco.
Prior to the drama at the House of Representatives, Cayetano and Velasco supposedly agreed to term-sharing as suggested by the President. Cayetano's term as House Speaker would end on October 14, at which point Velasco would take over.
Cayetano then supposedly asked Velasco during their internal meeting that he be allowed to remain as House Speaker until October 28, ending his term as House Speaker on his 50th birthday.