Remember how one Yona Abella went viral three years ago for being able to save up over P43,000 simply by putting away a bunch of 50-peso bills?
Well, this couple just took that challenge to the next level.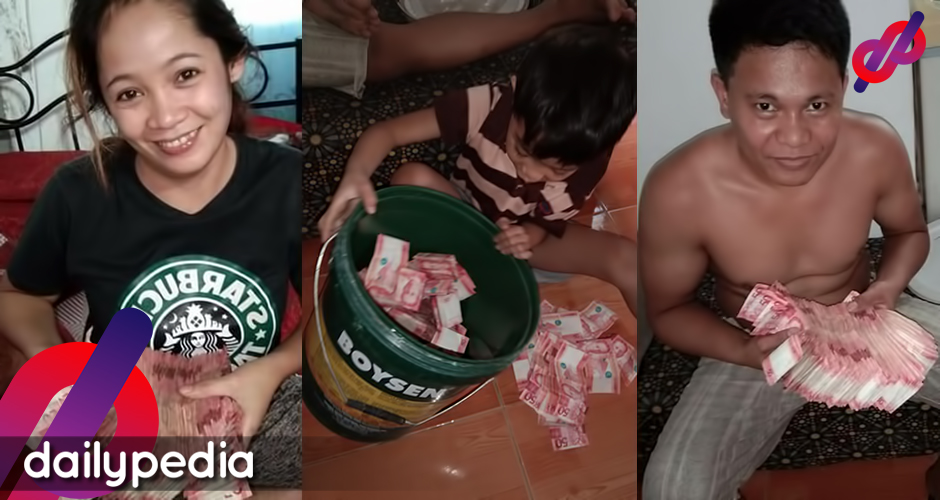 Meet Kember Casabuena and her better half Alphie Olvis. The couple has now gone viral for—get this—being able to afford a house after taking on the three-year-old 50-peso saving challenge.
No, they didn't do it after seeing the episode on Kapuso Mo, Jessica Soho three years ago. They spent a good year putting away every single 50-peso bill that landed in their hands.
Kember was the one who got them started in treating 50-peso bills as invisible bills with no value. "Sa box pa ng sapatos ko unang inilagay at binalutan ko pa ito ng packaging tape," says  Kember about her first "piggy bank" for her 50-pesos savings challenge.
She also took on the old saying "if you're going to start putting away bills, start with three 10-peso bills." Of course, 10-peso bills no longer exist, but the 10-peso coins she started with are still there—one year later.
Her partner, Alphie, was against it at first—and with good reason. 50-peso bills are, for one, rare. You would usually get 20-peso bills or 100-peso bills, if not 10-peso coins when you got change from the corner store.
50-peso bills were usually reserved for bus money and the occasional affordable pick-me-up at McDonald's.
Alphie would later support her because of her persistence and discipline. Their efforts would pay dividends, as Kember would later find her shoebox was no longer enough to hold her savings. "Nang medyo dumami na, inilipat namin siya sa balde kasi medyo malapit nang mapuno yung box."
https://www.facebook.com/100013792901634/posts/945389029264185/
She remembers a moment when her mettle was tested. "Naalala ko, kapag magbabayad ako sa tindahan, grocery, o palengke ng 500 (pesos) na buo at tig-50 (pesos) ang sukli sa akin, no choice po talaga ako." Her discipline would prevail, as well as her dreams of one day owning their own house.
She even shared how the pandemic affected their 50-pesos savings challenge. "Dapat po, April ngayong taon kami magpapagawa ng bahay. Kaso, inabutan kami ng lockdown, kaya hindi muna namin itinuloy. Baka kasi maubusan kami, mahirap na po."
She also says they both lost their jobs for three months which forced them to tap into both of their emergency savings. Their 50-peso challenge would not be spared as they would be forced to tap even into that.
They decided that they would start going after their dream house as early as July, but it would take them a bit later before they finally realized their dream of starting their build.
Kember now makes a living as a reseller of beauty products. Details on her partner's current source of income aren't available as of press time.
She says she shared her story to inspire and not brag, and that all it took was discipline on their part.
As for her post, it now has at least 27,400 reactions and 30,500 comments. It has also been shared a whopping 43,307 times. She also says her smartphone has been freezing up on her because of the thousands of notifications.
https://www.facebook.com/100013792901634/posts/945880692548352/
Oh, and the amount they saved up? It went as high as "five digits". Not as big as most people would expect, but for them, it's enough to afford their dream house.