It appears that President Rodrigo Duterte is looking to go after another giant that doesn't quite agree with his administration's views.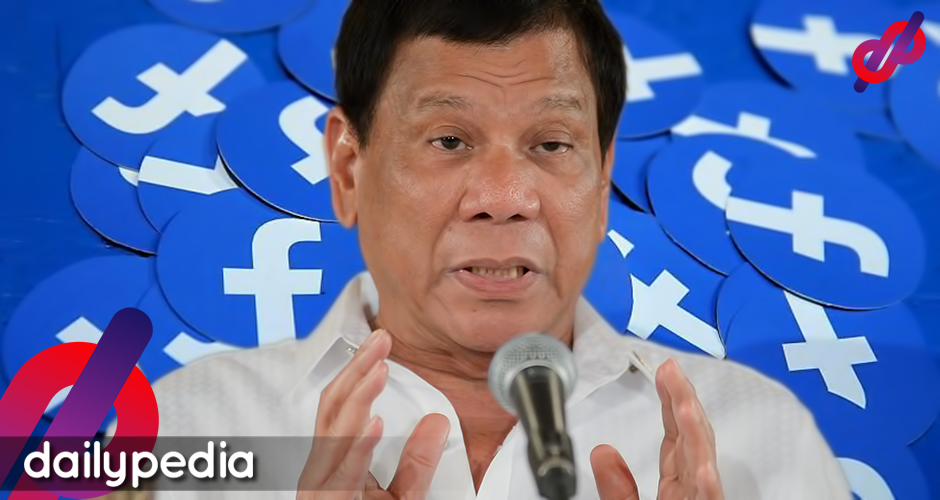 In a recorded broadcast of his latest meeting with the Inter-agency Task Force for COVID-19, Duterte threatened to "ban" Facebook after learning of the social media giant's actions against pages that express support for his administration.
In the speech, he lashed out at the social media giant for "believing the lies of the Left", referring to the Communist Party of the Philippines (CPP).
He called out Facebook for taking down pages owned and operated by the Armed Forces of the Philippines, specifically the cause-oriented page Hands Off Our Children, a page that seeks to spread information to counter communist recruiters in schools and universities.
He also said "we are at war", referring to the country's longstanding battle against the armed members of the CPP, the New People's Army.
Netizens' reactions to Duterte's threat to ban the social media giant were varied.
There are those who mocked the President, saying Facebook was largely responsible for getting him to Malacañang—and keeping his support group, collectively called the Duterte Diehard Supporters or DDS, alive.
https://twitter.com/not_alfonso/status/1310821954908123137
The irony is @Facebook was a key tool in his 2016 campaign which brought him to power. https://t.co/MPf5C3FKP9

— MEDS (@MedwinTruefaith) September 28, 2020
Duterte might not realize this because he is a boomer among boomers, but if he would stop Facebook from operating in the Philippines he would lose his strongest propaganda machine as well as support from DDS who use Facebook for their own online businesses.

— Mar(x)c (@Mrcxism) September 29, 2020
Some looked at the President's "empty" threat on banning the social media giant as a power play of sorts—similar to how he kicks out erring government officials.
It's funny because Duterte really thought he has any jurisdiction on Facebook

He's threatening Facebook as if it's NAIA or any other official in the Philippines.

— Mar(x)c (@Mrcxism) September 28, 2020
Other netizens took a more logical approach, recounting how Facebook has been taking down so-called "troll farms" for years.
Also, have they seen the news worldwide? This has been done in years past and all countries including the US has had accounts closed by @Facebook after reviewing their data traffic. Its not like they are singling out the Philippines. This is hurting the democracy of our country.

— Morissette Hamon (@MorissetteHamon) September 29, 2020
The pages were banned not because they were promoting the interests of the government, but because of what @Facebook calls "coordinated inauthentic behavior." This includes using "fake accounts," and "artificially [boosting] the popularity of content."https://t.co/9syVPZX66F https://t.co/Rb0ghnh1rp

— Atom Araullo (@atomaraullo) September 29, 2020
Seriously, the Philippines is just a small market that banning Facebook will not even put a microscopic dent on its bottomline.

Banning FB will actually be a win against troll center operators, and will be a short-term gain for Filipinos.

— Ar brrrt brrrt Czarsaparilla Bernardo (@ArbetBernardo) September 28, 2020
Some were okay with Facebook being banned, saying it fuels the country's "political circus".
With all honestly, I am entirely okay if Facebook Philippines shutdown, the company itself became the conduit for misinformation as well as black propaganda. The only reservation that I have is that social media has already integrated intself within society, an institution.

— Mar(x)c (@Mrcxism) September 29, 2020
https://twitter.com/kenminatozaki/status/1310812153356541952
Others still were in favor of the President's pronouncements because they agree with his message of using Facebook to spread his administration's "advocacies"—specifically against communist recruitment.
https://twitter.com/tradcath_weeb/status/1310878184523485184
https://twitter.com/zieg77p/status/1310875933390249989
https://twitter.com/kerivic84/status/1310873440631418880
People have also pointed out how nearly every Filipino is on Facebook, and that most Filipinos now rely on the social media site to make a living, either through streaming games or selling products and services.
For its part, Malacañang has said the President's threat shouldn't be taken as an actual threat.
There will be no ban on Facebook in the Philippines, clarifies Presidential Spokesman Harry Roque, adding that Pres. Rodrigo Duterte only wants to discuss with the tech giant the removal of "inauthentic" Facebook accounts. pic.twitter.com/tncJ8U9M53

— ONE News PH (@onenewsph) September 29, 2020
In a televised press conference, Presidential Spokesperson Harry Roque said that the President merely wanted to get into talks with Facebook on censoring government propaganda.