There's a thin line between being optimistic and being delusional. Presidential Spokesperson Harry Roque seems to have crossed that line—at least according to netizens.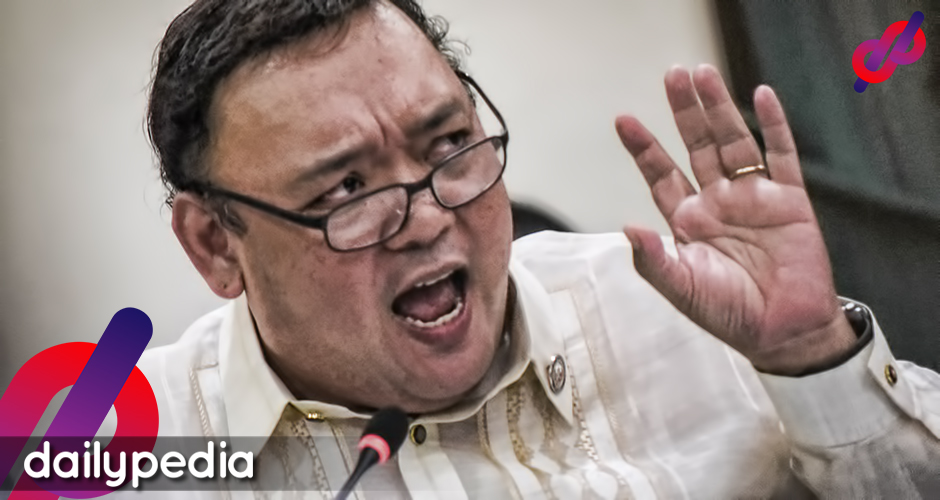 The latest in Roque's media gaffes stems from the "passing grade" he gave to the country's COVID-19 response.
Harry Roque gave the govt's COVID-19 response a grade of 85%, claiming the country has the best policy in Asia.

Despite imposing the longest quarantine in the world, PH currently has the most number of infections in Southeast Asia.

From @PilStarNgayon: https://t.co/eohSCuKOKA pic.twitter.com/Idl35H0cgz

— Philstar.com (@PhilstarNews) September 15, 2020
He described the Philippines's COVID-19 testing as our "biggest strength". "I think we will have the highest number of testing, one of the highest in the whole world. That's clearly our biggest strength," Roque said in a televised press briefing on September 15.
"All in all, I think we deserve a very good grade, I would give it a grade of 85 percent," he added.
Statistics show, however, belie Roque's claim. As of September 14, more tests have been done per day in the United Arab Emirates according to data from the University of Oxford-based ourworldindata.org.
The few neighboring countries we have beaten as far as daily tests per 1,000 people, like Vietnam, Thailand, and Taiwan, have all gotten the pandemic under control.
Even in total tests per 1,000 people, we lag far behind other Asian countries. Korea, one of the first countries to gain control over the pandemic, has done at least 41 tests per 1,000 people. That's 15 more than our 26 tests per 1,000 as of September 14–and Korea is on its second wave.
The Philippines still leads Southeast Asia with the highest number of confirmed COVID-19 cases to date at 269,407 as of September 15. This comes despite having the longest pandemic-related lockdown in the world at 6 months and counting.
With 269,407 infections, the Philippines still has the highest coronavirus cases in Southeast Asia, and the second highest number of fatalities.

On Monday, the country logged its highest number of COVID-19 deaths, but Roque still thinks the country deserves "a very good grade." pic.twitter.com/HmmxGKCaCa

— Philstar.com (@PhilstarNews) September 15, 2020
Articles from Philstar.com also dispute Roque's very high grade. A recent SWS survey says 57% of its respondents are still bracing for the worst the pandemic may bring.
IATF chair and Health Secretary Francisco Duque III and vice-chair Interior and Local Government Sec. Eduardo Año have warned against the continued implementation of the Transportation Department's new physical distancing policy for public transport, saying it will cause a spike in COVID-19 cases.
Netizens were, of course, visibly upset, expressing their disbelief at the statements of Roque in varying forms.
https://twitter.com/pgsqueal/status/1305798794647347200
Gagah ka ba, kaya mas maliit na yung sa ibang bansa kase tumigil na sila pagte-test kase contained na nila GAGAHNG TWOAH! Nagmamalaki ka pang ungas ka. https://t.co/R9AgVjlC1g

— b e o r n (@BearEaterPH) September 15, 2020
The Philippines has high testing numbers bec. after 6 mos. of lockdown may Covid pa din tayo. Other countries back to normal na halos wala na sila kailangan testing. As to tracing & quarantine kulelat tayo. Mag hire pa lang tracers and tinatapos pa quarantine facilities until now

— Your Daily Dose (@SaltAndReality) September 15, 2020
— /rain (@rainsuxx) September 15, 2020
Best testing policy? Bakit umabot tau sa ganito katagal na quarantine? Paniwalain mu pa sarili mu mars

— simplengtao (@simplengtaolan5) September 15, 2020
Do you understand what you're saying Atty Harry Roque? Or are you getting crazy like the master? Is this a good sign & to be proud about what the government is doing? pic.twitter.com/HOrmUu731C

— Ness (@ness_fajardo) September 15, 2020
Anong kagaguhan na naman yan, Harry? pic.twitter.com/29jI7R0Y4M

— દ (@oh_wandom) September 15, 2020
Hindi niya alam pinagsasa-sabi niya!Nagdedeliryo na naman ata si ms.Harry….
I really believe he needs to go to "Manila Bay Sands" due to his current mental issues!

— Syd….? (@syd_last) September 15, 2020
We have to test more because we have more cases compared to other countries. Other countries don't really have to test 3% of their population because they had the virus under control early on.

— #DefendPressFreedom (@adventuristaph) September 15, 2020
https://twitter.com/charlesdlcruz/status/1305820886197436419
This recent gaffe is just the latest in Harry Roque's ensemble of mistakes and "misquotes" that he made in public.
One of Harry Roque's more memorable media gaffes came after "celebrating" a victory over supposedly beating the predicted number of cases from a team of University of the Philippines researchers.
July saw Roque being lambasted by netizens for a side trip to Ocean Park in Subic Bay after what he claims is a business trip.
Lately, netizens have pointed out how Roque might feel conflicted after President Rodrigo Duterte issued an absolute pardon to former US Marine Joseph Scott Pemberton, who was convicted of killing Filipina transgender Jennifer Laude. Roque was once the Laude family's legal counsel on the case.
This latest statement, however, may have netizens throwing away any morsel of support given to Roque after the Pemberton pardon issue.