Presidential Spokesperson Harry Roque asked health workers why President Rodrigo Duterte was the 'last to know' about their plea for a 'breathing' period and suggestions for improving the country's response to COVID-19.
On Saturday, medical frontliners united to appeal to the government to reimplement an Enhanced Community Quarantine in Mega Manila which is compromised of NCR, Central Luzon, Calabarzon (Cavite, Laguna, Batangas, Rizal and Quezon and MIMARAPOPA (Mindoro Marinduque, Romblon, Palawan).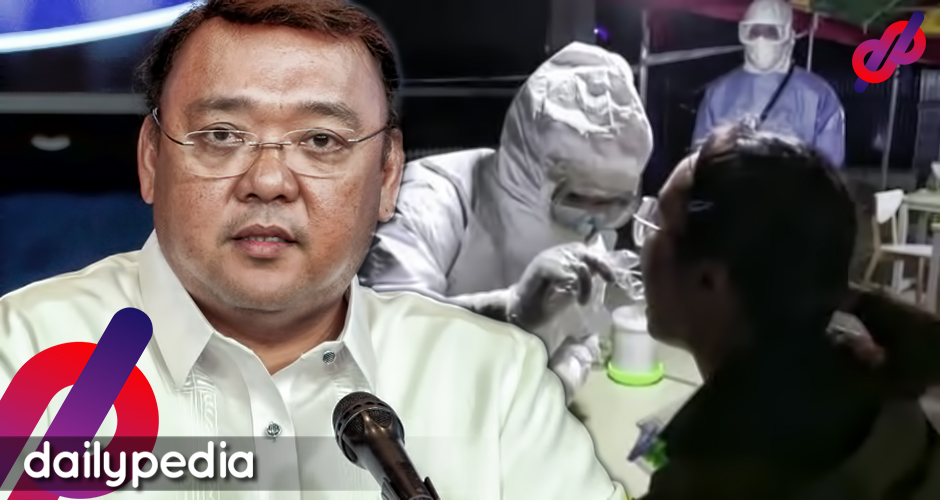 Philippine College of Physicians (PCP), Philippine Medical Association (PMA) President Dr. Jose Santiago said during a press conference that bringing back ECQ in the mentioned area will serve as a 'time-out' and time to "recalibrate the government's COVID-19 strategies."
"We proposed that this ECQ be used as a time out to refine our pandemic control strategies, addressing the following urgent conditions: hospital workforce efficiency, failure of case finding and isolation, failure of contact tracing and quarantine, transportation safety, workplace safety, public compliance with self-protection, social amelioration," Santiago said.
However, this 'call' by the medical frontliners was misunderstood by the authorities. Harry Roque even questioned why these medical groups aired the plea first before submitting their letter to Duterte.
"Ibinigay natin lahat ng gusto ng mga frontliners dahil kinikilala natin kayo bilang bagong bayani," President spox said.
"Pero tingin ko dapat sagutin nila: Why was the President the last to know about their demands at ipinaalam muna nila sa buong mundo bago nila ibinigay kay Presidente iyong gusto nilang mangyari?" he queried.
[But for me they must answer the question: Why was the President the last to know about their demands and they announced it first to the whole world before reaching out their demands to President Duterte]
Now the medical groups are taking up the blame instead of being appreciated after the Palace turned the tables on them.
Hindi po yan Spox Roque hindi po kami magpapahinga sa mga hindi niyo po nagampanan. We have never rested from day 1 up until now. We took an oath! My goodness! https://t.co/mwBenCZc7k

— Dr. Gia Sison (@giasison) August 3, 2020
There was a time laging kasalanan ng media.

Ngayon naman kasalanan ng medical frontliners.

When is the government going to own up to its shortcomings?

— Barnaby Lo (@barnabychuck) August 3, 2020
Leadership requires empathy. It addresses criticisms clearly with a lot of understanding, wisdom, and sobriety.

Excellent leadership inspires others to have the courage to meet our collective challenges. Inspiration, not threats.#BeCritical

— Help others. Humanity will endure. (@marvicleonen) August 2, 2020
Be careful with your words, Mr. President.

It was a doctor's martyrdom that triggered the very revolution that gave birth to our nation.

— Bryan Gonzales (@brygonzales_ph) August 2, 2020
Duterte's ego is so small that he would threaten our medical frontliners just because they told him our healthcare system is on the brink of collapse. Mr. President, they spoke up not to spite you, but to HELP YOU address this pandemic. Grow up.

— Mara Cepeda (@maracepeda) August 2, 2020
GAWIN NYO TRABAHO NYO MAAWA KAYO SA MGA FRONTLINERS. KUNG HINDI NYO ALAM GAGAWIN NYO HUMINGI KAYO NG TULONG. HUWAG NA MAGMAGALING KASI. PINAPAHIYA NYO LANG SARILI NYO!ANONG KLASENG GOBYERNO KAYO?!?!

MAY PAKE BA TALAGA KAYO SA TAUMBAYAN?!?!

— Quest (@officialQUEST) August 2, 2020
This new lockdown is NOT what the healthcare workers were asking for. In fact, it was the exact opposite of what they demanded and recommended.

(A thread)

— Gideon Lasco (@gideonlasco) August 2, 2020
Come on everybody. We can do this. We have practiced for more than 3 months already so let's help our frontline heroes by staying home and doing all we can to conquer this virus. We are in this together.… https://t.co/SYNrw4ZxhM

— martin nievera (@4eversinging4u) August 2, 2020
Hoy yung mga matalinong nakapaligid sa mga tanga pero wala namang sinasabi o ginagawa, at oo lang ng oo kasi nakikinabang kayo o iniingatan niyo posisyon at ambisyon niyo, mahiya kayo. Alam niyo na ngang inutil, tango pa kayo ng tango. Namamatay na mga tao, padrino padin?? Pwe.

— Nikko Ramos (@NikkoRMS) August 2, 2020
WHO THE FUCK CARES, HARRY!!

The point is your precious president is so out of touch with reality. So are you, and everyone down the line ESPECIALLY that DUQUE who just wants to save his ass!

Just take care of the FRONTLINERS SO THEY CAN TAKE CARE OF US!!
Puro YABANG ka lang! https://t.co/YOsCh22GVE

— Pia Magalona ⁷ #DefendOurFreedom (@piamagalona) August 3, 2020
Bakit ang mga frontliner sinisisi kung bakit nauna pa sa zoom at media ipinaalam ang concerns nila kesa sabihin muna sa Pangulo? Here o – https://t.co/iEkSloe3za

— Jove Francisco (@jovefrancisco) August 3, 2020
To our frontliners, words will never be able to express how thankful we are to all of you, pero sasabihin pa rin namin, maraming, maraming, MARAMING SALAMAT https://t.co/gnxKN9u9wQ

— Bianca Gonzalez (@iamsuperbianca) August 3, 2020
In response to the frontliners' plea, the government declared a modified enhanced community quarantine (MECQ) in Mega Manila. But during the press briefing, Duterte went on a tirade against those who are planning a 'revolution' and warned them about it.
"Next time, huwag ninyo akong parinigrinigin ng revolution. Naku, Diyos ko. Iyan ang mas delikado sa COVID. Eh kung mag-revolution kayo, you will give me the free ticket to stage a counterrevolution. How I wish you would do it," said Duterte.
Nevertheless, doctors and nurses clarified that their plea is a 'call for help' and not revolution.
Moreover, Roque said that Duterte felt that people were mounting a revolution since the medical workers, as well as Sen. Franklin Drilon and VP Leni Robredo, said there was a failure in the government's COVID-19 response.