Former first lady Imelda Marcos trended online when netizens recall the special treatment given to her as an old grandma was arrested in Makati City for shoplifting.
In 2018, the widow of former President Ferdinand Marcos was exempted by the national police due to her age and health. No arrests were made even though Sandiganbayan found Marcos guilty for seven counts of graft after establishing Swiss foundations for personal gain.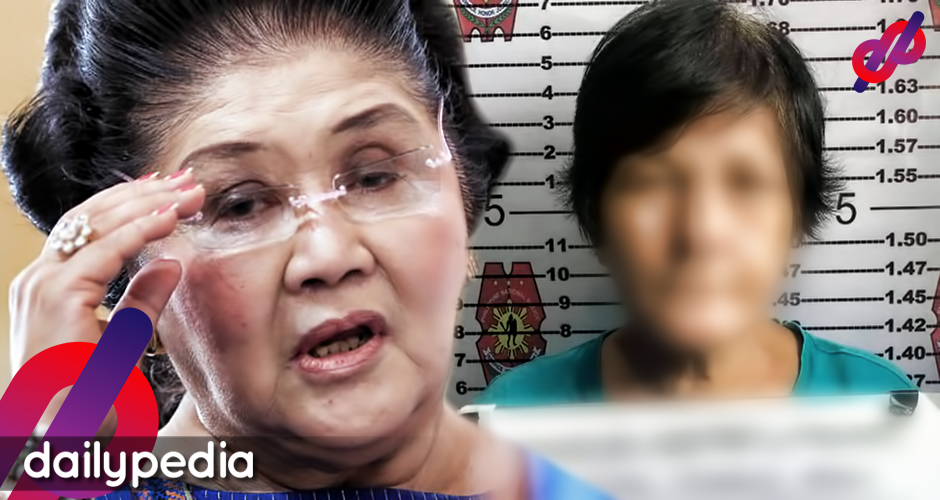 She was sentenced to a minimum of 6 years and one month to a maximum of 11 years for each case. So, her total imprisonment time is a minimum of 42 years and 7 months and a maximum of 77 years.
Dir. Gen. Oscar Albayalde, PNP chief at that time, said that they put into consideration the health and age of Marcos, which is a standard practice in their book.
"We have to take into consideration the age, in any arrest or anybody for that matter, that has to be taken into consideration, the health, the age," Albayalde said.
Recently, a 60-year-old grandmother was arrested for shoplifting 5 cans of canned meat, 13 chocolate bars, and 3 bottles of body spray worth a toral of ₱2,577, from a convenience store in Bel-Air, Makati City.
This arrest went viral and caused netizens to remember that after her conviction, Imelda hasn't been jailed. They realized the justice system is really unfair in the country.
This is the reason why the death penalty shouldnt be reinstated because the PH justice system is harsh to the poor but very lenient to the rich, such that of the case of imelda marcos.

Kaya sa huli ang mamamayang Pilipino parin ang lugi. https://t.co/d7MzwXxzqx

— Sebasti (@Sebasti_rudas) July 31, 2020
arresting someone who's looking for food because the government does not provide them? i hate seeing news like this, we all know that poverty did it to them. so how and when will government negligence be eradicated? https://t.co/Cl01VGhBpM

— yen is freaking busy rn (@yenilini) July 30, 2020
when the poor shoplift, they are criminals, when politicians steal billions, they are called honorable. https://t.co/2Wi2iCoppn

— John (@BhoxzcKenneth) July 30, 2020
"When the poor shoplift, they are criminals, when politicians steal billions, they are called honorable." said a netizen.
Every time a lolo/lola gets arrested, remember Imelda and all these old kleptocrats and the scale of their respective loots. https://t.co/PxfFuDQ6Av pic.twitter.com/yPFf06baTP

— /r (@rupertnotholmes) July 30, 2020
hurts my heart how little people are getting arrested for being HUNGRY and the big people who STEALS MILLIONS infront of our eyes. so much for justice. https://t.co/DtA5RGhx6m

— lia⁺˳✧༚ (@lostboychae) July 30, 2020
funny how this lola got arrested immediately for stealing goods while imelda marcos can go anywhere she want despite an arrest warrant.

You see how unfair our justice system works? Compassion for the rich but none for the poor? And y'all really want to bring back death penalty https://t.co/MRQztWmyDk

— 니카 (@nicadumpieie) July 30, 2020
Mali ang pagnanakaw, but let's think why do our countryfolks resort to this? And why can convicted people of power (*aherm* IMELDA MARCOS *aherm*) get away with it? https://t.co/J2XPGa9nzP

— mijo (@dat_morenokid) July 30, 2020
ang heartbreaking. And they have the gall to tell us na may fair ang batas sa lahat? #imeldaIiselda https://t.co/qmECVztTks

— Hustles for Christ (@mikonsepto) July 30, 2020
https://twitter.com/brndtkyleee/status/1288669354398109697?s=20
Due to the loss of livelihood brought by the pandemic, a lot of people are suffering from famine. Because of that, many people resort to stealing or other criminal acts just to feed their hungry family.
Meanwhile, Imelda and his husband Ferdinand Marcos are famous for holding the Guinness World Record Greatest Robbery of a Government. Yet Imelda is still enjoying liberty and their children still hold positions in the government.