Up and coming rapper Michael Pacquiao received a lot of praise after the release of his brand new single 'Hate' which he performed on Wish 107.5, the video of which currently has nearly 10 million views as of this writing.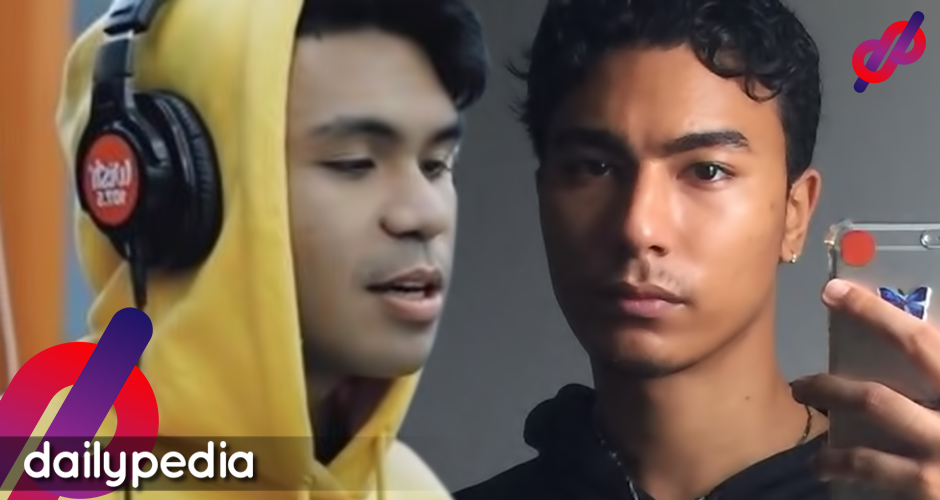 His delivery on the song came to many as a surprise, including Parokya ni Edgar lead singer Chito Miranda, who labeled Michael's rapping skills as 'sobrang astig'.
However, it also received inevitable criticism, primarily from lesser-known R & B artist Jason Dhakal, who underperformed on Wish 107.5
Jason was seemingly envious when he retweeted a video of Michael playing a snippet of his song, saying "shit like this makes me want to stop making music honestly lol."
shit like this makes me want to stop making music honestly lol https://t.co/4XWcSn9OLM

— jason dhakal (@jasondhakal) August 10, 2020
Nobody really knew who Jason was until he criticized Michael. Jason's issue is that children of famous people are easily given a 'platform' even with 'mediocre talent' while they are also 'financially set for life' but local rappers who started from the ground up get 'zero recognition.'
it's weird to me how ppl will automatically give a platform to rich artista kids w/ mediocre talent who already are financially set for life while local rappers here risk their livelihood to make music & get 0 recognition lol

— jason dhakal (@jasondhakal) August 10, 2020
like u know these ppl make music for capitalism & because that's the trending sound yet ppl who actually make music & risk their entire future for it get paid no attention i'm kinda tired of having to work 4x harder just because i don't have an artista parent to depend on lol

— jason dhakal (@jasondhakal) August 10, 2020
Fellow Paradise Rising musician Leila Alcasid, daughter of veteran Filipino singer-songwriter Ogie Alcasid came to Jason's defense.
very much agree w this. he isn't saying kids of artistas (like myself) can't make music, but you cannot pretend favouritism and bias doesn't exist in the industry. recognise privilege when it is present and uplift the artists that work harder to be given the same platform https://t.co/2v0262tAjC

— Leila (@leilaalcasid) August 10, 2020
Frankie Pangilinan agreed with Jason's remarks.
https://twitter.com/kakiep83/status/1293204774704226304?s=20
it's not entitlement either wouldn't u likewise be heartbroken to be working ur pwet off at ur passion only to see something relatively mediocre take off so fast? the video had its own value and it was fun but listen to jason's music that rly takes tiiime and energy to cultivate

— kakie (@kakiep83) August 11, 2020
Frankie acknowledged that there exists a bias in the industry and thinks Michael shouldn't get heat for making it in such a short period of time.
it's not michael's fault either it's nobody's fault it's just a flaw in the cultural landscape we can hopefully repair one day soon

— kakie (@kakiep83) August 11, 2020
Michael finally responded to Jason, challenging the artist to a 'king of the court', a one on one basketball game where whoever reaches twenty-one points first wins, and 'gets all the credit'.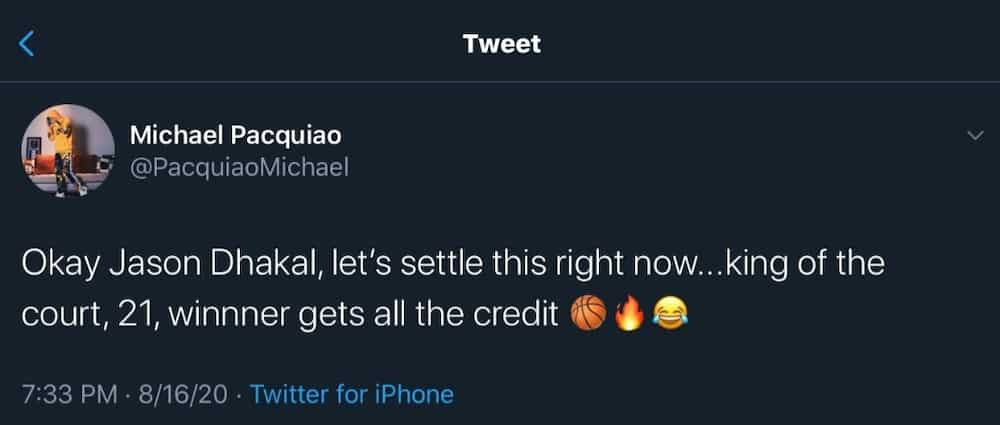 People took it too seriously which only made Michael laugh.
https://twitter.com/PacquiaoMichael/status/1294973771497971713?s=20
Interesting how people would hate so much

— Michael Pacquiao (@PacquiaoMichael) August 16, 2020
Michael is the second son of boxing champion Senator Manny Pacquiao and Jinkee Pacquiao. The 18-year-old wants to make a name for himself in the music industry by displaying his talent but understands why people think it'd be easy for him.
"I wanted to prove that I can. I have the talent and I have something. I don't just rely on my parents," he said.
"People would say, it has to do with my last name. But, you know, I understand naman," he said. "But at the same time, it's, like, I work hard to achieve what I am."
Just like his father, Michael also wants to be successful by working hard and not just relying on his parents' finances.
"I wanna work hard as well 'cause my dad worked hard for everything he has [done] and also for us," Michael said.
"And I wanna do the same—work hard for everything that I will have, that I want to have, and give back to my mom and dad because they did so much," he added.
He thanked his fans previously for supporting him and recognizing his talent.
https://twitter.com/PacquiaoMichael/status/1291053861017235457?s=20
'Hate' is part of his 11-track debut album Dreams which was released on the music streaming platform Spotify in July.