Sen. Vicente 'Tito' Sotto III decided it would be best to hit back at the critics of the anti-terror bill, saying that these people do not even know what they are talking about.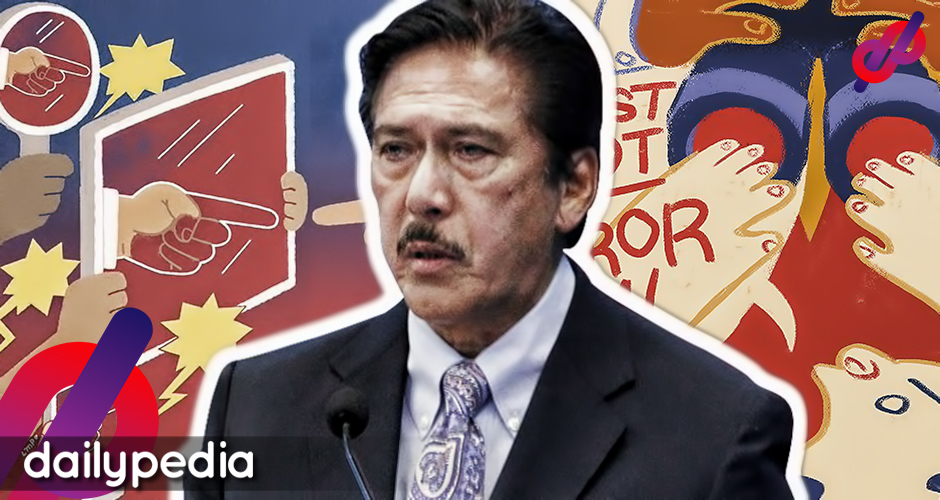 He called the critics 'epal' in a tweet on Wednesday.
Daming nakiki- Epal, Mali naman ang Alam!

— Tito Sotto (@sotto_tito) June 3, 2020
Activism daw is not terrorism. Eh sino bang gago may sabi na terrorism yun?

— Tito Sotto (@sotto_tito) June 4, 2020
UK waited till terrorists bombed Knightsbridge area before they passed their anti terror law. Gusto ba natin ganun din?

— Tito Sotto (@sotto_tito) June 4, 2020
When you see a person wearing a suicide vest, will you wait for a warrant?

— Tito Sotto (@sotto_tito) June 4, 2020
In an interview with ABS-CBN's Teleradyo, Sotto said that the critics were misinformed on the details about the bill.
"Napakaraming naririnig at nababasa sa social media na mukhang hindi naiintindihan eh, katakot-takot na pintas. Hindi nila alam itong anti-terrorism bill na bago. Ang daming epal, ika nga. Tapos ang dami namang pumipintas, 'yung pinipintas nila wala doon sa bill."
The legality of the bill should be raised before the Supreme Court and the Senate will be more than ready for it.
Sotto also had to emphasize that the bill has nothing to do with the average Filipino.
"Napakaraming safeguards pero mahigpit sa terorista. Ang dapat matakot lang dito, ang terorista at 'yung sumusuporta sa terorista. Pero kung taongbayan, karaniwang Pilipino, walang dapat ikatakot dito."
Protests, strikes, and anything similar will not be violating the anti-terror bill, which many still do not know.
"Hindi basta nanggugulo sa kanto… At tsaka 'yung terrorism dito as defined does not include advocacy, protest, dissent, 'yung mga strike strike, industrial or mass action and other exercise of civil and political rights. Hindi kasali 'yun. Maliwanag 'yun," the senator explained.
As one of the principals of the bill, Sotto earlier said, "I suggest they read the bill first before reacting. Terrorists or their supporters are the only ones who will be afraid of the bill.
"It will just need my signature. If it comes back to us after ratification, then I will transmit to the President," he added.
In February, the Senate passed on third and final reading the Senate Bill 1083 or the proposed Anti-Terrorism Act of 2020, which seeks to amend the Human Security Act of 2007 and looks to equip the country with better policies against terrorism.
Now the only thing needed is the president's signature after it was approved by the House of Representatives on Wednesday on the third and final reading.
President Duterte called the bill urgent "in order to adequately and effectively contain the menace of terrorist acts for the preservation of national security and the promotion of general welfare."
PBA party-list Representative Jericho Nograles pointed out that the house and the Senate had no difference in provisions so the measure becomes an enrolled bill and there will be no need for a bicameral conference committee.
"When approved on third reading, it will be an enrolled bill for the action of the President. He may sign, veto any or all provisions, or not act on the measure for it to lapse into law," he said.
Nograles also made it clear that only those associated with terrorism will be apprehended, not protesting activities.
"Ang bill na ito ay hindi kontra aktibista. No, we want activism. We promote activism. Ang totoo nga dito ang bill na ito, dahil sa mga aktibista," he said.
"Gusto natin na yung mga aktibista mabigyan ng mga mapayapang paraan para mag-campaign ng mga reforms para sa ating bansa. Pero ang kinakalaban ng ating panukalang batas, ang mga terrorists. Sila ang ating kalaban. And mga violent extremists and mga violent na radical," he added.
Terrorism is described as any activity committed by any person who within or outside the Philippines, regardless of the stage of execution;
Engages in acts intended to cause death or serious bodily injury to any person, or endangers a person's life;
Engages in acts intended to cause extensive damage or destruction to a government or public facility, public place or private property:
Engages in acts intended to cause extensive interference with, damage or destruction to critical infrastructure;
Develops, manufactures, possesses, acquires, transports, supplies or uses weapons, explosives or of biological, nuclear, radiological or chemical weapons; and
Release of dangerous substances, or causing fire, floods or explosions.
The measure also describes terrorist activities as acts that "intimidate the general public or a segment thereof, create an atmosphere or spread a message of fear, to provoke or influence by intimidation the government or any of its international organization, or seriously destabilize or destroy the fundamental political, economic, or social structures of the country, or create a public emergency or seriously undermine public safety."
Anyone who threatens to commit terrorism or join a terrorist organization may be imprisoned to up to 12 years.
Local celebrities couldn't help but react to the bill.
Please do not take away our voices our basic human rights!!!!

— Liza Soberano (@lizasoberano) June 2, 2020
#JUNKTERRORBILLNOW https://t.co/PucvcwDpNu

— Pia Alonzo Wurtzbach (@PiaWurtzbach) June 3, 2020
https://twitter.com/enchongdee777/status/1267668813027274752?s=20
Taylor Swift, along with the many petitions she has advocated on her social media pages, included the one that seeks to junk the bill.