A netizen named Joy Anne Perez expressed her annoyance with a friend who called her "cheap" because of her posts on Facebook as an online seller.
Perez shared the screenshots of her conversation with a friend who insulted her because of her posts.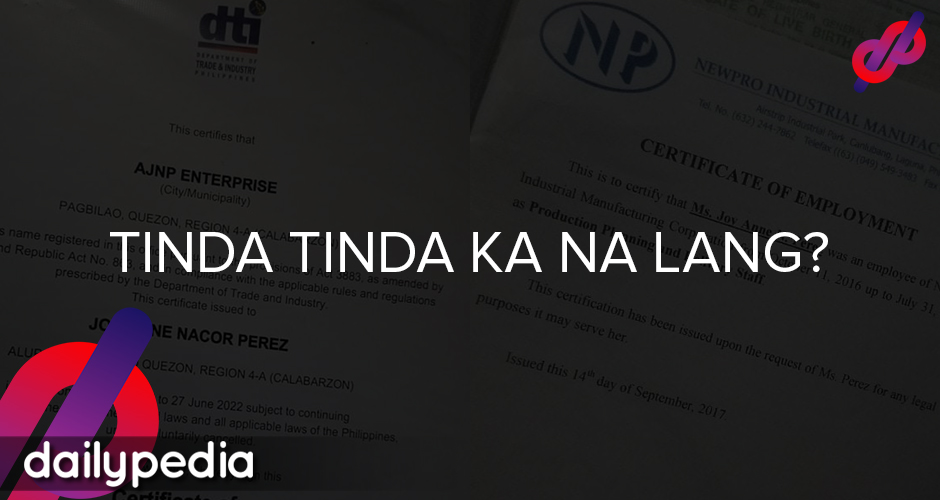 "Tinda pa rin Joy Ann? nakakasawa mga posts mo girl sa totoo langm" the friend said.
[Still selling, Joy Ann? Honestly, your posts are tiring girl]
Perez got offended by the message of her friend and asked the latter if there's any problem with her post.
"Luh sya, May problema ka ba?" Perez asked her friend.
[Do you have any problem?]
"Sorry pero medyo offensive lang ang message mo," Perez added.
[Sorry but your message is quite offensive]
Her friend replied and started insulting her as an online seller.
"Nakakatawa ka girl, ano tinda tinda ka nalang? Sana kasi nagwork ka," the friend told Perez.
[You are funny. Will you just keep on selling? You should have worked]
"Magwork kanalang Joy Ann sure ka pa sa income mo monthly. Nang hindi ka mag mukhang cheap kakapost mo ng paninda online," her friend added.
[Get a job Joy Ann, at least you are sure with your monthly income. So, you will not look cheap because of posting your products online]
Her friend even questioned her educational attainment and asked about her diploma.
"Ilang years nga natapos mo gurl? Musta naman diploma mo? Inaanay na ba?"
[How many years did you finish? How is your diploma? Is it infested with termites already?]
Perez then responded with her points calmly.
"Una sa lahat, kung nagsasawa ka sa pagmamarket ko online, you can unfollow/unfriend me naman o kahit iblock mo pa nga ako. Wala naman akong pake. Pangalawa, hindi ko hinihingi opinion mo, anyways salamat parin. At pangatlo, wag mo akong pangungunahan, ano ka desisyon?" Perez claims.
[First of all, if you are tired of my marketing online, you can unfollow/unfriend me or even block me, I don't care. Second, I don't need your opinion anyways, thank you. And third, do not precede me, are you a decision?]
"Wala naman ako pake kung sa paningin mo kacheapan yung ginagawa ko," Perez added.
[I don't care if you call my actions cheap]
The online seller also said that she doesn't need a job to have an income because she can earn it. She also claimed that being self-employed gives her freedom with her actions without following any bosses.
However, her friend still called her cheap because of her online selling.
At this point, Perez chided her friend and brought up an issue about an unpaid debt since 2018.
"Kelan mo kaya maaalala yung utang mo FRIEND? Ilang months na lockdown, hindi mo nagawang mangamusta ah?" Perez said.
[When will you remember your debt, FRIEND? It has been months since the lockdown but you did not even update me]
Perez also said to her friend that it is okay if she will not support her business, but she cannot afford to let her friend have the audacity to insult her online selling.
Her friend replied that she badly needs the money that's why she borrowed from Perez way back 2018.
Her friend also said that it is not her fault if Perez got offended, as she was just saying her concern.
"Sana ikayaman mo yang pagwork mo. Wag mo ko kalimutan pag umasenso ka na ha. Hayaan mo, andito parin ako para sa'yo. See you soon mah friend. God bless you," Perez said with sarcasm to end the conversation.
[I hope you will get rich because of your work. Don't forget me if you will prosper. I'm still here for you. See you soon my friend. God bless you]
In her post, the online seller also attached photos of her business permit, bank account deposits, Certificate of Employment in her past job, and the diploma of a college degree in business administration.
On June 1, the Bureau of Internal Revenue (BIR) issued a memorandum circular to give notice to all businessmen specifically those who are into digital transactions through the different online platforms, to ensure that their businesses are registered in accordance to the provisions of Section 236 of the Tax Code of the Philippines.