A TikTok video of Juan Ponce Enrile dancing with T-Rexes in the background is going viral.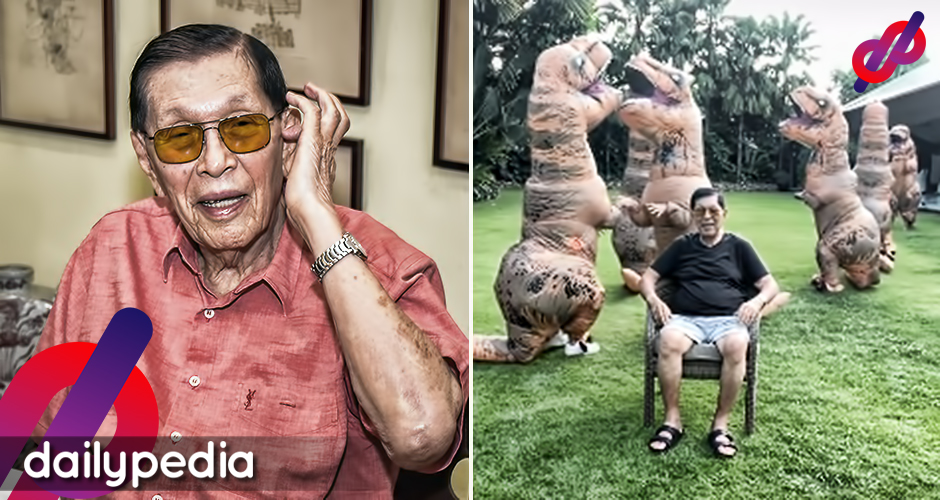 Enrile's age has been the subject of several memes as he shows no signs of slowing down at 96-years old. People have been saying that he's been around forever that he once lived with dinosaurs.
Kris Ponce-Enrile  posted the video and everybody jumped in to comment. Enrile is shown sitting down waving at the cameras as several dinosaurs interact with each other.
Y'all were looking for browny so here we are 😂 pic.twitter.com/OxbIkt1TRf

— Kris Ponce-Enrile (@krisponcenrile) May 31, 2020
Amid the COVID-19 crisis in the country, people were just bored and decided to make memes about Enrile's age, with many calling him "ang tunay na imortal ng bayan."
Ang dami kong nakikitang ganito with Enrile hahahaha

This one really got me 🤣
Wonder Woman ❤️ pic.twitter.com/4t4bFq8Juq

— anna ❄️ (@annalynramas) March 25, 2020
Netizens photoshopped his face into photos from a decades ago.
Here he is standing with the Nazi Party.
Im loving these Enrile memes. These are my faves. pic.twitter.com/1Yqzl0XhgT

— Sir Charles (@Kumanderbravo17) March 27, 2020
Enrile was happy that people were still thinking of him.
"Thank you for all the memes you posted about me. I am truly flattered and grateful for all your imaginative and creative thoughts regarding me." he wrote in a Facebook post.
"For one like me who is passing through this life and have reached the point of no return, I am very very much touched emotionally.
"I wish you all the best. May God protect you all from the present peril, and may you also reach the same ripe age like mine and run through the same experiences that I lived through on this planet. God bless you all and your families. Good luck," Enrile added.
He was there when Adam and Eve committed the original sin.
Never knew that Ptra. Mye would into Enrile memes also. Salamat po sa palitan natin ng memes. 😀 pic.twitter.com/a2kszj09tc

— Jon Taño (@JonTanoOfficial) March 25, 2020
YOU KNOW WHEN ITS "THE ENRILE MEME" TIME HAHAHAHAHA

Ctto. You guys are the best ❤️ pic.twitter.com/PhFXx8Bguy

— ⓖⓤⓓⓢ ⓝⓘ ⓚⓨⓤⓝⓖⓢⓞⓞ ❤️ (@Guds_) March 22, 2020
https://twitter.com/mahaeb_/status/1242021405350219776
Collections of the funniest memes about Enrile. Tawa muna tayo hahahaha

Ctto: pic.twitter.com/2NEipM6Y41

— ぁヱき (@rymrkqzn_) March 23, 2020
best Enrile meme so far pic.twitter.com/ZvUnRF1IRD

— Rico Peña (@broricopena) March 24, 2020
https://twitter.com/jhingness/status/1242097282113101828