The anti-terror bill is currently awaiting President Rodrigo Duterte's signature as the House of Representatives approved House Bill 6875 on the third and final hearing.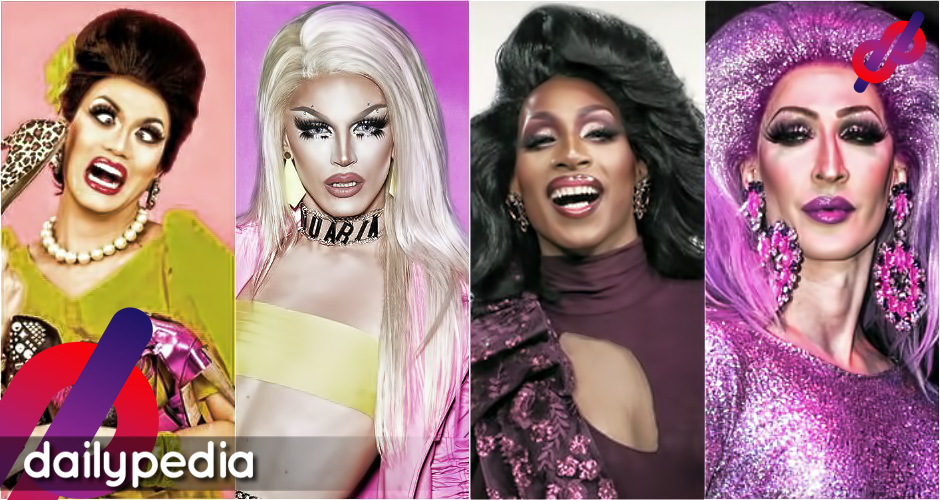 Many have been critical of the bill, saying that it could possibly be unconstitutional. But most of those are still misinformed on the nature of the bill hence the protests and rants on social media.
Local celebrities such as Liza Soberano have aired their opinion on the matter.
Please do not take away our voices our basic human rights!!!!

— Liza Soberano (@lizasoberano) June 2, 2020
Ano yung tamang paraan ng pag-rally ngayong GCQ? Gawin ko na bago ipasa yung anti-terror bill kasi kayang kaya na nila ako ikulong kong trip nila… 😂😂

— Enchong Dee (@enchongdee777) June 2, 2020
Agot Isidro wants the bill junked.
#JunkTerrorBillNOW #JunkTerrorBillNOW #JunkTerrorBillNOW

Only cowards are afraid of dissent. https://t.co/pHPoUDVFYU

— Agot Isidro (@agot_isidro) June 2, 2020
Taylor Swift also posted a petition seeking to junk the bill on her Instagram as part of her initiative to have more people pay attention to various donations and other petitions, such as the Black Lives Matter protests.
Finalists of RuPaul's Drag Race also showed that they too want the anti-terror bill junked.
Jan Sport
Nicky Doll
Both were contestants on RuPaul's Drag Race twelfth season, where Jan Sport finished 8th and Nicky Doll twelfth.
Detox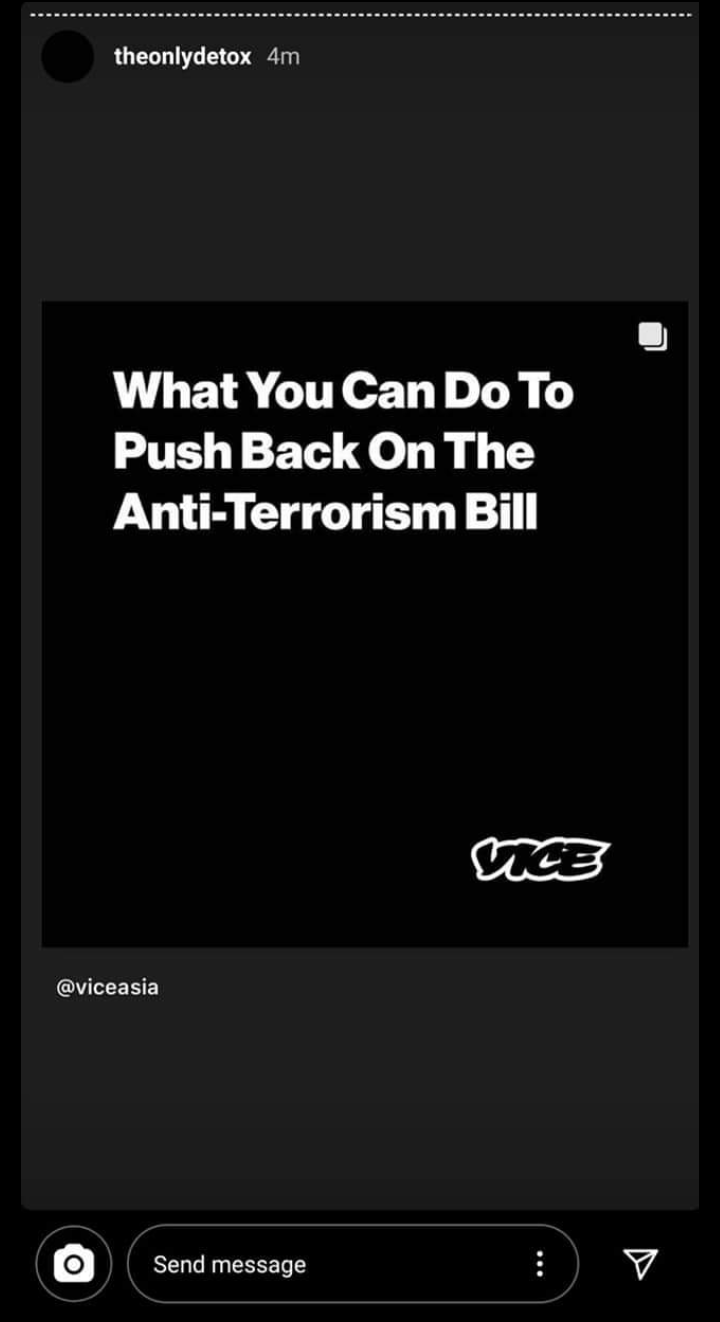 Jaida Essense Hall
Hall was the winner of Season 12.
— Jaida Essence Hall (@jaidaehall) June 5, 2020
Crystal Methyd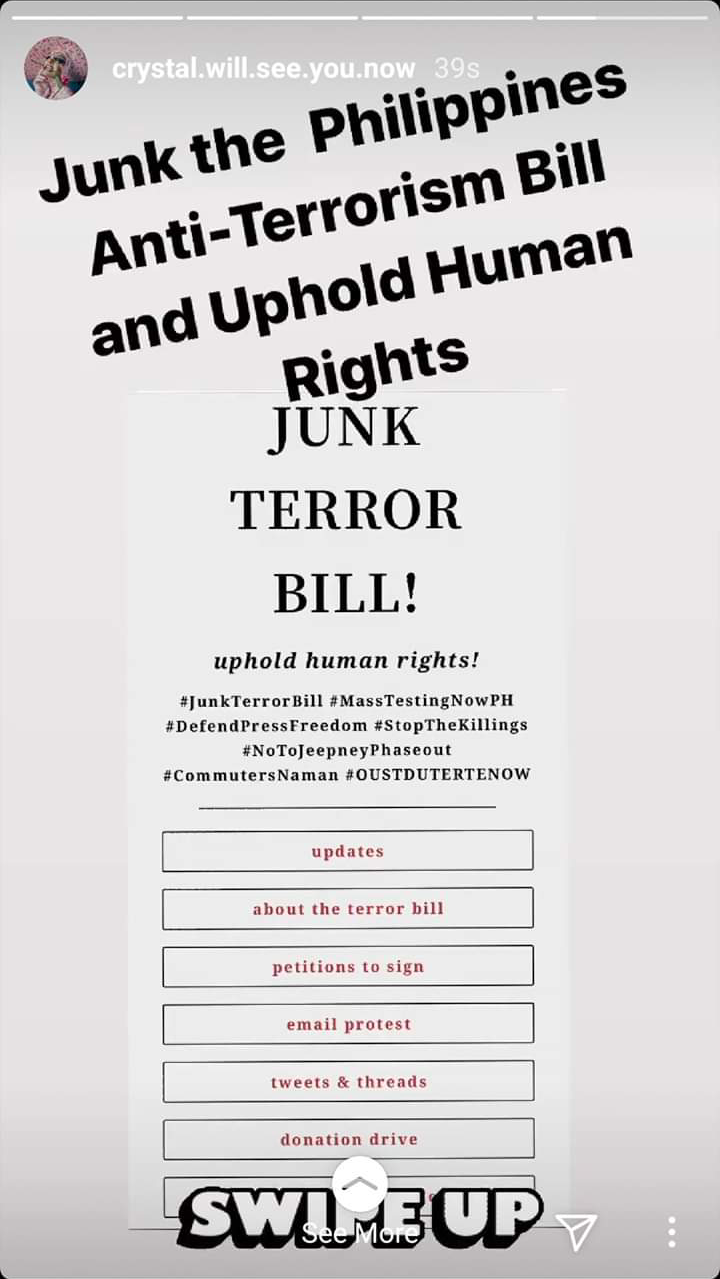 Aquaria
#JunkTerrorBill #JUNKTERRORBILLNOW https://t.co/fo8phprviV

— Aquaria (@aquariaofficial) June 4, 2020
Even Filipina queens Manila Luzon, Ongina and Vivienne Pinay spoke up.
Protect Freedom in the Philippines ❤️🇵🇭#JunkTerrorBill https://t.co/vcqcILR3Qv

— Manila Luzon (@manilaluzon) June 4, 2020
Ongina
I am only now learning about the #JunkTerrorBill and I stand w my kababayans that #ActivismIsNotTerrorism. Thank you kaibigans for educating me. 💕

— Ongina (@ongina) June 4, 2020
Vivienne Pinay
Philippines let your voices be heard through sharing and protest. The #JunkTerrorBill is anti human rights. Your freedom of expression, right to assemble, and safety are invaluable. Contact your congressmen and women to vote no https://t.co/rItA1L8FhK

— Michael Pinay (@ViviennePinay) June 4, 2020