Netizens campaigned against the Anti-Terrorism Bill.
On May 29, the House of Representatives committee on public order and safety approved the substitute version of the Human Security Act.
Amid the COVID-19 pandemic and Metro Manila's upcoming transition to General Community Quarantine, Filipinos became alarmed about the new version of the Anti-Terror Bill.
This came after the House of Representatives committee on public order and safety approved the substitute version of the Human Security Act. It is said to further strengthen the law enforcement's campaign against terrorism.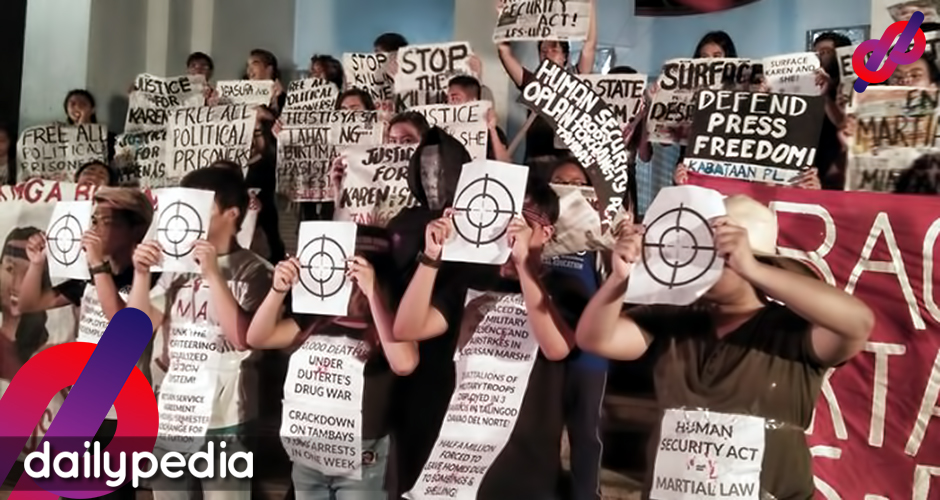 But what is this Anti-Terror bill and what are its premises?
Under the bill, there are provisions introduced to penalize those who will propose, incite, conspire, participate in the planning, training, preparation, and facilitation of a supposed terrorist act. It also includes those who will provide material support for terrorists and recruit members to an organization.
It seeks the establishment of Philippine jurisdiction over Filipino nationals who may join and fight with terrorist organizations outside the Philippines and ensure that foreign terrorists will not use the country as a transit point.
Adding to this, any person that will threaten to commit terrorism, and those who will propose terroristic acts or encourage others to commit terrorism shall suffer a penalty of 12 years in prison.
Any person who will voluntarily and knowingly join any organization or group of people practicing terroristic acts shall also suffer 12 years of imprisonment. The same penalty will be imposed on any person proven to be an accessory on the commission of terrorism.
The bill also removed the provision payment of Php500,000 damages per day of detention of any person who will be charged but a person can be detained for 14 calendar days, even without a warrant.
This also gives the government the right to compel telecommunication companies to divulge calls and messages of suspected people.
This thread will be in English for everyone to understand.

THIS IS WHAT THE BILL WILL CALL YOU A TERRORIST FOR.

1. You cause damage or attempt to cause damage to government properties/facilities.

2. Assault or attempted assault. pic.twitter.com/j52Ro2w1EC

— gio #BLM #JunkTerrorBill (@aobaseijoh) May 29, 2020
#JunkTerrorBill trended at the top spot in the Philippines as netizens immediately campaigned and encouraged people, Filipino or not, to oppose such bill, calling it a way to silence the government's critics.
your political stand is not just an opinion. it reflects your morals and views in life. always remember. it's okay to lose your friends, those friends who still support enablers and oppressors. you don't need them.

some stands don't deserve respect#JunkTerrorBill

— uno (@kuroonicles_) May 29, 2020
even if youre not a filo, please rt and help spread awareness. the government is to have FULL POWER over who they consider terrorists and could imprison ANYONE without the chance to appeal. they are trying to take away our HUMAN RIGHTS. we must all speak up. #JunkTerrorBill pic.twitter.com/5kod9efNYR

— anya⁷ BLM (@koocuddles) May 29, 2020
https://twitter.com/SOLARlTY/status/1266335072627486725
https://twitter.com/N0SHAMES0S/status/1266333170649067521
They also branded it as an attack on freedom of speech and avenue for red-tagging the bill which broadens the scope of what is considered as terroristic acts.
#JunkTerrorBill This provides a 60 to 90 day-wire tapping period, and warrantless arrest, detention up to 30 days of suspected terrorists. It has no safeguards for the protection of human rights, redress of grievances. This can be weaponized to silence critics, suppress dissent.

— Sarah Elago (@sarahelago) May 29, 2020
The Philippine government is literally about to take away our freedom of speech. the bill would arrest anyone showing signs of "terrorism" w/o a chance to appeal. Please spread word and awareness about this ‼️

‼️ ACTIVISM DOES NOT EQUATE TO TERRORISM.‼️ #JunkTerrorBill pic.twitter.com/RbEYsCm9VL

— celeste ☆ #BLM!! (@USHIC0CK) May 29, 2020
The Philippine Government are trying to take away our freedom of speech, the rights of the filipino citizens. BASIC HUMAN RIGHTS. Please to my non-filo mutuals, help us spread the word that ACTIVISM IS NOT TERRORISM #JunkTerrorBill pic.twitter.com/Xj0r7C3Rkn

— krista⁷₁₃ blm (@daintyjimn) May 29, 2020
PH government really likes to fuck their citizens in every way. Imagine we're in the middle of pandemic yet here they are proposing a bill that will take our freedom to voice out our opinions. #JunkTerrorBill pic.twitter.com/4lTdHeUoAD

— incorrect jackadlers (@blackschweiden) May 29, 2020
People were also horrified that the lawmakers will choose to prioritize such a bill in the middle of a pandemic.
#JunkTerrorBill pic.twitter.com/uXkf8XpLK9

— Tonette, Tonette (@tonetjadaone) May 29, 2020
https://twitter.com/kbrosas/status/1266672281561862145
At sa gitna ng pandmeic, ito po ang inuuna ng mga mambabatas natin ngayon. https://t.co/dWvTouMzE1

— Mikoy Morales (@MikoyMorales) May 29, 2020
Lintek na mga Senador. Hindi kayó hinalal para siilin ang taumbayan. Talagang sinasagad n'yo kami, ano? #JunkTerrorBill

— Juan Miguel Severo (@TheRainBro) May 29, 2020
Netizens have also warned others to be more cautious of what personal information they will share online as it may be used to blacklist an individual.
PSA: if you're filipino and using the hashtags #OustDuterte & #JunkTerrorBill please make sure to remove tweets that contain ur personal data/face and be cautious of fb groups. there are reports that afp-pnp are using these to monitor opposition groups, you might get blacklisted.

— chris™ #JunkTerrorBill | BLM (@docosakusanoic) May 29, 2020
Some shared a list of the senators' names who voted "yes" for the passing of the bill.
co-filos remember these names, these are the people who voted yes to take away our freedom of speech in a democratic country during a pandemic.

ACTIVISM IS NOT TERRORISM. we need to vote wisely for the next elections. #JunkTerrorBill pic.twitter.com/gSEWr0tt4H

— cat ⁷ (@mygscene) May 29, 2020
we want mass testing but they gave us anti-terrorism bill instead 🤬

❗the names of the senators who voted yes for this are included below pls think wisely next election❗#JunkTerrorBill pic.twitter.com/gVHVQJ9lT4

— gaile (@taegerkv) May 29, 2020
Netizens continue to campaign against the bill by using #JunkTerrorBill, #OustDuterte, and the phrase "Activism is not terrorism."