People pointed out and made fun of how his looks changed.
But others called out those who are bullying him as he was clearly going through something and was having a hard time. 
This young celebrity is most known for playing Peter Kavinsky in the film adaptation of Jenny Han's To All The Boys I've Loved Before series or as Jamey in Netflix's Sierra Burgess Is a Loser.
Noah Centineo is considered as a rising star who got famous because of his swoon-worthy characters and good looks.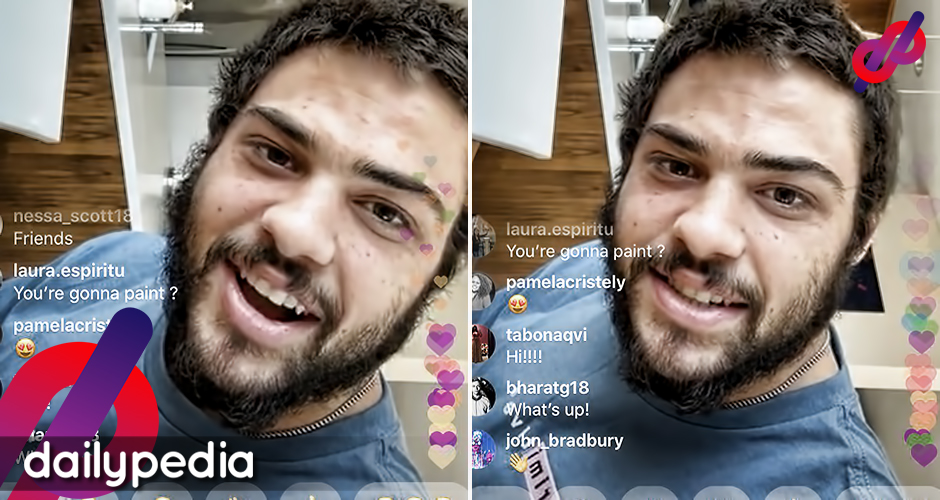 But recently, he went viral on Twitter after a netizen uploaded screenshots from his latest Instagram live.
His appearance changed so much that some people didn't even recognize him. Centineo clearly gained some weight and grew his facial hair which made the Twitter user ask, "wtf happened to him?"
wtf happened to him pic.twitter.com/lhDjSkKSCa

— alex (@gngtobutera) May 3, 2020
Netizens immediately began bashing him with one even calling him her "former Arabic teacher".
how did noah centineo turn into my former arabic teacher https://t.co/hE2cd2uSoV

— valeska (@iatemuggles) May 4, 2020
Another also told fans to tell Centineo to shave "unless he wants the Justin Bieber treatment".
where are my noah centimeter stans tell your man to shave unless he wants the justin bieber treatment https://t.co/dT5RNl32vE

— b͎e͎e͎ 빌 (@purposeruin) May 3, 2020
"I'm probably more good looking that Noah," someone said.
I'm proud to announce that at this point of my life I'm probably more good looking than Noah Centimetre https://t.co/asZTmm7dUY

— Akash Rae Singh (@RaeBabyCash) May 4, 2020
A netizen asked how the star can even go from "worse to wors-er".
how did it go from worse to wors-er https://t.co/SSL5pkWQ4r

— hafsa (@honestlyhafsa) May 4, 2020
More netizens poked fun of his looks on Twitter.
I know atleast four uncles that look like this. https://t.co/3pzoTJKUW5

— ilhaam ☁️ (@__ilhaam) May 4, 2020
i didnt recognize at all until i saw his ig username. bro. https://t.co/XPXEhLaoZ8

— ⍣ (@dlesmt) May 4, 2020
https://twitter.com/shhiyyun/status/1257265261293367296
https://twitter.com/wolfpacksmd3/status/1257307991126102016
he looks like the grocer down the street from my grandmas house in egypt https://t.co/OB8ztmKxFG

— maria (@tchalammt) May 4, 2020
Not everyone was happy with how people reacted to what Centineo looked like, saying how people are "bullies" and "hypocrites" for saying things about what he looked like.
idk put on weight, grew facial hair, got older? who cares it's so unnecessary to point out someone's looks like this https://t.co/TtZiForZSa

— patheticgirl43 (@NASTYAPHRODITE) May 4, 2020
y'all preach anti bullying and then turn around and do shit like this https://t.co/0DdGhjdspO

— ༉‧° laura (@skrteez) May 4, 2020
okay i do not gaf about noah centineo but the way yal drag this man so fucking hard for no reason cannot be good for his mental health like ik he sees this shit…. sorry but what do u gain lol https://t.co/4re1df0RVp

— chloe (@chIoecherrie) May 4, 2020
https://twitter.com/willdmnd/status/1257273400583651329
Y'all will talk big game about body positivity but the minute someone gets a little "less" attractive, you waste no time in dragging tf outta them. Same thing happened with Prince William. You guys know people get depressed, or they can't alter their genetics, right? Hmm. https://t.co/CXplWhwvTE

— Jarn Athern, a bitch in lockdown (@JonWithTheFace) May 4, 2020
Noah Centineo and his To All The Boys co-star Lana Condor was supposed to visit Manila last February 15 for a fan meeting. The event got canceled due to the global coronavirus outbreak.
The young celebrity started his career in 2009 when he starred as the lead in the family film The Gold Retrievers. He then had small roles on Disney Channel before taking over a main role in The Fosters. His career kicked off after appearing in Camila Cabello's music video for "Havana" and starring in three Netflix original films.
He also starred in the 2019 adaptation of Charlie's Angels.