The bills for the franchise renewal of ABS-CBN are finally being tackled in Congress and parties for and against the franchise presented their arguments.
House Deputy Speaker Rodante Marcoleta claimed that ABS-CBN is not compliant with the terms and laws of its franchise.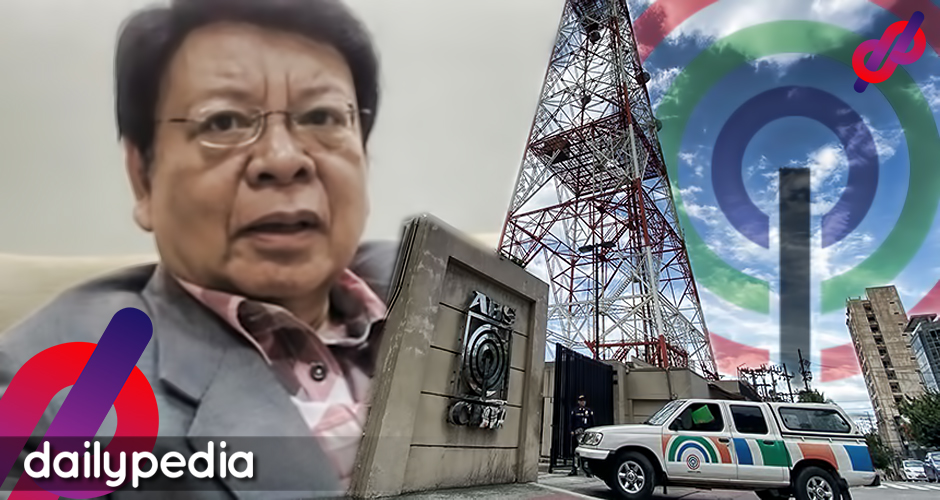 During his statement, he showed slides with video clips attached in support of his arguments, which enraged many since they found it irrelevant.
Instead of repeating answered issues, playing irrelevant videos and spreading misinformation, Cong. Marcoleta should have at least presented new inputs and pieces of evidence on why the ABS-CBN franchise must not be renewed. But he did not. #IbalikAngABSCBN

— JP #VoteYestoABSCBN (@dumidyeypee) May 26, 2020
I think it's safe to say na Marcoleta just wasted today's hearing. Instead of discussing how we can all move forward with the franchise & shine light on other issues, he just repeated the allegations already answered.#IbalikAngABSCBN

— irene margaret 👑 (@irenebartssss) May 26, 2020
Mr. Marcoleta, try working in ABS so you would know our benefits. Don't confuse people.

Also, friendly advise, try to find new researchers na magreresearch talaga. Masyadong outdated ang speech and irrelevant ang AVP ha. #LabanKapamilya #IbalikAngABSCBN

— Carol Parlero (@ccparlero) May 26, 2020
There's no gentler way to put it and you don't deserve it if there was.

Bobo ka, Marcoleta. #IbalikAngABSCBN

— Juan Miguel Severo (@TheRainBro) May 26, 2020
It is so hypocritical of Marcoleta to accuse ABS-CBN as a political kingmaker when clearly, it was always INC, which he is a part of that has always been endorsing candidates, imposing and practicing block voting that has made Duterte's election possible. #IbalikAngABSCBN pic.twitter.com/1bURO5HvLa

— Ryan (@rryyyaaaannnn) May 26, 2020
His opening statement showed Kim Chiu's "bawal lumabas" viral video, where he argued that since ABS-CBN is not compliant with their franchise therefore they should not be allowed to air.
"Hindi po nag-comply sa batas ang ABS-CBN, kaya hindi po sila pwedeng lumabas at magpalabas."
This got on the nerves of the citizens since they believe that Marcoleta took the video out of context.
Using Kim Chiu's video in the congress is inappropriate! BOBO lang ang gagawa dun! Sorry Cong. Marcoleta shame on you! #IbalikAngABSCBN

— itsbensar (@bensar_sagayo) May 26, 2020
Marcoleta using Kim Chiu's viral video and other Celebrities from the said network is a form of Unprofessionalism.#IbalikAngABSCBN pic.twitter.com/5F2kZgCXp7

— Melody De Nueve (@NueveMelody) May 26, 2020
Dear Mr. Congressman Marcoleta. Using Kim Chiu's controversial statement to deliver your point is distasteful humor and a form of shaming that is uncalled for. #IbalikAngABSCBN

— Kuya M (マロン。ミゲル) (@marlon_g_miguel) May 26, 2020
He also pointed out that ABS-CBN violated the constitution's mandate of a 50-year period franchise operation. As he stated, "[The] ABS-CBN has been using the airwaves for more than 50 years, 53 years today to be exact. Our Constitution says that Congress can grant a franchise of up to 50 years only,".
But many see this as an inconsistent argument for many other tv networks already exceeded the 50 year period, yet their franchise was renewed.
This is such a strange argument. Cong Marcoleta says ABSCBN has been operating more than 50 years & thats against the law. GMA7 TV was launched in 1961. So that means they've been operating 59 yrs. Is that against the law? Just a question. #ABSCBNFranchiseRenewal

— Karen Davila (@iamkarendavila) May 26, 2020
Marcoleta: Insists ABS-CBN should stop airing because it reached the "maximum" 50 years franchise.

*If that's the case, other networks like GMA should be closed down too. #IbalikAngABSCBN #KapamilyaForever #LabanKapamilya

— Jon Montesa (@iMelAljon) May 26, 2020
Goodness! If its true that public airwaves can only be used by a private company for only 50 years, then why the heck is GMA still operating?! More than 60 years na rin sila, di ba? My gosh what kind of logic does Marcoleta have?! #IbalikAngABSCBN

— jason parado (@json_sandaime) May 26, 2020
Cong. Marcoleta said na dapat isara daw ang ABS-CBN dahil "over 50 years" daw ang umere, okay but how about the other TV networks?

IBC – March 1, 1960 (60 yrs)
TV5 – June 19, 1960 (59 yrs)
GMA – Oct. 29, 1961 (58 yrs)
RPN (now CNN PH) – Oct. 15, 1969 (50 yrs)

#IbalikAngABSCBN

— Gary Ramon (@GaryRamon25) May 26, 2020
Para kay Marcoleta:

GMA7 is 70 years old but their franchise was RENEWED.

GMA7 also issues PDRs and yet their franchise was RENEWED.

GMA7 lost their labor case filed by former employees and somehow their franchise was RENEWED.#IbalikAngABSCBN pic.twitter.com/GAQIBbjeWV

— Herbie Nicolo Albano (@crankyherbie) May 26, 2020
Also, Marcoleta showed incorrect information in his videos and he repeatedly brought up issues that had already been resolved.
He raised questions about the network's Philippine Depositary Receipts (PDR), which he claimed allowed foreign holders ownership and voting rights. This was already clarified by ABS-CBN stating that PDRs were evaluated and approved by the Securities anf Exchange Commission and the Philippine Stock Exchange prior to the public offering. Also, they stated that the holders of the PDRs are not owners and had no voting rights.
Marcoleta also argued about ABS-CBN's unfair labor practices with their 11,000 employees of which 8,500 are contractual workers and talents.
He said, "ABS-CBN has not regularized its contractual workers and talents despite performing the functions of regular workers… Hindi po maikakaila sa publiko na napakarami ng labor cases na hinarap at haharapin pa ng ABS-CBN. Ang masaklap pa dito, ni hindi nagbibigay and ABS-CBN ng contribution sa benefits."
But Mark Nepomuceno, former head of ABS-CBN Corporate Services Group., already stated that ABS-CBN received its clearance from the Department of Labor and Employment (DOLE) affirming that it is compliant with the general labor standards, occupational safety and health, and security of tenure which was raised during the senate committee investigation.
https://twitter.com/MrsOhLoisyyy/status/1265171983987167233?fbclid=IwAR2N1ZjA7TXtMeIInIkgBrf_Bn8C6wzY9XRYDakLmsqu7y94AZl0DY0b5HY
FALSE. The Department of Labor and Employment have long cleared ABS-CBN on these allegations during the Senate hearing about their franchise.

It is also Rep. Marcoleta who proposed the 1,000 PHP budget for Commission on Human Rights before. https://t.co/kgRSlfhE1X

— Fact-check PH (@factcheckPH_AE) May 26, 2020
He also, reiterated the tax avoidance scheme of the network with BIR, where accordingly they used their owned subsidiaries as a tax shield.
"ABS-CBN also violated the terms and conditions of its franchise by engaging in tax avoidance schemes which deprived the government of the much-needed revenue."
"Because of this unconscionable tax avoidance scheme, ABS-CBN's alleged effective tax rate in 2018 was at -5 percent. This means that ABS-CBN managed to avoid paying taxes in 2018." 
But as far as BIR Audit Head Simplicio Cabantac Jr. is concerned ABS-CBN has been regularly filing and paying its taxes for the past years.
Cc: Marcoleta

Please refer to the Feb 2020 Senate hearing tnx pic.twitter.com/XLyoZprwNf

— Tonette, Tonette (@tonetjadaone) May 26, 2020
Cc: Marcoleta

Please refer to the Feb 2020 Senate hearing tnx pic.twitter.com/XLyoZprwNf

— Tonette, Tonette (@tonetjadaone) May 26, 2020
Fyi po, SAGIP Partylist Representative Rodante Marcoleta #IbalikAngABSCBN pic.twitter.com/sSJjlLN5X3

— Jeff Beck Rodriguez (@BeckRodriguez) May 26, 2020
Another violation that was cited was ABS-CBN's pay-per-view service KBO channel using TV Plus. But Philippine Cable and Telecommunication Association President Ronald Manlapig explained that one frequency can have many channels and it is dependent on the broadcast quality whether it has a standard or high definition, thus there is no issue in having multiple channels in one franchise. 
Uy MARCOLETA, baka di mo 'to nabasa about the issue of having multiple channels using one franchise. Post ko ulit for your sake.#LabanKapamilya#IbalikAngABSCBN pic.twitter.com/USXLhtyAvv

— Dom Sauro (@dom_sauro) May 26, 2020
Marcoleta also accused the network to be politically biased as it failed to air President Rodrigo Duterte's advertisements during the 2016 campaign which is a violation of the Omnibus Election Code.
He said, "It is also a matter of record that ABS-CBN failed to air some of President Duterte's political advertisements during the 2016 campaign period despite receiving the payment of these political ads.
"Hindi naman lingid sa kaalaman ng marami, kung hindi man lahat, kung paano naging pro-Noynoy Aquino ang ABS-CBN nung 2010 at pro-Grace Poe at pro-Leni Robredo naman nung 2016," he claimed.
SAGIP Rep. Rodante Marcoleta: "ABS CBN has been biased and partisan in favor of particular candidates and against certain candidates during the 2010 and 2016 presidential candidates, contrary to the terms of its franchise and in violation of the Omnibus Election Code." pic.twitter.com/X8sDUpv2ji

— Inquirer (@inquirerdotnet) May 26, 2020
At the end of his argument, he showed a clip from 'It's Showtime' host Vice Ganda, where the host challenged Quiboloy 'the founder of the Kingdom of Jesus Christ', to end one of ABS-CBN's long-running tv series 'FPJ's Ang Probinsyano' also adding a clip of Quiboloy's response where he stated to ending not only the TV series but also the network.
Rodante Marcoleta is a SAGIP  (Social Amelioration & Genuine Intervention on Poverty) Representative and a member of PDP-Laban (Partido Demokratiko Pilipino–Lakas ng Bayan). As a representative of SAGIP, he directly fights for the poor by generally reducing poverty.
Marcoleta is also the man behind the Commission on Human Rights P1,000 2018 budget, as he claimed that CHR sided more with United Nations which resulted in more criticisms on Duterte's war on drugs.