After showing the country a lackluster and subpar performance in dealing with the problems brought by the COVID-19 pandemic, senators now want the "immediate resignation" of Health Secretary Francisco Duque III.
Senate Resolution No. 362, which refers to the alleged "failure of leadership, negligence, (and) lack of foresight" of Duque was signed by the following 14 senators: Senate President Vicente Sotto III, Senate Majority Leader Juan Miguel Zubiri, Senators Sonny Angara, Nancy Binay, Grace Poe, Manny Pacquiao, Sherwin Gatchalian, Francis Tolentino, Joel Villanueva, Ronald "Bato" dela Rosa, Imee Marcos, Lito Lapid, Ramon "Bong" Revilla Jr., and Panfilo Lacson.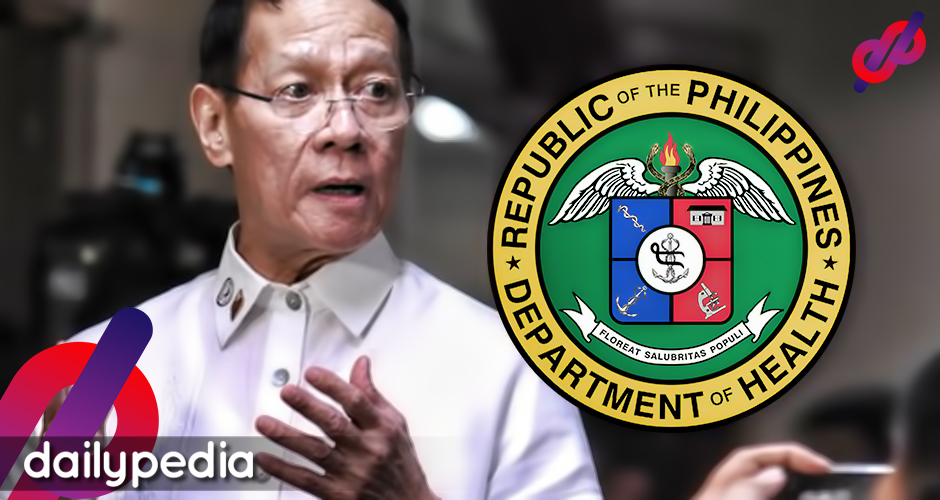 The senators mentioned that Duque's "inefficiency" in doing his job as the Health Secretary resulted in the "poor planning, delayed response, lack of transparency, and misguided and flip-flopping policies and measures in addressing the COVID-19 pandemic that endangered and continues to endanger the lives of our healthcare professionals, other frontliners, and the Filipino people."
The resolution added that Duque did not do well when it came to measures that would have been essential.
"Knowing fully well the danger posed by the COVID-19 pandemic at the beginning of the year, Secretary Duque failed to put in place the necessary precautionary measures to lessen, if not at all prevent, the impact of this health crisis."
Furthermore, the entry says Duque displayed a "lack of competence, efficiency, and foresight bordering on negligence," when he failed to give a recommendation on prohibiting travels to and from China, and  "warned of repercussions" during the House of Representatives' Question Hour last January 29.
"If we do this, then the concerned country — China in this case ​—​​​​​​ might question why we're not doing the same for other countries that have reported confirmed cases of novel coronavirus," said Duque last January 29.
The DOH just monitored Chinese coming in from the Hubei province but did not ban flights.
"As I have said, we have scaled up, we have leveled up border surveillance. Our quarantine officers are well equipped," said Duque.
Due to Duque's incompetence, a 38-year-old woman from Wuhan was found to be positive with COVID-19 the next day, which was considered as the first case in the country.
In an interview with ABS-CBN on January 31, Duque blamed the WHO for not recommending a travel ban on China.
"They also did say that they still do not recommend trade and travel restrictions, but I'm sorry…I disagree because we've tried our best to guard the country against the entry,"
"But since we already have one positive, I have no choice. I have to recommend as I have done to the President that we have to impose travel restriction and each day if this is going to show that the risks get higher in the neighboring provinces it won't be long before all China, we will suggest a restriction,"
He then said that he wanted the recommendation from WHO much earlier and was just waiting for orders.
His flip-flopping tendencies showed up on April 9 when he said that the implementation of the travel ban from China helped in slowing down the spread of COVID-19 in the Philippines.
The entry also points out that Duque didn't coordinate with the Civil Aeronautics Board (CAB) and Civil Aviation Authority of the Philippines (CAAP) properly which delayed the contact tracing for the first two cases in the country and "possibly resulting in the failure to prevent the initial spreading of the virus."
The entry laid out more proof on why Duque should be gone for good.
"Secretary Duque failed to alert the medical community and fundamentally, the public, that there were already patients admitted in health facilities exhibiting COVID-19 symptoms, insisting in his press conferences that the Philippines had zero cases of local transmission, thus exposing many Filipinos, especially healthcare workers to the dangers of this disease."
The DOH itself was also late on reporting new cases in the country. The DOH failed to provide PPEs to health workers which was significant for the frontliners, "so much so that the Philippines has been among the countries with the highest rates of COVID-19-related infection and deaths of healthcare workers in the world."
The senators added that Duque had a "lack of foresight by not immediately stockpiling and making the kits available to the general population.
"Secretary Duque claimed that we have relatively 'low' cases of infection and in comparison to richer countries, we have done better in containing the spread of the virus."
The DOH is also to be blamed for the low number of testing in the country.
"In truth, however, we are lagging behind other nations in terms of testing capacity… And as of this writing, the country ranks first with the most number of COVID-19 cases in Southeast Asia despite the fact that we have yet to roll out mass testing, having tested only 38,103 individuals," said the entry.
The mass testing issue in the country had the people worried. On March 25, the DOH said that mass testing still wasn't an option even when the cases were in the country were increasing.
Health Undersecretary Maria Rosario Vergeir said that the Philippines couldn't do it yet because of insufficient testing kits along with limited laboratories that would be designated to do testing.
But Vergeir said that, "While we already have 100,000 testing kits, we expect more to arrive, these are not enough to conduct mass testing."
The current numbers suggest that the country hasn't even tested half of 100,000.
"For now, mass testing is not on in our consideration because we lack capacity. Even if we have testing kits but we do not have laboratories, we cannot do it. So we are completing the establishment of extension laboratories nationwide."
"We are waiting for the numbers to stabilize. Once we open the referral hospitals hopefully by the end of the week or over the weekend, we can funnel the patients (to the referral hospitals) and decongest the other hospitals," she said
On April 3, the DOH agreed that mass testing was necessary, regardless of the situation.
Carlito Galvez Jr., chief implementer at the National Task Force on COVID-19 said there should be mass testing of patients under investigation (PUI) and patients under monitoring (PUM).
"We are asking the DoH (Department of Health) to expedite other hospitals' requests for accreditation for testing so we will have other capabilities for testing," said Galvez, to which the department complied.
"We will also deploy three doctors and 50 nurses at the Rizal Memorial Sports complex coming from the Armed Forces of the Philippines," Galvez said.
"The Secretary of DoH will inspect it tomorrow. It might be open soon. This is for either PUIs and mild cases of COVID so we can declog the hospitals that are now being overcrowded," he added.
The 500 pesos a day for volunteer health workers were also a big problem, according to the entry.
"The medical community felt insulted with such little consideration in exchange for putting themselves in harm's way."
The DOH was then reprimanded for its supposed failure to "expeditiously act" in facilitating the accreditation of testing centers "which unreasonably slows public health response of (local government units)."
Lacson says that the senators' claims "have commonalities as they are glaring and have bearing on the country surviving COVID-19."
The senators are looking for someone who can do it better than Duque is doing.
"We all agreed not to recommend any replacement. In case Sec. Duque quits, it is all up to the President is the appointing authority. We are simply for a competent Secretary of Health. Take note: not more competent, but simply a competent one at the helm.
"Having said that, the resolution does not involve the President. It is virtually an appeal – demand if you will, to Sec. Duque to resign and the reasons are stated in the resolution. It is his call," he added.
Two other senators agreed with the claims but decided not to sign.
Speaking on behalf of his contemporaries, Villanueva said the senators have nothing personal against Duque, they just want someone much better.
"It (resolution) is what it is, nothing personal we just badly need a public health expert to lead,"
Angara wants to see more from the government.
"Fourteen (senators) signed/filed and I am one of them. Whether he is removed or not, the status quo cannot continue if we want to defeat the virus.
"Kailangan mas bibo ang liderato dito laban sa virus. We were late for testing, contact tracing is almost non existent, hospitals short of protective gear— we need to be better. Buhay ng mga Pilipino ang nakasalalay dito," he added.
Duque has had many errors serving as the Health Secretary. The late announcement of the Luzon lockdown was mostly his fault as it was his obligation as the Health Secretary.
A doctor from Baguio City has also slammed Duque for giving a 'stupid' advice on people experiencing COVID-19 symptoms.
"If you already know the symptoms, manage it as if it's COVID-19. If all indications suggest that it's probably COVID-19, why wait for a test? Manage it as COVID-19 right away. You assume. That's the way to do it," said Duque.
"Do we have to test each and every Filipino? That's 104 million. I think no country would be able to do mass testing to the extent of the population of the [Philippines]," he added.
The doctor went to Twitter and did a whole thread based on Duque's advice.
Jusko umagang-umaga. Pagkagising ito ang unang bubungad sa yo! Pasensiya na… sa sunod sunod na kapalpakan ng statements at ginawa mo, di na talaga kami makapagpigil @SecDuque pic.twitter.com/mKkgyODTBr

— Quarantine Tarantado (@Simply_Clinton) March 27, 2020
Another error from Duque was when he said that face masks weren't required,
Duque explained that protective masks are recommended for people with cough, cold, and flu to prevent them from passing the infection to others.
"Kahit na wala pa iyong novel coronavirus pero mayroon kang sipon, lagnat, ubo, eh mas maganda magsuot ka ng mask para hindi ka makahawa. Again, hindi lang ito patungkol sa novel coronavirus, kung hindi pati sa mga ibang mga mikrobyo o ibang virus at bacteria. So hindi naman tama iyon, lahat pagsusuotin ng mask (Even before the novel coronavirus, it's prudent to wear masks if you have colds, flu, or cough to avoid contaminating others. Again, this is a precaution for other microorganisms, viruses and bacteria, not just for novel coronavirus. So it's not correct to force everyone to wear masks)," he said.
He said that face masks should only be recommended for health workers.
"At ang mga priority diyan, iyong mga ating mangangalaga sa mga ospital – iyong mga doktor, iyong mga nurses, med techs, midwives – iyan ang dapat pina-prioritize natin kasi sila ang haharap mismo doon sa mga may sakit (Priority should be given to hospital personnel including doctors, nurses, med techs, midwives. They should be given priority because they will be attending to sick people)."
On April 3, the government decided that face masks were already mandatory.
According to Nograles, the measure was among those adopted by the IATF under Resolution No. 18, which "adopts the policy of mandatory wearing by all residents of face masks, earloop masks, indigenous, reusable or do-it-yourself masks, face shields, handkerchiefs or such other protective equipment that can effectively lessen the transmission of COVID-19, whenever allowed to go out of their residences pursuant to existing guidelines issued by the national government."
"Allow me to stress that if we need to leave our homes, we need to wear masks. Even an improvised mask or handkerchief will do, as long as you have something to cover your mouth and nose," he added.
Marikina City's testing laboratory has been rejected many times, and couldn't get the approval of the DOH. This was also attributed to Duque. The DOH has been slammed many times for not approving the laboratory even after millions have been spent on it. The DOH claims that the location of the laboratory wasn't safe.
Ironically, many of the senators who want Duque to resign benefited from the so-called 'VIP Testing', knowing that they were initially asymptomatic.
Ang kakapal ng mukha!
You should be the first one serving the people!

#NoToVIPCovidTesting pic.twitter.com/lq6Ya0pG0H

— jerv (@jervieve) March 22, 2020
The DOH denied that there was some kind of VIP testing saying "no policy for VIP treatment".
"The DOH assures the public that there is no policy for VIP treatment and that all specimens are being processed on a first-in, first-out basis,"
Family members of the senators were also tested.
The protocols of testing at the time was "(1) PUIs with mild symptoms who are elderly, with underlying condition, immunocompromised, and (2) admitted PUIs in severe and critical condition."
Millions have been wanting for Duque to resign, but unfortunately for them, that is unlikely to happen.
Malacañang said on Thursday that President Duterte will reject the senators' appeal on Duque's resignation.
Executive Secretary Salvador Medialdea said the President expects Duque to work "even harder".
"The President has made a decision for Health Secretary Duque to stay put.
"Secretary Duque was made aware of the sentiments of the Senators and the President expects him to work even harder to set aside any doubts on his capacity and sincerity to serve the public during these difficult times,"
Duque was thankful and said that the will do his best as the Health Secretary.
"I will continue to serve the country to the best of my abilities…We will answer these allegations in due time, but right now, we will continue to be in the trenches with our health care workers and frontliners."