People get tattoos for various reasons.
Many times, people get inked to honor someone or something like Honeylet Tañala Sauva, who had the face of President Rodrigo Duterte tattooed on her arm.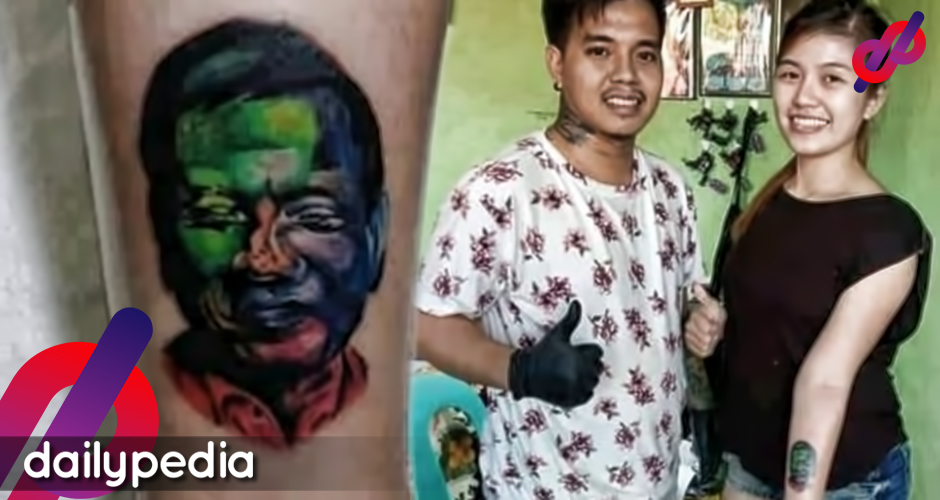 The 24-year-old stay-at-home mother trended on social media after she posted her "after tattoo session" photos.
In one of the photos, Sauva showed off her Duterte tattoo, which was heavily drawn in black, green, and red ink.
In her caption to the photos, Sauva said she was "not a fan of any politician."
However, she said she was impressed with Duterte in leading the country amid the coronavirus disease 2019 (COVID-19) crisis.
"Sad to say kung 'di dahil sa COVID-19 at mga bashers niya, 'di ko makikita o makikilala kung sino ba talaga siya as a President of our country," said Sauva.
"Salute to our President Rodrigo Duterte! Salamat sa walang sawang pagmamahal sa ating bansa at sa mga kapwa kong Pilipino na matitigas ang ulo. 😁," she added.
"I'm not fan of any politicians…"
*tattoos Duterte on her wrist*

🤡🤡🤡🤡🤡 pic.twitter.com/f1cDm9vSYT

— jai | Sukiyaki Ninja 🥣 (@jaiguzonvevo) April 15, 2020
Sauva's post has since garnered more than 19,000 reactions and has been shared over 6,600 times.
Based on the "emoji" reactions, most netizens found the tattoo hilarious.
To recall, Duterte initially dismissed the threat of COVID-19.
Last February, he said there was no need for the public to be hysterical about the virus.
At the time, the President noted that one just needed to be checked at a hospital if he or she is suspected of contracting the disease.
Duterte then moved slowly to implement travel restrictions on people going to and coming from China, where the virus was first detected in December last year.
Objectively speaking, that is one ugly tat. pic.twitter.com/osNRZEuBhM

— Nikki the Peasant (@macronikki) April 15, 2020
Even when many legislators pushed for such travel restrictions, the President moved slowly on them, and still allowed some incoming flights from China.
On March 9, Duterte ignored the "no-touch" policy implemented by the Presidential Security Group.
He even quipped that he prefers to hug, rather than shake hands, with women visiting the Palace.
Health experts have repeatedly advised the public to avoid shaking hands to prevent catching the virus.
After a few days, Duterte then announced a month-long lockdown, from March 15 to April 14, across Luzon.
The lockdown or enhanced community quarantine over Luzon was even extended until April 30.
To be fair the country's public health system is already weak, but Duterte didn't help the situation by cutting the health budget in recent years.
Meanwhile, Duterte's spokesperson Salvador Panelo has recently denied that the President initially downplayed the threat of the COVID-19, which has already claimed thousands of lives worldwide.
Panelo said the President's actions depended on the pronouncements of the World Health Organization and developments regarding the spread of the coronavirus.
Sana black na lang para accurate 🙄 pic.twitter.com/tNknv4zy3a

— Malacañang Events and Catering Services (@MalacananEvents) April 15, 2020
He noted that Duterte eventually imposed tough quarantine measures in Luzon and continue to work hard to curb the spread of the virus.
He then appealed to critics to give suggestions instead of focusing on the perceived shortcomings of the government.