On behalf of the Department of the Interior and Local Government (DILG), Undersecretary Jonathan Malaya told DZMM that the agency has banned local officials from placing their names and pictures on relief goods.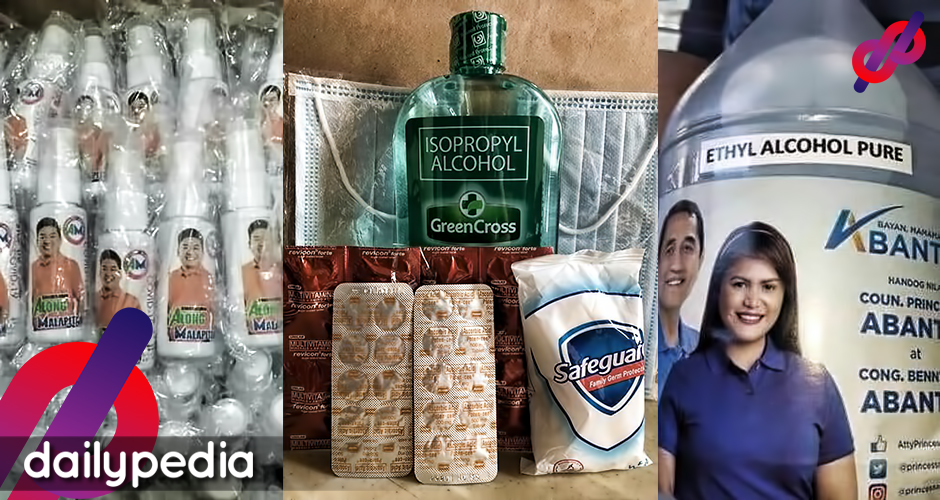 It was mostly the indigent families in Luzon that were recipients of these relief goods. This came after the agency was informed that barangay officers would place their names on envelopes containing cash to families that originally came from the national government as financial aid.
Malaya says that now is not the time to play politics, but to instead help the needy.
"Hindi po ito panahon ng pamumulitika, panahon po ito ng public service,"
"Naglabas na rin po si Secretary [Eduardo] Año ng kautusan sa ating mga LGU na walang epal, walang pangalan, walang picture at hayaan ang mga barangay na i-handle nang tama ang paglalabas ng ayuda," he added.
A list of the 18 million poorest families will be submitted by barangay officials that would receive financial aid and additional food packs subject to vetting and approval of the social welfare department.
Those who are qualified include the elderly, migrant workers in distress, persons with a disability, and single parents.
The aid distribution started in 2 pilot barangays located in Tondo, Manila and in Parañaque. Other residents should wait for further announcements and prepare IDs.
The Philippines confirmed 136 deaths out of its total 3,018 cases of the respiratory disease.
Politicians who are using the pandemic as a tool to campaign for themselves is nothing new.
A few weeks ago, Quezon City Mayor Joy Belmonte was called out by netizens for doing so.
She distributed "essential health items" to indigent families but got called out for several things that the people did not like.
The #JoyParaSaBayan (which was also printed on the bags) did not sit well with netizens. The funding for the items actually comes from taxpayers.
I have decided to distribute these essential health items to 100,000 of our indigent families beginning tomorrow. Bahay bahay po ang distribution para siguradong makarating sa kanila.#JoyParaSaBayan#KasamaKaSaPagunlad#KasamaLahatSaPagunlad pic.twitter.com/76hmrvuxf2

— Mayor Joy Belmonte (@officialqcmayor) March 15, 2020
https://twitter.com/MaamSyj/status/1239179883973971969?s=20
She was also criticized for saying she 'decided' to do it.
sorry pero parang di tama ang hashtag. per family or per family member? parang kulang if per family. maliit ba income ng city of stars mayor?

tsaka ang sama na you "have decided" in which it should be a prerogative. cencia na tlga, nakasmile pa po pix nyo.

— Think Logically (@tweet_logics) March 15, 2020
Hoy @officialqcmayor, anong "i have decided" pinagsasabi mo diyan? OBLIGASYON MONG MAGBIGAY NG ESSENTIALS BILANG MAYOR!!! Hindi namin utang na loob na nagdecide kang magpamigay ng goods, karapatan ng sambayanan yan

Hay nako, Joy nga pangalan mo pero di ka nakakatuwa!! https://t.co/ToV9ZLnfYS

— Gigi on YouTube (@gigiesguerra) March 16, 2020
Caloocan Congressman Along Malapitan was also called out for doing the same.
Here's a monster. The epal-ness of Congressman Along Malapitan of Caloocan plastering his face on alcohol in the middle of a pandemic. [Photo from Eule Rico Bonganay] pic.twitter.com/SdSkiDRYjl

— Ian Rosales Casocot (@sandwichspy) March 16, 2020
Manila counselor Princess Abante and congressman Benny Abante were also caught including their names and faces on the gallons of alcohol distributed to the city's barangay halls.
On a scale of 1-1M, how EPAL can our politicians be?

Mahabagin!!! #Covid_19PH pic.twitter.com/TyjD2gVAuK

— BernieSpears (@spears_bernie) March 14, 2020
Surigao del Norte 2nd District Rep. Robert Ace Barbers filed the House Bill No. 71 or the "Anti-Epal Bill" last year to forbid and penalize government officials who place their names and faces on government projects funded by the taxpayers.
"Crediting individuals instead of the government on any public work, project, assistance or program is unethical and a manifestation of the nation's deeply troubling political patronage.
"This system of political advertising also promotes corruption among our officials, sending a wrong sense of accomplishment among the citizens."
Senator Bong Go recently just committed the same mistake.
Netizen Leah Navarro went on Twitter and called him out for taking advantage of the pandemic.
Paki explain ito. Our tax money better not be used for this MALASakit giveaway of Bong Go. We demand to see the BAHO report. Is this why people can't find face masks anywhere? Hoarding for epal. Pweh! Pisting yawa!#OUSTDUTERTENOW pic.twitter.com/kOHKAjyeuq

— Leah Navarro (@leahnavarro) April 1, 2020
Go made it look like he donated 400 surgical masks. Navarro speculates that Go hoarded the masks and placed his name on the box.
An uncensored photo shows the donors of the masks.
It's from private company LTGC and PMFTC, kapalan lang ng mukha talaga. pic.twitter.com/7nFfLNafeI

— Jason Kleane (@JKleane) April 1, 2020
Netizens reacted saying this is the reason people are hesitant to help.
Ahhhh! Thats why it took so long to send – they had to print out new labels!

— Joey M (@TootiePips) April 1, 2020
https://twitter.com/Benjoints1/status/1245481221167017986?s=20
https://twitter.com/sisaisagani/status/1245582170367770625?s=20
I knew it was going to happen. Repacking and relabelling took time. Hahaha

— Sofia (@sofiacclvi) April 1, 2020