Luzon is now under community quarantine because of the COVID-19 pandemic and social distancing is to be observed by every single person.
But several photos posted by netizen Annie Tajanlangit Mercado showed that citizens at Las Piñas city hall crowding as the city government distributed relief goods. There was no social distancing as seen in the photos.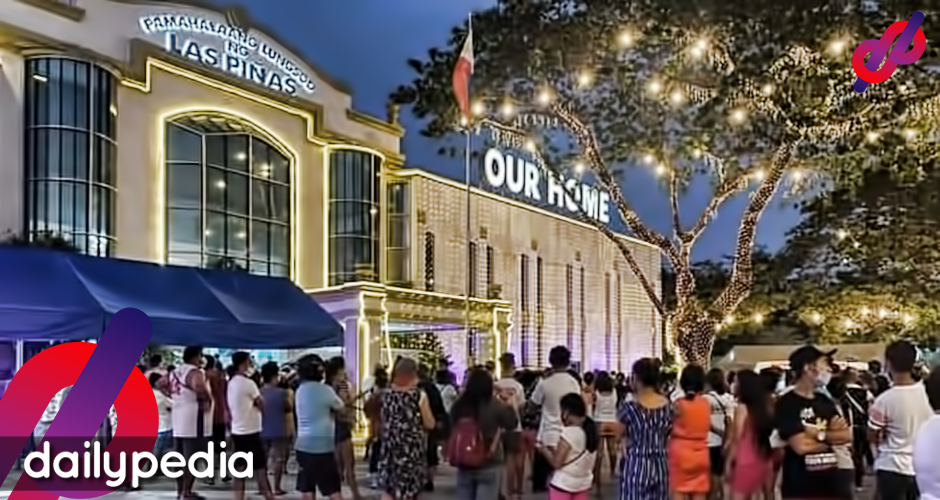 Mercado expressed her thoughts saying that the goods should have been delivered to different barangays instead and from there, distributed to the different homes.
"City of Las Piñas pauwiin niyo mga tao!! Ihatid nyo mga bags na yan sa mga barangay para i house to house yan!! Magsipag kayo! Di pwede short cut na sistema dito! Please! Gabi na madami pa tao o…. good God!"
City of Las Piñas pauwiin niyo mga tao!! Ihatid nyo mga bags na yan sa mga barangay para i house to house yan!! Magsipag kayo! Di pwede short cut na sistema dito! Please! Gabi na madami pa tao o…. good God!

Posted by Annie Tajanlangit Mercado on Wednesday, March 18, 2020
Netizens were furious about how things were handled.
"Stupidity at its finest!!! Di eto calamity!!! VIRUS!!!! Ano ba mayor?!?!?! Tularan mo si Mayor Vicco Sotto!!!
"Mayor nasan kana??? Update naman!!! Ang sabi sa balita lahat ng mayor, kapitan, kagawad kumilos na para sa taong bayan. Nasan ang tulong mula s inyo. Ang hindi kikilos pwede sibakin s posisyon
"Mga barangay captain po dapat mag gala o mag ikot ikot kasi daming bata sa langsangan ng isang lugar nila tapos mga magulang wala lng pakealam..mag mega mic nlng..kada street..
"Diba ang sabi ni pangulong Duterte, ihahatid sa bawat bahay ang supply? Bakit pina pila ang mga tao. Crowded din ang nilabasan niyan! Susmaryosep! Pinag iingat mga ang bilang ng tao! Di pwedeng ganyang sistema!
"Dapt binibigay sa mga kapitan at mga president ng mga home owner pra cla Ang mag distribute hnd ung nag kukulong lng din cla!!"
Las Piñas Mayor Imelda Aguilar has apologized since then. Jon, a citizen of the city said that not everyone who went there received relief goods.
"The city government will make sure that your needs will be provided, especially in this time of crisis," said Aguilar.
"Not everyone got relief goods. I even didn't get one myself. There were so many people that we were standing too close to each other. The lucky ones each received a food pack containing rice, three packs of noodles, four canned goods, a pack of coffee and a pack of milk."
"But the people there were also in the wrong. We were being reminded by the police to keep a 1-meter distance from each other, but most were hardheaded."
Free canned goods in exchange for your life. What was Mayor Aguilar thinking when she called on all the poor residents of Las Pinas at City Hall to distribute relief goods without observing the 2 meter social distance requirement? https://t.co/ZGaAYCuDG3

— Legalist (@junjijayme165) March 18, 2020
Las Piñas LGU! While it's great that you are distributing relief goods, have you been living under a rock these days? You are subjecting these poor people to the possibility of contracting the virus. https://t.co/FourzYIYAu

— Jennifer Rockwell (@JennyRockwell) March 18, 2020
https://twitter.com/leisbeth_recto/status/1240883834557583360
Here in Las Piñas, in order to acquire relief goods, citizens need to personally go to Municipal Hall AMIDST ENHANCED COMMUNITY QUARANTINE.#LASPIÑASOURHOME

— Papyrus (@JPDltrr) March 18, 2020
City of Las Piñas

A place where a mayor doesn't do their job properly and yet have the odacity to put big billboards about their family all around the area. During the Lock down they choose to give out the relief goods by them letting the people form a line. pic.twitter.com/AdZ5l2IO4j

— UwU (@QueenCarol_19) March 20, 2020
https://twitter.com/SouthSnippets/status/1240304871699406851
And today is her second day to spread the virus. Hello Las Piñas? Please help me to retweet this again. She's just spreading the fucking virus. Pangalawang araw ng pagbibigay ng relief goods. Ano ba sabi ng pangulo? Stay at home di ba? pic.twitter.com/ozKPSaVwVj

— Serf (@markingjoseph) March 19, 2020
WHAT IS SOCIAL DISTANCING? COVID-19, WHO? I'm really disappointed on how the city hall distributed the relief goods. Nagbahay bahay nalang sana kayo.

I'm from Las Piñas and this clip scares me. I'm just praying that there's no one who has symptoms ☹️ https://t.co/IYWTIXc1jH

— Anju ✨ (@borntobemrsim) March 18, 2020
Here's what our clown of a mayor and vice mayor did in Las Piñas city. Pinapunta ang mga tao sa City Hall para kumuha ng relief goods when the directives clearly said na bawal lumabas ng bahay! We are in an enhanced community quarantine yet they are risking the lives of people. pic.twitter.com/4bj4EdQy65

— Nikki (@neomukawaii) March 18, 2020
Now, Las Piñas has six new cases of the coronavirus.
Malacañang has already released the guidelines for the Luzon quarantine. On Wednesday, Cabinet Secretary Karlo Nograles read the guidelines during a televised briefing.
In a press briefing following the Inter-Agency Task Force meeting Wednesday night, Cabinet Secretary Karlo Nograles said the national government is worried about the use motorcycles and tricycles since this actually violates the practice of social distancing.
"Concerned talaga ang gobyerno dito sa pag gamit ng tricycle dahil hindi namin lubos makita o maintindihan kung paano mag-social distancing sa tricycle,"
"Let's all stick to the common ground rules," he said.
When it comes to food, Duterte has mentioned that the Philippines has enough supply.
On Monday, the President assured the people that no one is going to be suffering from hunger.
"I have been assured by Ramon Ang mismo (himself) of San Miguel and the other food conglomerates that there will be sufficient food,"
"There will be no hunger in the coming weeks because we have enough supplies," the President added.
The Department of Social Welfare and Development has been given the task of implementing measures to speed up the distribution of food to those who are most affected by the lockdown in Luzon.
"Rol, you utilize all vehicles of government available, just go around and maybe asking if there is somebody starving or in need of food,"
President Duterte urged barangay captains to do their job right.
"There is really a need for you to work with government. And if you violate this, then you can be liable for dereliction of duty,"
"The barangay captains should call a number and at least food, rice and some — ano 'yung ulam pwede ninyong ibigay sana para sa ating mga kababayan"
GrabFood and GrabExpress are here to help the people when it comes to food deliveries.
Grab said they will open their services to help those in need.
"The decision was made to support the food establishments that will continue to operate and maintain the continuous flow of goods to serve the essential needs of Filipinos during these trying times,"
Department of Trade and Industry (DTI) Secretary Ramon Lopez said food establishments would do delivery services to contain the spread of the deadly virus.
"Nabanggit ni Pangulong Rodrigo Duterte kahapon na tulungan natin ang maliliit na negosyante. May mga karinderya at mga magdadala ng pagkain kasi we encourage [people to] stay home so dapat may mga ganung facility din tutal uso ang mga delivery apps."
Lopez, in a text message on Monday saidm "Agriculture, manufacturing, and services like food preparation and deliveries and distribution of these basic necessities will still be allowed."
Also, in a video message released on Friday, Duterte said uniformed personnel will make it possible for those affected to not go hungry.
"Yung stranded, we will try to help you. Your Air Force and your Army will help you wherever you are. Kung wala na kayong mauwian, kung wala na kayong matulugan, I am asking the military commanders of different camps all over the country that you can go there and ask for accommodation at pagkain and they will [give you].
"They'd only be too willing to help you. Yan ang ating military at pulis. Bigyan kayo ng pagkain at tulugan "