Totie Casimiro performed first aid he learned from seminars on a security guard suffering from a seizure
Totie is then praised by netizens
Jonathan 'Totie' Casimiro, a body piercer from Pasig, is going viral on social media for helping a security guard who was having a seizure.
Totie told ABS-CBN News that he was in a supermarket in Quezon City looking to buy something when he noticed that a security guard was on the ground with his mouth wide open.
He also noticed that nobody was helping him even though the place was full of people.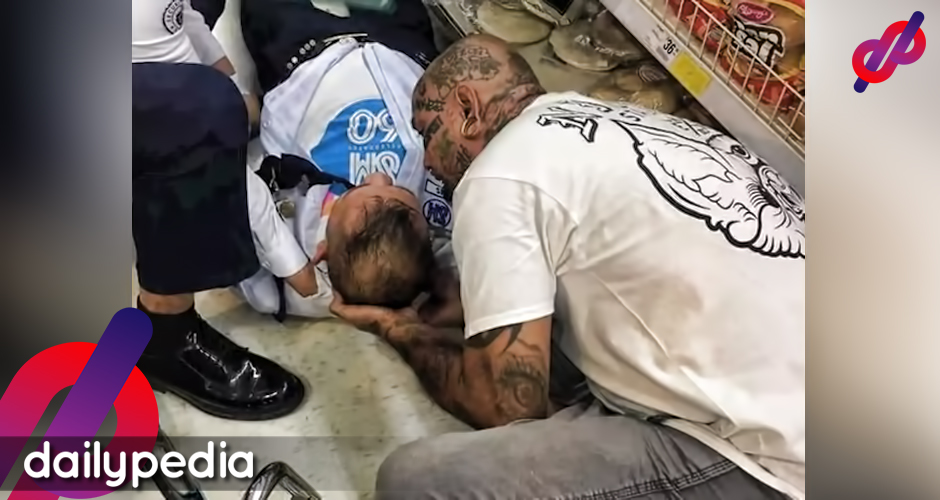 He came closer and noticed that the security guard had secretions from his mouth, and he quickly recognized that he was suffering from a seizure.
Totie applied first aid that was taught to him by the Philippine Tattoo Guild (Philtag) and Department of Health.
Tattoo artists and body piercers, who are part of Philtag, are actually required to learn first aid and attend seminars associated with the occupation.
Professional responders then got to the scene and took over from Totie.
Totie said that he was just happy that he was able to help somebody in need.
"Hindi ako nagdalawang-isip na lapitan siya at gawin ang tama kasi 'yun ang nararapat. Hindi dahil may gusto ako patunayan na kahit ganito hitsura ko . . . May pamilya kasi na nag-aantay sa kaniya."
Totie said he just did what was taught to them at past seminars that he attended.
"[Ginawa ko lang] 'yung natutunan ko nu'ng mga oras na nag-undergo ako sa seminar. At least naging kasangkapan ako ng nasa taas para makatulong ako sa tao."
Netizens praised the body piercer.
"Salute brother..a great example for the tattooed community…head up high…its sad that some people still look at us differently"
"Asan na yung mga judgemental nagsasabing alagad ng demonyo kpag tattoo-an at mraming hikaw?ayun,nkikipuso na lng."
"yan po ang patunay na ndi lahat ng may tattoo ay adik at masamang tao galing kulungan o ano na masama na iniisip agad pag may tattoo ang isang tao. salute sau idol"
"Puro kayo salute, di nababase sa itsura, di lahat ng may tattoo swehswesh etc.. ehh hanggang fb lang naman kayo! Kpag nakakita kayo ng ganyan sa personal di kayo makakibo kasi mukang makasalanan. Fvcking liars!!"
"Sino ngayon ung nagsasabi na pag may tattoo adik? Wake up! Tattoo is an art and not a sign of being an addictive person"
In a recent Facebook post, Totie thanked everyone who praised him and although there were still some negative comments, he did not care and continued to express his gratitude.
"Salamat po sa lahat ng pumuri sa akin at salamat din sa mga may bad comment isa lng masasabi ko kht cno po pwd gawin ang ginawa ko nagkataon lng na nsa aktong pangyayare ako kya ginawa ko ung nararapat maraming maraming salamat po sa inyo."