Orocan goes viral for its amusing and honest advertisements.
Aside from the billboard, the brand also made a parody of O Shopping Channel and placed witty paid ads in Google.
Advertisements are made to entice consumers into buying the company's products or services. This includes a long process of brainstorming and creative production just to come up with the right visuals and words for their target audience.
It may also mean that they might sugarcoat things to make the brand into something that it's really not.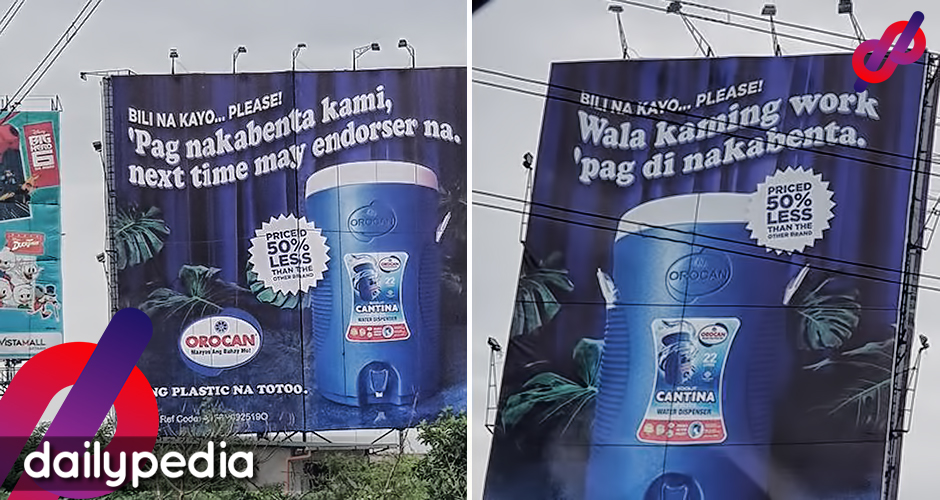 Recently, Orocan went viral because of its latest billboards. They just became really honest with their ad and instead of using flowery descriptions, frankness became the key.
The ad showed a photo of the company's Cantina water jug. The real amusement came from the text "Ang plastic na totoo". They also captured the attention of passers-by by convincing them to buy the products with "Bili na kayo…please! Wala kaming work pag di nakabenta" and "Pag nakabenta kami, next time may endorser na kami."
https://www.facebook.com/ronakatrina.jasa/posts/10159197166322576?__tn__=C-R
Aside from the amusing billboards, the Orocan Cantina also appeared in a video made by the brand. It contained a parody of home TV and online shopping network, O shopping. It featured actor Victor Anastacio, who is a host on O Shopping, delivering a spiel for "TotoO Shopping".
The crawler at the bottom even said, "Actually, wala namang magbabasa nito. So kwento ko na lang sa inyo 'yung trabaho ko. Tinatamad na kong magsulat ng ganito. Paulit-ulit lang pero wala namang nagbabasa."
Share ko lang tong nakita ko sa twitter. HAHAHAHAHAHAHAHAHHAHAHAHAHAAHAHAHAHAorocancantina.mp4ctto.https://youtu.be/hTWv0jbPNYM

Posted by Ayvee Belen Opelenio on Friday, October 18, 2019
Another netizen also noticed the brand's other ads which were as witty as the other two previously mentioned. "Liit nito nabasa mo pa. Bili kayo…pls," it read.
Meanwhile, Herbert Hernandez from the ad agency GIGIL, shared how these viral ads affected the sales of Orocan.In fact, the brand increased its sales by 24.5% last month.
Hernandez wrote on Facebook, "Ang saya lang namin sa GIGIL. Mga 20+ materials ginawa namin. Videos, billboards, (programmatic) banner ads, at kahit pag search mo sa orocan sa google (SEO) eh pinanindigan parin namin na maging totoo. Ibibigay ko itong papuri sa client namin. Na kahit kami mismo ay kinakabahan kasi mas matapang siya kaysa sa amin. May mahabang discussion kami nila Badong pero nanaig na isugal namin but at the same time protect parin namin client namin na ang objective parin bumenta. At ayun, bumenta sila. Last month nag increase ang sales nila ng 24.5%! Woooow! Di ko alam kung gaano kadami yun. Pero alam ko lang basta hindi negative."
Did these advertisements convince you to buy the product?