Men cheat because they know they can get away with it and they allow themselves to do it
Netizens feel for the woman
The General Social Survey last year suggested that 20% of men admit to cheating, compared to the 13% of women.
The number one reason men cheat is because they think they can get away with it.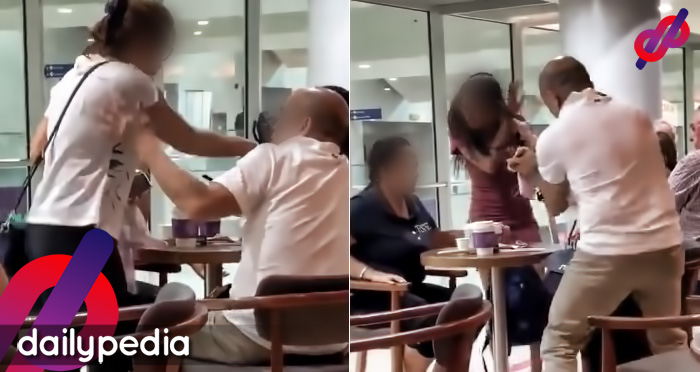 Cheating because of not being satisfied or being unhappy in a relationship only comes in second.
Therapist Robert Weiss, author of Out of the Doghouse: A Step-by-Step Relationship-Saving Guide for Men Caught Cheating, says that men are really not that good at making up for the damage they have done after being caught cheating.
Now, a video is going viral on social media that shows a wife making a scene after she caught her husband cheating. The video shows an angry woman shouting at her husband's mistress as her husband tries to calm her down. The wife can be heard yelling at the mistress telling her she can be with him in an angry manner.
"Mag sama kayo, mag sama kayo!"
The husband stepped up and tried to calm her down once again but was repeatedly punched by his angry wife.
"Tangina mo ka!! Buong buhay ko binigay ko sa 'yo!" the wife shouted as she cried.
The husband tried to hold her back.
"Anong ginawa mo sakin. Mga kagaguhan mo hayop ka!"
The mistress then said that she was unaware that the man was married.
"Hindi ko po alam ma'am, hindi ko po alam!"
The wife then got close enough to take a swipe at the mistress and was able to pull her hair.
"Anong hindi mo alam? Anong hindi mo alam?!"
The mistress's friend then stood between them to try and protect her while the husband then held his wife back again while she tried to head towards the mistress.
"Bakit mo ako pinipigilan, wag mo akong pigilan!" said  the wife.
Netizens had to say something about the whole situation.
"Simple lang yan eh. Pag you know deep down inside di mo kaya maging tapat at mag mahal lang ng isa, huwag mag asawa. Huwag natin pahirapan ang iba dahil sa sarili natin mismo hindi tayo honest."
"Sobrang sakit 😔 Di ko naintindihan lahat ng sinabi nya pero ramdam ko yung sakit sa tono ng boses nya. Grabe"
"GAGAWA AKO organisasyon na nang gugulpe ng mga lalakeng nangbabae kahit my ka relasyon na sila."
"Hindi nyo alam gaano kasakit at ang impact niyan sa pagkato ng nga taong niloko nyo. Habang buhay nilang dadalhin at iisipin kung anong kulang sakanila nakakababa yan bg self esteem. Mga hayop kayo wala kayong awa at takot sa diyos"
"Nasaktan talaga si ate sayang mga pinagsamahan at oras na magkasama sila sinayang ang mga panahon ang mga alaala ng bawat isa dahil sa isang pangyayari ganyan nasira ang tiwala wasak na damdamin only time will heal"
Relationship expert and psychologist Jill P. Weber, Ph.D. says that divorce is important.
Being with someone you don't love anymore is not really good for the children.
"What is more harmful and even traumatizing to children is spending a great deal of time in a home filled with negative emotion, tension, and chronic conflict."
Children may think they are the root of the problem in the marriage.
Divorcing also makes a couple mentally and physically healthier overall.
Problems will always arise in relationships, but these can only be solved if the relationship is healthy and strong, regardless of how big the problem is.
"When negative relationship dynamics chronically play out between partners, resentment grows. Before you know it, not picking up milk on the way home becomes a knock-down-drag-out fight."
One of the most obvious reasons to get a divorce is so that you will have the opportunity to find someone better than your last one.
"Instead of fearing facing the world alone, fear spending a lifetime with someone with whom you are unhappy."
The Philippines and Vatican City are the only countries where divorce is still illegal.
Early in 2018 was the closest The Divorce Bill, or House Bill 7303 came to being legal.
The bill was passed on the lower house of Congress but was opposed by President Rodrigo Duterte, who ironically had an annulment with his previous wife, way before he became the leader of the country.
The bill had 134 votes with 57 oppositions and 2 abstentions.
Congresswoman Emmi de Jesus said that the bill was made so women can have an opportunity of getting out of abusive relationships.
Divorce will never be legal in the country unless the Senate passes a counter-part bill.
The bill would see to it that marriages that are considered "irremediably broken" will be dissolved, with the authority of a court ruling.