He stored the fish fillet in his chiller
24 hours later the fish turned into liquid
Chef and concerned citizen Alvin Ong went on Facebook to make people more aware about buying fish products.
Ong bought a frozen arrowtooth flounder fillet that was vacuum-packed which he stuffed in his chiller. After a day, he took out the pack and was left surprised and confused.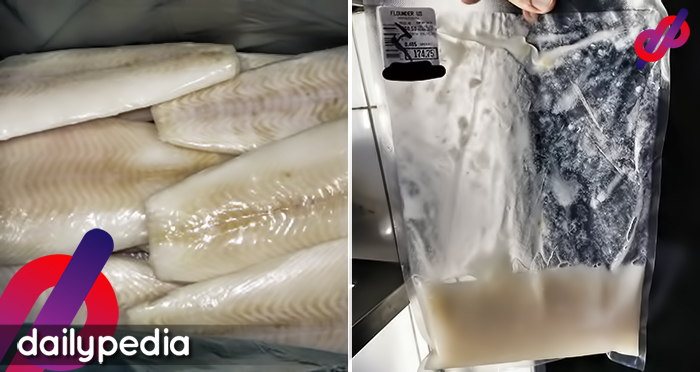 He saw that the fillet had melted and that there were no solids to be found. The entire thing turned into an all-white liquid.
"natunaw sya, same treatment yan with Frozen dory… wala ka na makita fillet, parang natunaw sa acid," said Ong.
Fish fillets that are sold in the market are known to have inorganic polyphosphates, which are basically complex salts or esters that are made from different kinds of phosphates (di-, tri- and higher polyphosphates).
These are used so that fish fillets, shrimps, and other meat products will have their water binding capacity increased. This, in turn, will make the products heavier since the protein properties are broken down to enable them to retain more water and natural juice will be directed at tissues.
In some instances, fish and shrimp that have this substance undergo rapid enzymatic degradation which produces ubiquitous orthophosphate.
Applying salt on products can do what Polyphosphate does, but it would give the products an undesirable flavor.
Polyphosphate treatment of fish before freezing them basically reduces thaw—the amount of liquid released when a fish is thawed.
Polyphosphate has little value when combined with good quality fish, since these products when properly frozen and cold stored, will have little thaw drip even without the substance.
Poor quality fish on the other hand, should never be frozen since its thaw drip will always be high, regardless if it has the substance or not.
But then again, a good quality fish will always see a high thaw drip if stored at a high temperature, to which the substance can reduce the thaw drip but will do nothing in terms of flavor and texture.
Fillets work the same way. Thaw drip will be small but will easily increase in high temperatures, pressure, and delay of distribution of the substance. Polyphosphate will indeed reduce thaw drip but that does not mean that the fish should not be chilled properly.
This is exactly what happened with Alvin Ong's case. The distribution of the substance was not done early enough for it to process with the proteins of his fillet. Plus he did not store his fillet properly which in turn had incredible thaw drip, that eventually consumed the solids in the fish.